Okay, so maybe I got a leetle bit pissed off when I saw this image on Pinterest tonight.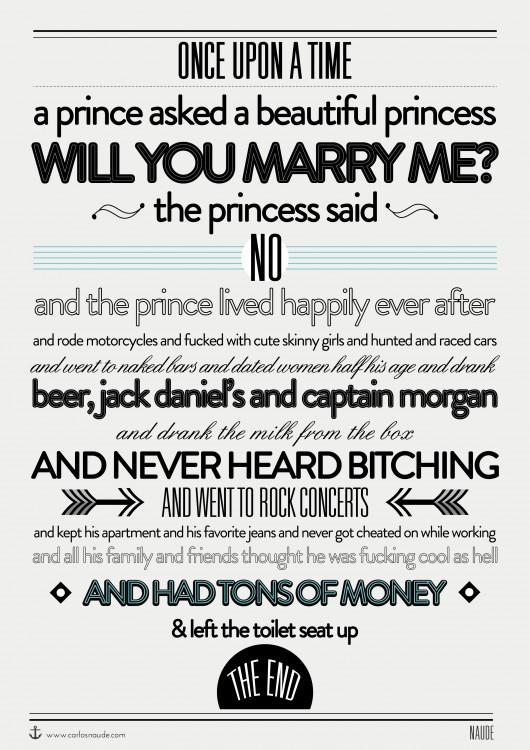 And maybe I went a leetle bit overboard on the "description" when I repinned it.
and the princess didn't have her heart broken by a man who couldn't keep his dick to himself for more than five seconds because she was smart enough to say no to the pretty face that was hiding the vile creature behind it. And she had all the time in the world to then pursue her own interests and be the person she was meant to be, reveling in her identity and fulfilling her aspirations fully. She spent as much time as she wanted with the best girlfriends who always built her up and cared about what she was saying rather than pretending to listen and hoping she was soon done. And she hand selected the finest young men to keep her company (and then sent them on their way when she was bored with them) and she read books and made beautiful art and sun bathed and nobody ever left the fucking toilet seat up or made her have to drag their feelings out of them like driving nails into brick because they were such poor communicators that she just wanted to scream into infinity in those miserable moments of complete relationship hell when she would rather be twirling through the living room, singing her favorite song at top volume. She didn't have to share the remote or watch any sports she didn't want to, and she only got foot rubs with her pedicures and nobody expected her to have sex with them just for doing it. She smiled every day because she wanted to, not because she was pretending she was happy, and nobody needed her to fetch them a beer or make their food first so that by the time she ate hers it was cold. She played with lady bugs and stopped to smell the flowers every day. Her friends and family thought she was fucking awesome because she was able to live her life to her full potential instead of for some loser who resented her for not wanting him to drink jack daniels every fucking night. And she never had to sleep in the goddamned wet spot. THE END.
Yeah, maybe a little too far.
Maybe.
(Who am I kidding?! That shit had it coming.)
There is so much. So very much, and there is no way I can touch it all in one post. I'm going to break this up into posts on different days (non-consecutive, of course, wouldn't want to ruin my lazy douche reputation by posting two whole days in a row with words and stuff) as I speak specifically, and share photos (mine and others') and videos with you as I go along.
photo by Mishelle Lane
And even then, I won't be able to get it all across to you. The excitement, the freedom, the friendship, the FLASHMOB (oh yeah!), the chance to speak and share, the Community, the panels, the musical performances, the food and drinks, the fun, the laughter. The LOVE.
photo by Mishelle Lane
I'm going to try very hard, but there just seems so much and some parts of it seem so deep, that I fear I have not the skill, the time, the energy… to really make you see, hear, and feel it the way you should, the way I wish for you to, the way I did.
I'm going to tell you now, before I start the posts by day, that I truly love this community of persons I've become connected to these last several years. Some of you I am only connected to by the wisp of a thread, and we float into and out of one another's lives only occasionally. Others of you spend time with me every now and again, us keeping up in bouts and starts and stops, flowing here and there; you make my life your here sometimes and your there at other times. Still others of you are tied to me like a lifeline, and I think of or hear from you every day; we've been with one another through happy times and hard ones, and everything in between.
photo by Mishelle Lane & Lotus Carroll
All of you amaze me, inspire me, and collectively form a thing I am constantly in awe of and drawn to endlessly.
Each of you should attend this conference next year, or the first time you have the chance to do so. I'm rooted in the heritage of BD and have been a part of this Blissdom Community since it began in a crazy, cowhide-covered-walls hotel with a pink crayon brazier in the lobby (no really), and I'll be a part of it for the rest of its fabulous ride down the road. I can tell you that with absolute surety, and I will also tell you now that what keeps me coming back is not just my ties to its past, or my deep and abiding love for the woman whose heart dreamed this dream so fiercely that she made it come true, but for the HUGE sense of love, friendship, and community I feel while I'm at this conference.
There isn't any substantial amount of time that you will spend alone while at Blissdom (unless you really want to be alone, and I'm right there with you on that one, we all need to decompress, and for me that's hiding in my hotel room every now and then in the dark because I will be a complete hag to someone in that moment if I don't, and also because I get REALLY GASSY when I'm traveling/nervous and you gotta excuse yourself every little while and let that out, but I digress) and you won't find one minute when there isn't something amazing right at your fingertips.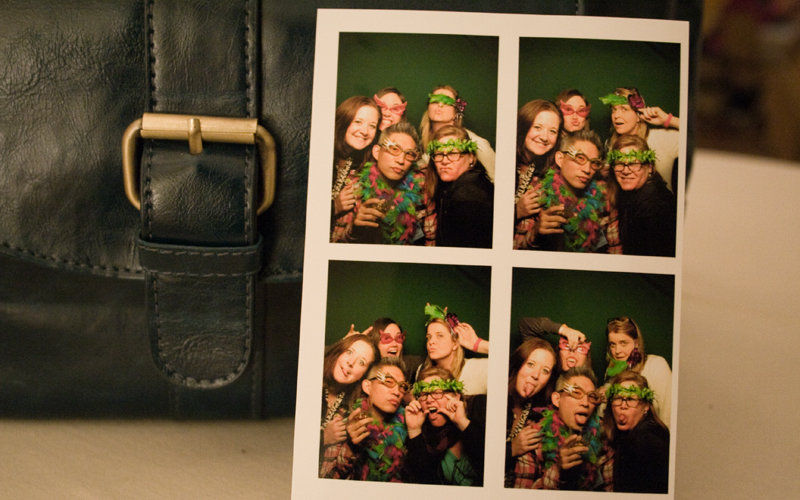 My word for this conference is LOVE.
Call me cheesy (I really don't mind, cheese is one of my favorite things in the world), but that is the truth. And Love, when it is truly felt and shared and spread around, is basically the most wonderful thing that exists. Some pretty popular and talented Liverpoolers once said that it's all you need.  I think they were pretty much right.
I'm looking forward to sharing these next several posts with you. I hope you enjoy them.
Oh, and one more thing: All you women out there, the ones I know well and hold dearly in my heart, the ones who have been with me for the past few years, and those who only check in once in a great while, as well as any woman who just happens to stumble through here for whatever reason, and even those who never read these words themselves at all or know me in the least (can you tell them for me?)…
~You are beautiful.
<rambling post of awesomeness>
I have had way too much fun lately. In fact, I told John that I was pretty sure I'm going to die soon and this is The Universe's way of saying, "Oh, hey, sorry about that…" ahead of time. A lot of times The Universe is a total dickhead, but I can imagine that maybe sometimes it gets bummed out about what a shit it is and tries to be cool to you to make up for it.
It's kind of like how I pretend to be nice to John every once in a while when I realize I've been a total hole for months on end. Cause, you know, a few hours of not actually saying anything derogatory and smiling a lot can make up for endless weeks of torture and passive aggressive quips blended with just out and out aggressive combativeness and demanding, controlling, and manipulative domestic behavior.
God help him if he complains though; then I'm all, "DO YOU NOT REMEMBER THE TIME THAT I HANDED YOU A NAPKIN WHEN YOUR FACE WAS DIRTY? I BLEED FOR YOU, INGRATE."
Or something. But, basically, I know not to push The Universe and all, because it's just doing the best it can, damnit. Ya dig?
So. Yeah. The Universe is clearly trying to be nice to me because it feels bad about my impending doom.
Either that or it is going to plan such a fiery, explosive and painful ending for me that getting me all complacent and mellow first will make things that much funnier for the bastard when it all goes down.  The Universe is probably sitting in a dark room rubbing his hands together, and he's all, "This stupid bitch has NO IDEA what's in store for her, man.  It.is.going.to.be.EPIC.  I am totally going to photograph the look on her face and Twitpic it when she gets hers. MUAHAHAHAH."
Um. Wow, The Universe just went from being a maybe, kind-of dickhead to a completely sadistic psychopath in my mind. I can't say I'm surprised. I've been into the caffeine again. Also the wine. Maybe a little of the blow powdered sugar.
What the hell was the point of this post? Oh, yeah. I've been having fun lately – making new friends in our neighborhood, going out with girls I actually like, and generally, well, not being locked in my house like a socially inept, loser ho-bag.
That is, I've been pretending I'm not a socially inept, loser ho-bag, and nobody is on to the deception yet, so clearly I am up for the next Academy Award. (note to self: do not marry Jesse James any time soon)
Last Wednesday, in another installment of Happy Fun Times I Should Feel Guilty About (don't worry, I got mine) I went to an Open House at Beleza Medspa with some lady friends: Blythe (Aka @Bejewell) and Leigh. We needed to learn about ways you can change what nature does to your body, and instead, make it all fake and HOT.
Apparently, Blythe and Leigh were getting drunk for free while they were waiting for me to arrive late (people start drinking to cope with the fact that they miss me, I'm that awesome) (either that or they drink to cope with the fact that I'm about to arrive) and once I got there, we went to a back room to find out about the process of having your facial skin turned from haggarific to Goddess Sheen of Awesometasticness.
This process is also known, to lesser degree, as Let's Burn Your Ugly Face Off. You'll only have to hide in a cave for about 4-6 days while all the skin flakes off as if you have some horrible and contagious disease. But after that? YOU WILL BE BEAUTIFUL. It's a metamorphosis. You have to let your inner butterfly out… by KILLING THE SHIT OUT OF THAT CATERPILLAR we like to call your real face.
I kind of started getting scared as we were led down a hallway to a back room. Partly because we were walking in the opposite direction of the free wine, but also because I was worried about what was really about to happen. What if we ended up in a deep well being told "it puts the lotion on its skin?" IS THIS HOW THEY REALLY GET THE NEW SKIN THEY PROMISE TO PEOPLE?
It turns out we were just going to hang out with Nathan in a small room, drink, act like complete morons and listen to him tell us about all the products he could sell to us that are totally made of Fairy Dust and Unicorn Shit, and will therefore MAGICALLY MAKE YOU PRETTY. The before and after photos were really impressive, especially the one where the woman was definitely dead in the before photo and was just about to receive the crown for Miss America in the after photo.
What I'm saying is that this stuff that comes in a 1oz bottle and costs only slightly more than a new car (okay, maybe I'm exaggerating JUST A LITTLE BIT) will totally bring you back from the dead.
I bet Jesus used it. I mean, have you seen photos of him? His skin was far too lovely for a 30 something who was out in the raging sun without SPF all the time. Also, you know damn well that he was wearing color contacts – blue eyes, MY ASS. Easter should really be celebrated by rubbing expensive liquid shit on your face. (Or hiding colored eggs, maybe, because we all understand how that has anything to do with Jesus.)
*blank stare*
After we annoyed Nathan for some time by making sex jokes, asking if he could just make us pretty and skip all the intelligent, scientific explanations and photos, and just all around being obnoxiously hilarious, Nathan rubbed random products on us. I'm not sure exactly why, maybe to prove that it wouldn't melt our skin on contact? We giggled a lot and then smelled it. Don't you smell everything that a strange man rubs on your skin in the back room of a place where they ply you with alcohol and ask you for your personal information the moment you arrive? No?
Well, I don't get you at all.
Anyway, I'm pretty sure that we were the most awesome people who were there that night, as evidenced by:
our inability to just listen to Nathan, rather, interrupting every few seconds to make drunken jokes
Blythe making her fingers kiss and say "I do" when Nathan put eye cream on them
Leigh commenting about the hookers we were going to pick up later (what?)
my responding to Nathan's question about our lifestyle habits by saying (in a very charming manner, I'll have you know) "I don't smoke, my diet is good, I use SPF, but I drink LIKE A MOTHERFUCKER!!!, is that bad?"
the fact that we considered just shoving the product in our purses and RUNNING LIKE HELL
our inability to get more than 2 feet away from the place without loudly proclaiming over the Size XXL lips on Mega Procedures Woman (I may have thrown up in my mouth a little. I mean, really, your lips are NEVER SUPPOSED TO BE LARGER THAN YOUR ASS.)
Of course, then we went to a restaurant and ordered more drinks, because we were clearly far too sober to exist and more alcohol was necessary. Of course, just as we were all having the best time EVER I got this image as a text message from John:
at which time I immediately starting crying right into the nachos and possibly Blythe's Margarita as well. There may have been snot on the fried green beans when it was all over. In case you were wondering, being notified of your child bashing his head apart all over your favorite Chik-Fil-A is just about the best way you can SOBER YOUR ASS RIGHT UP.
Leigh was all, "Uh, uh, I have to go pee!" and almost knocked the table over as she ran uncomfortably away, and Blythe was mostly like, "OH MY GOD. OH MY GOD. OH. MY. GOD." Later, we all decided that John was a total shit for sending me that image with no text attached, and we all plotted his death.
[Watch your back, dude. These bitches don't play.]
Have I mentioned that I love Blythe and Leigh? No? Well, I do. They're beyond awesome.
As we were leaving the restaurant, Blythe was all "I know you bitches are tipsy, neither of you has any kind of sense of direction, and you don't really know where you are, but I hope you get home somehow, love ya, mean it" and dumped us in the parking lot and took off laughing. I was totally feeling like I might want to marry her right in that moment, and I'm sure you can understand those deep feelings.
And when Leigh was taking me home and suddenly said, "OH MY GOD WHAT THE FUCK IS THAT, A PEACOCK?!" I knew that she is just classy enough to be my new crush. (But yes, it was a fucking peacock. Have I not told you about the peacocks that live right by us? No? Well, guess what. Peacocks. Right across the street. And they are LOUD. There. Now you know.)
I am a little pissed off, in retrospect, because the whole reason I went to Burn Your Facial Skin Off So You Can Be Prettier Palace was so I could learn about having lasers shot at my armpits and vaginal area. And NOBODY TOLD ME ABOUT LASER BOMBING MY HAYHAY.
Totally robbed.
So, in summation:
The Universe is a dick but at least it throws you a bone every now and then.
The Universe is a dick and it will smash your kid's head in while you're having fun.
Your lips should never be larger than your ass. NO, REALLY. (If they are, I DEMAND you start sitting on your face.)
My cooter is still in need of laser action.
Jesus wore color contacts and used skin care products.
My blood is probably at least 90 Proof.
John should really be sleeping with his pistol under his pillow.
Blythe and Leigh = awesome and I might have sex with them some day while a peacock watches.
So, how have you all been lately?
</rambling post of awesomeness>
photo credit: Dan Kamminga / CC2.0
April 26th rolled past me, as it did you. It brought pain and joy and all things in between to him and her and them and the others. It was a day, and we all walked into and out of it, just like we do so many others. Some days leave their marks on you and those marks, be they soft lip prints or jagged, deep carvings, stain you. This is Life's Tattoo. This is the one that can't be removed; you just have to learn to live with your new ink. You may even find beauty in it.
I thought about this baby several times on this past day that happened like they all do, as clocks everywhere mark the time that slides by without any effort. It has been 2 years since that first miscarriage, the one that opened the door on a special kind of fear and loathing, and introduced me to the doubt of my female body.  On this day I wondered, as I have so many times, who that one could have been if conditions had been just right. I sometimes stare off into nowhere, eyes distant, face slack, thinking these thoughts. Then I sigh deeply and swallow a lump in my throat; my hand may wipe at a tear that rolls absently. Other times I feel a peace, a moving on, an acceptance.
My world feels different than it used to so many moons ago.  I am changed.   There are some wonderful differences and there are, scattered about, some not so fabulous ones. These things, the changes both good and bad, are all just a part of the What Is. I can handle that. I can roll with it and still find a reason to be, see a splendor in life. It's always there, waiting for me to rediscover it.
There have been times I didn't think that was possible – that I'd be able to see beauty and feel bliss in life again, be able to even care if it was there or not. But I hold that knowledge, that truth, close to me now, as I live and breathe.  This tender awareness seems to sit in the palm of my hot hand like a smooth pebble. It holds weight and feels cool against my skin. I like it; it grounds me.
There is splendor in life. You (and I) can always rediscover it.
I have learned another truth during this time, as well.  A less fabulous one, I'm afraid.  In every situation during the past two years where I have said to a group of women (of any size) that I have had miscarriages, at least one of them always shares that she has had one, also. There are too many of us. Why does it never fail to shock me, even though I know well by now how often it happens?
To all of you who have experienced this or other painful loss, I thought about you today, too. I felt sadness and tension, and then I released it. I sought the love and peace in my heart. After soaking it in for awhile, I released that into the universe, too.
I hope it finds you, much like a cool pebble that might just land, unexpectedly, in your upturned palm.
Did you know that RUNNING! is awesome? 
It is.  RUNNING! is fun and exhilarating and it tones your body and makes you feel alive.  RUNNING! makes you float on a layer of endorphins called Awesomeness Coated in Hell Yes every time you do it.  You do a lot of RUNNING! when you're training for a 5K.
So, what happens when you've started training for a 5K and then it gets ass-shattering cold outside, so you start going to the gym with an indoor track to continue your training?
Well, apparently, if you're using my body, you get a sweet-ass case of shin splints in your left leg, but you keep running on it because you're a bonafide dumbass. Then, when it starts hurting like the hurtiest hurty thing in Hurtville, you do some research and find out that shin splints are not uncommon in new runners, especially when using an indoor track that has stupid, shitty, short turns (yes, like the one you started using when it got cold because you're a whiny pansy-ass).  SO, YAY – CONGRATULATIONS! YOU HAVE SHIN SPLINTS!
You employ R.I.C.E therapy like a good, little idiot person who should have done that right away instead of running on the injury, but has now seen the light.  You rest, ice, compress, elevate.  In fact, to also 'medicate' the severe disappointment caused by having to stop RUNNING! you take it to a whole notha level, and you throw down some R.A.I.A.C.A.E.A therapy.  (All together now, A is for "apple" and "airplane" and "ALCOHOL")
After a couple of weeks, EUREKA! your leg is healed.  To make sure you don't get too damn happy for too long, you run on it for a week, but then do some stupid exercises one day at home without shoes on after you've already run that day, and don't stretch/cool down when you're done because your child wakes up from a nap and he's screaming like a banshee with a porcupine that's been set on fire shoved up its anus, so you just bolt up the stairs like your life depends on it mid-stupid exercises.  (Let's be totally clear here, it was obviously the kid's fault. Jerk.)
Later, you realize that you were mistaken before.  The shin splint was definitely not the hurtiest hurty thing in Hurtville.  It was clearly only a slighty painy pain that lived somewhere outside of Painstoria.  THIS CALF STRAIN IN YOUR RIGHT LEG IS THE REAL HURTIEST HURTY THING IN HURTVILLE.
And it's on vacation ALL UP IN YO BIZNASS.
So you limp around like you've been Kerriganed for over a week. (Again employing a massive dose of R.A.I.A.C.A.E.A therapy, because this is what professionals like you do.  You?  Are a master at physical therapy. And stuff that requires you to drink alcohol.)
Finally, oh finally, you are healed.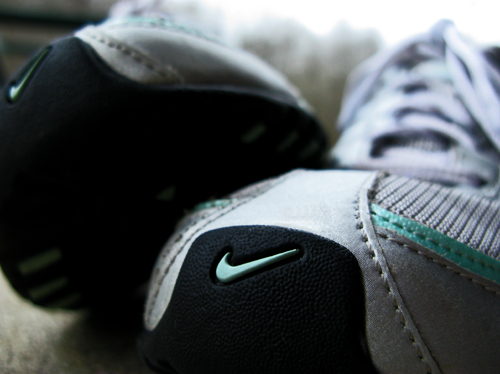 And so excited to start RUNNING! again.
So then you go RUNNING! again because RUNNING! was making you feel so good and so happy and heralding all kinds of gold glitter and rainbows from your rectumular area oh so many weeks ago when you were doing it regularly.
And you know what? RUNNING! is still awesome.
But you are not.  Because YOU LOST YO GROOVE while you were all up in some R.A.I.A.C.A.E.A Therapy at the Bar in Hurtville/Painstoria for weeks on end.
I've got some news for you.  Now you have to work back up to the same level of endurance you had before, and oh hell yes, you will.  Don't you doubt that, because you've been there before, and you plan on kicking super ass and getting there again in short time.  In fact, the bursting feeling in your chest can just GO HOME TO ITS MOMMA, because you are completing every damn interval of every damn train, pushing through the sucktastical feeling of weakness,  and you will NOT give up.
You? WILL BE TRIUMPHANT ONCE MORE. Hell, you're already well on your way as we speak!
However, during your return to triumph, while you're doing your warmup mile one day, you do think that it would be awesome to do two sets of 50 jumping jacks at 1/4m and 3/4m, and you know what?
You could have been using all that time you spent sitting on your ass with your compressed, iced legs elevated while you sucked down booze and healed doing something you could have really benefited from.
SOME DAMN KEGELS.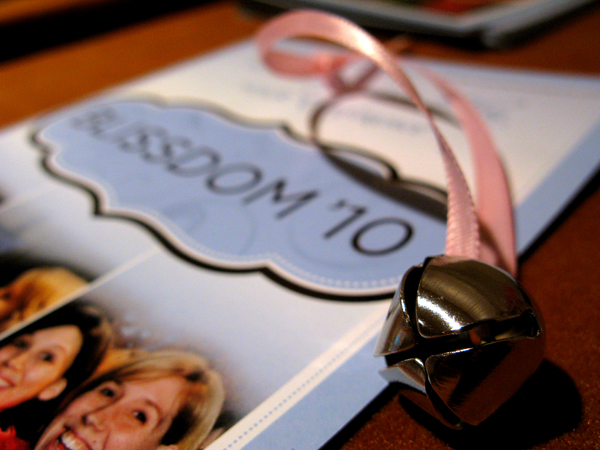 I got this tiny bell in the HerStory Workshop today, at Blissdom. Isn't it cute? Thanks to Aliza and Maya. The exercises they offered were thought provoking. And I discovered that the story of my life is entitled, "I haven't screwed up too bad, yet. But give me time." You'd buy it, right?
I also want to give giant props to the ladies who paneled the Writer's Craft Workshop. I *thoroughly* enjoyed myself – what a great discussion. I had the beginnings of what I think is going to be a very good post in my hands when I walked out of that room Thursday evening. Thank you so much, Megan, Arianne, Deb, and Amber.
I'll be heading back to the Opryland Hotel (can you say "friggin' gorgeous?") tomorrow morning and staying until Sunday (Weekly Winners may post late this week, but it will be up by Sunday sometime.)  Thank you so much, Monica & Bridget, for letting me share your hotel room.
Gotta go pack a bag now and get a little sleep before I hurry back over there tomorrow to hug on some more beeshes.

I love seeing so many women that I think the world of in one place.
Every time I hear a squee, an angel gets her wings.
For all the drunk ladies in the bar who don't have a good enough girlfriend to tell them?



I fell in love when I saw the message over this bar bathroom during Blissdom 09 Photo Walk.
I can't tell you how many times I can remember going into a bar bathroom to pee and seeing women madly obsessing over themselves in front of the mirrors. Applying makeup, fixing hair, adjusting clothing, etc.
Most of the time, I was stumbling in there half drunk, hitting the stalls, about to burst. (You know, once you break the seal on a drinking night, you're screwed, friends.) Then I'd have to wait for the latest Cover Girl to finish her application before I could wash my hands.
And I've got nothing against anyone checking their appearance or light grooming. But what I've seen in the bathroom so very often has gone way beyond that.
I doubt the guys are doing this over in their bathroom. What gives?
I think every bathroom mirror in the world should say at least the first part of what's above the one in the picture.
"Stop staring. You're beautiful."
It's true.


Copyright © Dandelion by Pexeto