Did you know that RUNNING! is awesome?  It is.  RUNNING! is fun and exhilarating and it tones your body and makes you feel alive.  RUNNING! makes you float on a layer of endorphins called Awesomeness Coated in Hell Yes every time you do it.  You do a lot of RUNNING! when you're training for a 5K.
So, what happens when you've started training for a 5K and then it gets ass-shattering cold outside, so you start going to the gym with an indoor track to continue your training?
Well, apparently, if you're using my body, you get a sweet-ass case of shin splints in your left leg, but you keep running on it because you're a bonafide dumbass. Then, when it starts hurting like the hurtiest hurty thing in Hurtville, you do some research on http://www.sportsandsafetysurfaces.co.uk/ and find out that shin splints are not uncommon in new runners, especially when using an indoor track that has stupid, shitty, short turns (yes, like the one you started using when it got cold because you're a whiny pansy-ass).  SO, YAY – CONGRATULATIONS! YOU HAVE SHIN SPLINTS!
You employ R.I.C.E therapy like a good, little idiot person who should have done that right away instead of running on the injury, but has now seen the light.  You rest, ice, compress, elevate.  In fact, to also 'medicate' the severe disappointment caused by having to stop RUNNING! you take it to a whole notha level, and you throw down some R.A.I.A.C.A.E.A therapy.  (All together now, A is for "apple" and "airplane" and "ALCOHOL")
After a couple of weeks, EUREKA! your leg is healed.  To make sure you don't get too damn happy for too long, you run on it for a week, but then do some stupid exercises one day at home without shoes on after you've already run that day, and don't stretch/cool down when you're done because your child wakes up from a nap and he's screaming like a banshee with a porcupine that's been set on fire shoved up its anus, so you just bolt up the stairs like your life depends on it mid-stupid exercises.  (Let's be totally clear here, it was obviously the kid's fault. Jerk.)
Later, you realize that you were mistaken before.  The shin splint was definitely not the hurtiest hurty thing in Hurtville.  It was clearly only a slighty painy pain that lived somewhere outside of Painstoria.  THIS CALF STRAIN IN YOUR RIGHT LEG IS THE REAL HURTIEST HURTY THING IN HURTVILLE.
And it's on vacation ALL UP IN YO BIZNASS.
So you limp around like you've been Kerriganed for over a week. (Again employing a massive dose of R.A.I.A.C.A.E.A therapy, because this is what professionals like you do.  You?  Are a master at physical therapy. And stuff that requires you to drink alcohol.)
Finally, oh finally, you are healed.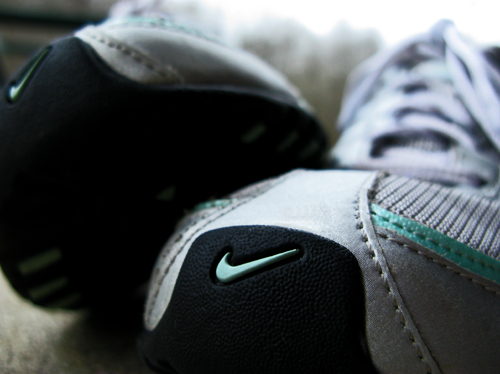 And so excited to start RUNNING! again.
So then you go RUNNING! again because RUNNING! was making you feel so good and so happy and heralding all kinds of gold glitter and rainbows from your rectumular area oh so many weeks ago when you were doing it regularly.
And you know what? RUNNING! is still awesome.
But you are not.  Because YOU LOST YO GROOVE while you were all up in some R.A.I.A.C.A.E.A Therapy at the Bar in Hurtville/Painstoria for weeks on end.
I've got some news for you.  Now you have to work back up to the same level of endurance you had before, and oh hell yes, you will.  Don't you doubt that, because you've been there before, and you plan on kicking super ass and getting there again in short time.  In fact, the bursting feeling in your chest can just GO HOME TO ITS MOMMA, because you are completing every damn interval of every damn train, pushing through the sucktastical feeling of weakness,  and you will NOT give up.
You? WILL BE TRIUMPHANT ONCE MORE. Hell, you're already well on your way as we speak!
However, during your return to triumph, while you're doing your warmup mile one day, you do think that it would be awesome to do two sets of 50 jumping jacks at 1/4m and 3/4m, and you know what?
You could have been using all that time you spent sitting on your ass with your compressed, iced legs elevated while you sucked down booze and healed doing something you could have really benefited from.
SOME DAMN KEGELS.
All Site Content: Copyright © Lotus Carroll // Theme: Copyright © Dandelion by Pexeto