So, I've been quite brilliantly not writing near as often as I used to here for some time now. I'm perfecting this art I like to call "Ignore Your Blog Until It Dies." I think I'm doing a *really* good job. Only, I keep popping back into frame and, you know, it's because I love you. And because I like to run my proverbial mouth write. Also, a little bit because of how good you look in those jeans, and that you're kind of slutty. But mostly the thing about how I like to write. Yeah.
I used to post something every day – and while I'm not interested in pushing myself to a "per day" schedule anymore, I do want to get back to writing more often. And because she's awesome like that, Leslie (aka Mrs. Flinger) has been thinking of this whole "let's get back to writing" thing, only she actually wants it to be GOOD WRITING (oh, shit) and after several email brainstorming sessions with a group of amazing women (I think someone added my name to the email list by accident, but I wasn't going to rat myself out) there's a little movement, or community, going.
So I'm jumping in. I'm going to take the challenges and post my shitty drafts in answer to them here for you to look at and laugh while you point and say, "this shit is supposed to be good writing? BAHAHAHAHA."
Of course, instead of just being a turd, you could join the network and get your ass in gear, too.
Today's Challenge? Embarrassing story.
And you know, I am having a little bit of difficulty coming up with a topic because I never have embarrassing things happen to me, and I never do embarrassing things.  I have a hard time even understanding what this whole "being embarrassed" thing is like.  I am poised, confident, and graceful.  Whether by luck, chance, or higher power, I am immune to awkward situations.  All of the stories of my life are calm, without incident, and there is truly a spirit of class and dignity that surrounds all that is moi.
Also, pigs fly out of my butt and there's a unicorn eating rainbow striped cotton candy on my back lawn, right next to the leprechaun who is counting out all the gold he's going to leave on my front step later today. Now, excuse me, because it's time for me to go climb on the back of my friendly, neighborhood dragon and go for our regularly scheduled flying playdate with Peter Pan and Mary Poppins.
I am having trouble because I've already written here about all the most embarrassing topics that come to mind immediately.  Like when my mother announced that I'd started my period in front of our male, European house guests.
Who do you tell?  If you're like me, you tell your mother.  And you don't enjoy it.  But you get it over with, and then you expect it to go away.

You don't expect to be washing the dishes after dinner, minding your own business, and have your mother practically float into the room on her Mommy Pride and gush about it to the two MALE, European house guests sitting at the kitchen table.

They speak very little English, but you quickly see that they have perfected that Creepy Guy Look Of Knowing And Thinking Ew Things, because they are aiming it right at you.  Picture it, right now.  If your skin didn't crawl, you don't know what I'm talking about.

I.Couldn't.Believe.She.Had.Done.That.

She CLEARLY hated me. I was SURE of it.

I just wanted to DIE.
Or the story of my first pit hairs.  Yeah.
I remember when I first started getting armpit hair.

I was mortified.

My mom?  Was excited.

I was sitting on her bed, with my hands behind my head, all chilled out, leaning back.  I can remember her noticing the armpit hair and pointing it out, smiling and gesturing.  The expression on my face had to have been one of complete and total terror.  She, on the other hand, was dangerously close to suggesting we should have a parade for my pit hair.

I could see myself on the lead Pit Hair Parade! float, my arms strapped up and to the sides.  Large spotlights would aim at my pits and flower adorned arrows would be positioned to point right at the tiny hairs there, in case people were not aware that LOTUS.HAS.PIT.HAIR.NOW!!!

I slapped my arms down, and tried to change the subject, while mentally willing with all my might that time would just stop.  Maybe God really did exist and I could pray to him right now to erase this?

Because it was embarrassing.
Or maybe you'll remember when I talked about how I made sure that John would truly fall madly in love with me, one day becoming my husband.  I had a foolproof plan, really.  All you dating ladies should try this out on your man.
John told me that when we were first dating, he had an interesting experience. He was visiting me at my apartment in Winston-Salem, NC. We had been hanging out, laughing, having fun, etc. He had to pee. He got up… walked down the hallway, and went into the bathroom. Closing the door, he turned around, and lifted the toilet seat.

And witnessed a large, brown floater.

Sexy or what?
And you're probably thinking that I *forgot* to flush.  Ah, foolish one.  Everyone knows that Surprise Shit is the way to a man's heart. It's either that or food. Or blowjobs. Or something. Clearly I'm an expert.
When it comes right down to it, a great many of my embarrassing situations don't really stand out because they are the majority of the strands that weave the I'm A Dumbass Idiot tapestry of my life.  It all just blends together to create the badass that is Loter.
So what if I've puked on the side of the highway in my underpants?  Big deal if I drove a car up past the parking space and actually right into the wall of a building once?  No problem if I leave my wallet at home when I go shopping, hold bows up to my crotch in department stores, lose my car in parking lots, say horribly stupid things to people in practically any social situation, walk into doors and fences, or melt my food processor in my oven because I was too lazy to clean it and instead shoved it in there so I wouldn't have to look at it anymore and then forgot and preheated the oven for dinner while it was still inside, like a completely idiotic assface? So what if I write long, run-on sentences just because I like the way they sound in my head and think you should, too?
So what? I am still awesome.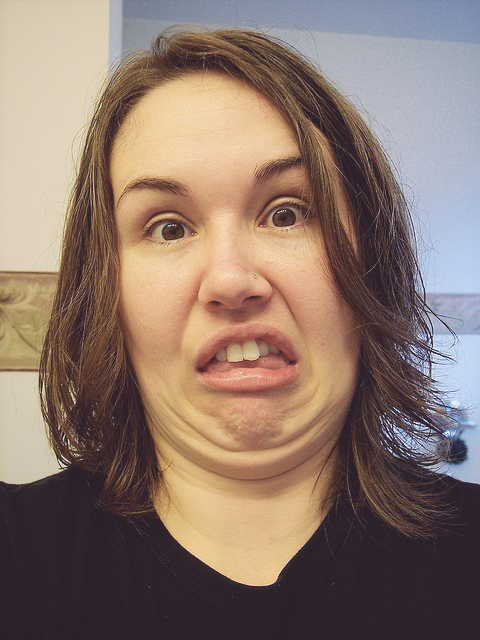 And I'd love to delude myself talk about that in detail, but I really have to go now.  I need to put on my magical, vanilla-scented Invisibility Suit and take my pet dinosaur for a walk down our gold-paved street.
All Site Content: Copyright © Lotus Carroll // Theme: Copyright © Dandelion by Pexeto