There is so much. So very much, and there is no way I can touch it all in one post. I'm going to break this up into posts on different days (non-consecutive, of course, wouldn't want to ruin my lazy douche reputation by posting two whole days in a row with words and stuff) as I speak specifically, and share photos (mine and others') and videos with you as I go along.
photo by Mishelle Lane
And even then, I won't be able to get it all across to you. The excitement, the freedom, the friendship, the FLASHMOB (oh yeah!), the chance to speak and share, the Community, the panels, the musical performances, the food and drinks, the fun, the laughter. The LOVE.
photo by Mishelle Lane
I'm going to try very hard, but there just seems so much and some parts of it seem so deep, that I fear I have not the skill, the time, the energy… to really make you see, hear, and feel it the way you should, the way I wish for you to, the way I did.
I'm going to tell you now, before I start the posts by day, that I truly love this community of persons I've become connected to these last several years. Some of you I am only connected to by the wisp of a thread, and we float into and out of one another's lives only occasionally. Others of you spend time with me every now and again, us keeping up in bouts and starts and stops, flowing here and there; you make my life your here sometimes and your there at other times. Still others of you are tied to me like a lifeline, and I think of or hear from you every day; we've been with one another through happy times and hard ones, and everything in between.
photo by Mishelle Lane & Lotus Carroll
All of you amaze me, inspire me, and collectively form a thing I am constantly in awe of and drawn to endlessly.
Each of you should attend this conference next year, or the first time you have the chance to do so. I'm rooted in the heritage of BD and have been a part of this Blissdom Community since it began in a crazy, cowhide-covered-walls hotel with a pink crayon brazier in the lobby (no really), and I'll be a part of it for the rest of its fabulous ride down the road. I can tell you that with absolute surety, and I will also tell you now that what keeps me coming back is not just my ties to its past, or my deep and abiding love for the woman whose heart dreamed this dream so fiercely that she made it come true, but for the HUGE sense of love, friendship, and community I feel while I'm at this conference.
There isn't any substantial amount of time that you will spend alone while at Blissdom (unless you really want to be alone, and I'm right there with you on that one, we all need to decompress, and for me that's hiding in my hotel room every now and then in the dark because I will be a complete hag to someone in that moment if I don't, and also because I get REALLY GASSY when I'm traveling/nervous and you gotta excuse yourself every little while and let that out, but I digress) and you won't find one minute when there isn't something amazing right at your fingertips.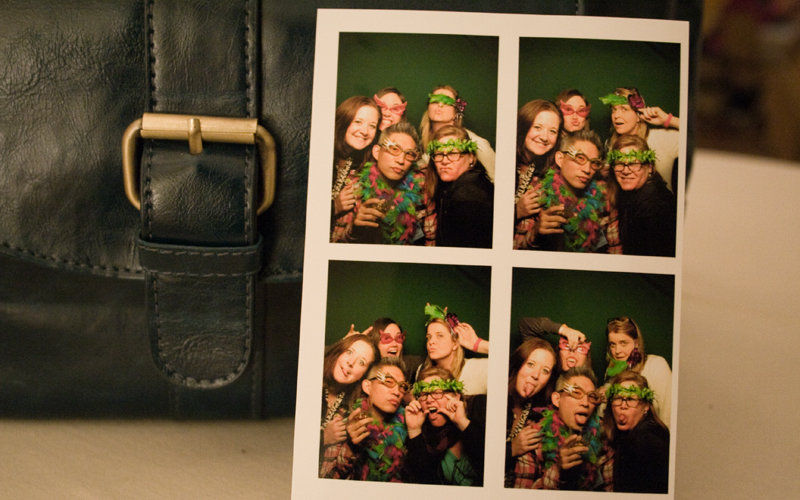 My word for this conference is LOVE.
Call me cheesy (I really don't mind, cheese is one of my favorite things in the world), but that is the truth. And Love, when it is truly felt and shared and spread around, is basically the most wonderful thing that exists. Some pretty popular and talented Liverpoolers once said that it's all you need.  I think they were pretty much right.
I'm looking forward to sharing these next several posts with you. I hope you enjoy them.
Oh, and one more thing: All you women out there, the ones I know well and hold dearly in my heart, the ones who have been with me for the past few years, and those who only check in once in a great while, as well as any woman who just happens to stumble through here for whatever reason, and even those who never read these words themselves at all or know me in the least (can you tell them for me?)…
~You are beautiful.
Frankly, it's 54F outside right now, and the forecast high for today is in the 60s.  On a couple of days next week, it's supposed to be in the 70s.  I will now duck your thrown punches. So, pretty much, no, it's not really very cold here in Austin, TX.
Last year we had snow a week into the New Year (we were still living in Nashville).  Braden expects it this year, and I keep having to tell him we will probably not see it.
No matter the weather, we're enjoying some Christmas spirit in our home right now.  We've been tracking Santa already and are currently watching The Polar Express.  I sense there will be cookies consumed later today – along with our usual brunsli and spitzbuben, I made these monsters yesterday.  Hey, at 433 calories a cookie, it eats like a meal! (Better get out my stretch pants.)
It's been a wonderful holiday season, from the lights to the tree and the anticipation of the big day itself. Braden's first time sitting on Santa's lap and talking to him was a rousing success. My heart definitely grew to three times its previous size.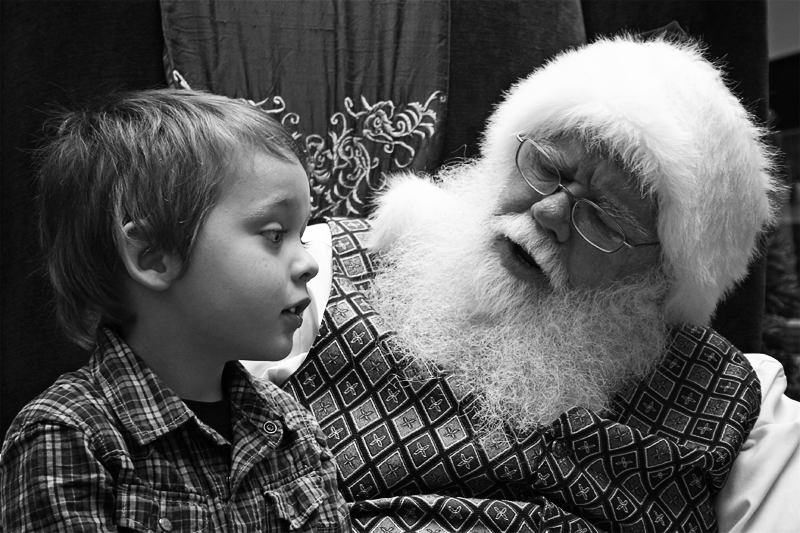 Now it's Christmas Eve, and before I completely lose myself in:
trying not to cry at the insanely joy-filled excitement spilling out of my son (already failed)
The Polar Express, A Christmas Story, Elf, and National Lampoon's Christmas Vacation
a pile of wrapping paper, tape, and

cursing

ribbons
smoked salmon, crackers, wine and… yeah, really need to put on those stretch pants soon.
I wanted to share a little ditty with you guys that John and I recorded (home studio + talented musician, FTW!) earlier this month for The Fifth Annual Blogger Christmalhijrahanukwanzaakah Online Holiday Concert, hosted by Neil.
Just click the link below to listen to our version of Baby, It's Cold Outside.  And whether it really is cold out for you or not, I hope this warms your heart and spreads a little of our Christmas Joy to you.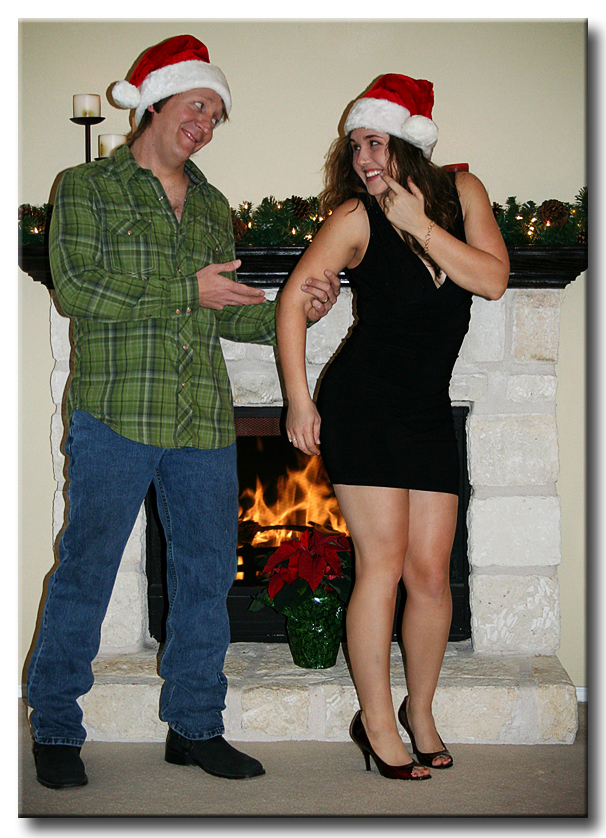 From our family to you and yours, have a very Merry Christmas.
Happy Holidays, my friends!
<rambling post of awesomeness>
I have had way too much fun lately. In fact, I told John that I was pretty sure I'm going to die soon and this is The Universe's way of saying, "Oh, hey, sorry about that…" ahead of time. A lot of times The Universe is a total dickhead, but I can imagine that maybe sometimes it gets bummed out about what a shit it is and tries to be cool to you to make up for it.
It's kind of like how I pretend to be nice to John every once in a while when I realize I've been a total hole for months on end. Cause, you know, a few hours of not actually saying anything derogatory and smiling a lot can make up for endless weeks of torture and passive aggressive quips blended with just out and out aggressive combativeness and demanding, controlling, and manipulative domestic behavior.
God help him if he complains though; then I'm all, "DO YOU NOT REMEMBER THE TIME THAT I HANDED YOU A NAPKIN WHEN YOUR FACE WAS DIRTY? I BLEED FOR YOU, INGRATE."
Or something. But, basically, I know not to push The Universe and all, because it's just doing the best it can, damnit. Ya dig?
So. Yeah. The Universe is clearly trying to be nice to me because it feels bad about my impending doom.
Either that or it is going to plan such a fiery, explosive and painful ending for me that getting me all complacent and mellow first will make things that much funnier for the bastard when it all goes down.  The Universe is probably sitting in a dark room rubbing his hands together, and he's all, "This stupid bitch has NO IDEA what's in store for her, man.  It.is.going.to.be.EPIC.  I am totally going to photograph the look on her face and Twitpic it when she gets hers. MUAHAHAHAH."
Um. Wow, The Universe just went from being a maybe, kind-of dickhead to a completely sadistic psychopath in my mind. I can't say I'm surprised. I've been into the caffeine again. Also the wine. Maybe a little of the blow powdered sugar.
What the hell was the point of this post? Oh, yeah. I've been having fun lately – making new friends in our neighborhood, going out with girls I actually like, and generally, well, not being locked in my house like a socially inept, loser ho-bag.
That is, I've been pretending I'm not a socially inept, loser ho-bag, and nobody is on to the deception yet, so clearly I am up for the next Academy Award. (note to self: do not marry Jesse James any time soon)
Last Wednesday, in another installment of Happy Fun Times I Should Feel Guilty About (don't worry, I got mine) I went to an Open House at Beleza Medspa with some lady friends: Blythe (Aka @Bejewell) and Leigh. We needed to learn about ways you can change what nature does to your body, and instead, make it all fake and HOT.
Apparently, Blythe and Leigh were getting drunk for free while they were waiting for me to arrive late (people start drinking to cope with the fact that they miss me, I'm that awesome) (either that or they drink to cope with the fact that I'm about to arrive) and once I got there, we went to a back room to find out about the process of having your facial skin turned from haggarific to Goddess Sheen of Awesometasticness.
This process is also known, to lesser degree, as Let's Burn Your Ugly Face Off. You'll only have to hide in a cave for about 4-6 days while all the skin flakes off as if you have some horrible and contagious disease. But after that? YOU WILL BE BEAUTIFUL. It's a metamorphosis. You have to let your inner butterfly out… by KILLING THE SHIT OUT OF THAT CATERPILLAR we like to call your real face.
I kind of started getting scared as we were led down a hallway to a back room. Partly because we were walking in the opposite direction of the free wine, but also because I was worried about what was really about to happen. What if we ended up in a deep well being told "it puts the lotion on its skin?" IS THIS HOW THEY REALLY GET THE NEW SKIN THEY PROMISE TO PEOPLE?
It turns out we were just going to hang out with Nathan in a small room, drink, act like complete morons and listen to him tell us about all the products he could sell to us that are totally made of Fairy Dust and Unicorn Shit, and will therefore MAGICALLY MAKE YOU PRETTY. The before and after photos were really impressive, especially the one where the woman was definitely dead in the before photo and was just about to receive the crown for Miss America in the after photo.
What I'm saying is that this stuff that comes in a 1oz bottle and costs only slightly more than a new car (okay, maybe I'm exaggerating JUST A LITTLE BIT) will totally bring you back from the dead.
I bet Jesus used it. I mean, have you seen photos of him? His skin was far too lovely for a 30 something who was out in the raging sun without SPF all the time. Also, you know damn well that he was wearing color contacts – blue eyes, MY ASS. Easter should really be celebrated by rubbing expensive liquid shit on your face. (Or hiding colored eggs, maybe, because we all understand how that has anything to do with Jesus.)
*blank stare*
After we annoyed Nathan for some time by making sex jokes, asking if he could just make us pretty and skip all the intelligent, scientific explanations and photos, and just all around being obnoxiously hilarious, Nathan rubbed random products on us. I'm not sure exactly why, maybe to prove that it wouldn't melt our skin on contact? We giggled a lot and then smelled it. Don't you smell everything that a strange man rubs on your skin in the back room of a place where they ply you with alcohol and ask you for your personal information the moment you arrive? No?
Well, I don't get you at all.
Anyway, I'm pretty sure that we were the most awesome people who were there that night, as evidenced by:
our inability to just listen to Nathan, rather, interrupting every few seconds to make drunken jokes
Blythe making her fingers kiss and say "I do" when Nathan put eye cream on them
Leigh commenting about the hookers we were going to pick up later (what?)
my responding to Nathan's question about our lifestyle habits by saying (in a very charming manner, I'll have you know) "I don't smoke, my diet is good, I use SPF, but I drink LIKE A MOTHERFUCKER!!!, is that bad?"
the fact that we considered just shoving the product in our purses and RUNNING LIKE HELL
our inability to get more than 2 feet away from the place without loudly proclaiming over the Size XXL lips on Mega Procedures Woman (I may have thrown up in my mouth a little. I mean, really, your lips are NEVER SUPPOSED TO BE LARGER THAN YOUR ASS.)
Of course, then we went to a restaurant and ordered more drinks, because we were clearly far too sober to exist and more alcohol was necessary. Of course, just as we were all having the best time EVER I got this image as a text message from John:
at which time I immediately starting crying right into the nachos and possibly Blythe's Margarita as well. There may have been snot on the fried green beans when it was all over. In case you were wondering, being notified of your child bashing his head apart all over your favorite Chik-Fil-A is just about the best way you can SOBER YOUR ASS RIGHT UP.
Leigh was all, "Uh, uh, I have to go pee!" and almost knocked the table over as she ran uncomfortably away, and Blythe was mostly like, "OH MY GOD. OH MY GOD. OH. MY. GOD." Later, we all decided that John was a total shit for sending me that image with no text attached, and we all plotted his death.
[Watch your back, dude. These bitches don't play.]
Have I mentioned that I love Blythe and Leigh? No? Well, I do. They're beyond awesome.
As we were leaving the restaurant, Blythe was all "I know you bitches are tipsy, neither of you has any kind of sense of direction, and you don't really know where you are, but I hope you get home somehow, love ya, mean it" and dumped us in the parking lot and took off laughing. I was totally feeling like I might want to marry her right in that moment, and I'm sure you can understand those deep feelings.
And when Leigh was taking me home and suddenly said, "OH MY GOD WHAT THE FUCK IS THAT, A PEACOCK?!" I knew that she is just classy enough to be my new crush. (But yes, it was a fucking peacock. Have I not told you about the peacocks that live right by us? No? Well, guess what. Peacocks. Right across the street. And they are LOUD. There. Now you know.)
I am a little pissed off, in retrospect, because the whole reason I went to Burn Your Facial Skin Off So You Can Be Prettier Palace was so I could learn about having lasers shot at my armpits and vaginal area. And NOBODY TOLD ME ABOUT LASER BOMBING MY HAYHAY.
Totally robbed.
So, in summation:
The Universe is a dick but at least it throws you a bone every now and then.
The Universe is a dick and it will smash your kid's head in while you're having fun.
Your lips should never be larger than your ass. NO, REALLY. (If they are, I DEMAND you start sitting on your face.)
My cooter is still in need of laser action.
Jesus wore color contacts and used skin care products.
My blood is probably at least 90 Proof.
John should really be sleeping with his pistol under his pillow.
Blythe and Leigh = awesome and I might have sex with them some day while a peacock watches.
So, how have you all been lately?
</rambling post of awesomeness>
photo credit: Dan Kamminga / CC2.0
His very first cone of ice cream to eat all on his own was a waffle cone bigger than his head. He loved it deeply.
It loved him back. They became one in a melty explosion of chocolate toddler happiness.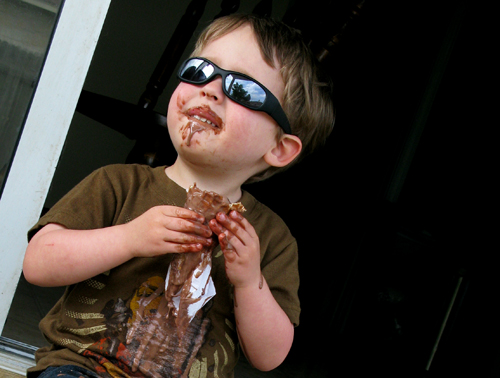 You just can't stand in the way of a love so deep (and sticky) as this – you just put it outside, watch the sweet carnage unfold, laugh and take lots of photos.
Mark it down on the list of fun stuff I'll miss witnessing one day.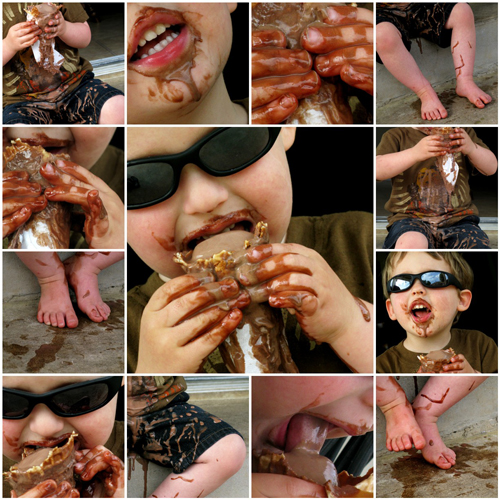 The next time you see me here, I'll be back where I left my heart years ago.
This is what I was bursting with in this post, and what made me smirky in the photo here.
Heading back to live in Austin, my friends.  With a huge grin plastered across my face.
I'm sure I'll be tweeting all along the way there, so if you're interested in coming along, follow me on Twitter!

I am so, so, so happy.
my son is a super secret spy.
he is an agent who seeks answers hidden in dark places with the desire to solve outrageous mysteries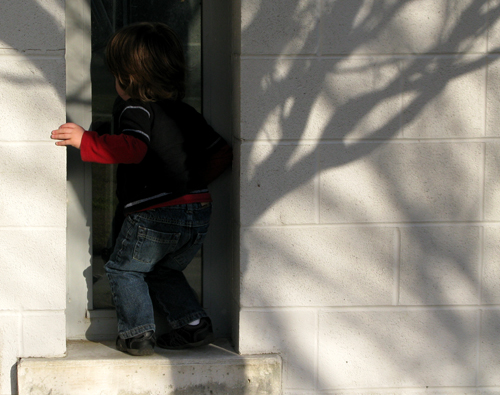 he has to be in top physical shape to get in and out of the dangerous places he's drawn to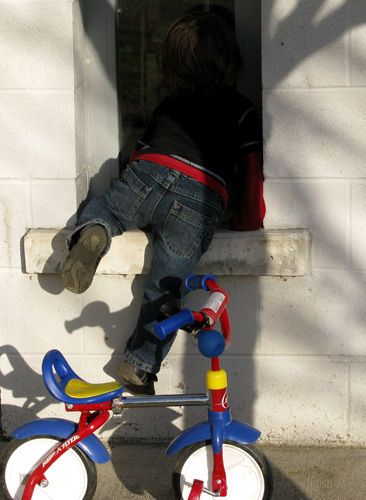 he is always aware of his surroundings, noticing tiny details that even the best, most intelligent operatives might overlook, spotting things of great importance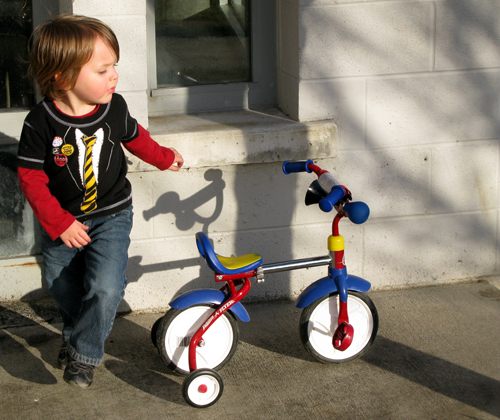 he plucks precious treasures from their hiding places, with a clear understanding of what must be done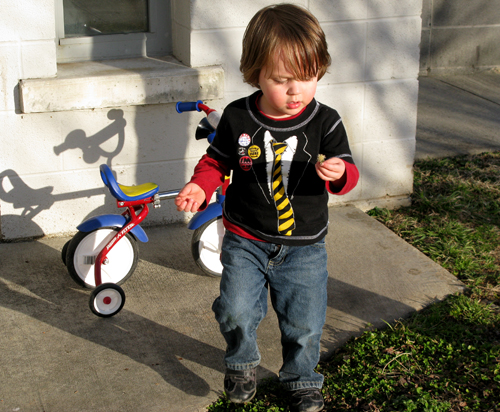 and turns them over only to she whom he most trusts, knowing that his mission is completed by this hand-off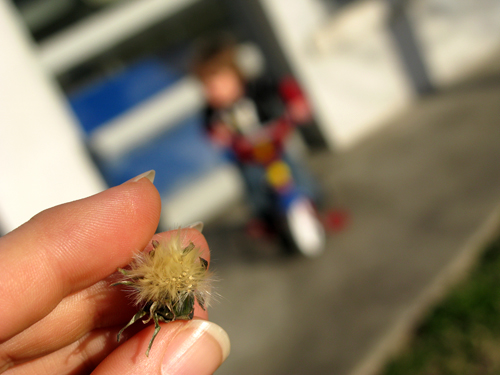 then he slips away to the next daring adventure, leaving his leading lady with a smile on her face.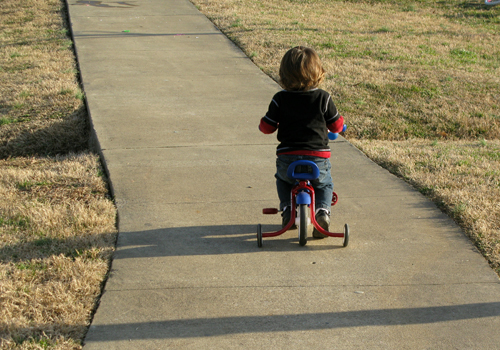 Oh the roads we have traveled.  And oh, those we have yet to travel!  They stretch out before me in my mind.  They're sometimes long and winding, but more often, lately, so straight and fast that I can see the endpoint like a sudden, bracing hug and it takes my breath away.  That place on the horizon where the road blisses out is bursting with warm sun, calling me.
There is so much going on right now, a flurry of to dos and plans and please let this work outs, that I can't even begin to tell you about it all.  I want to tell you.  Of course, I will.  In just a little while.  My thoughts are racing along so far and so fast, ahead of me on that straight-shot road, being drawn to the place where my heart lies in wait.  When it all snaps together just right, I'll calm down, take a deep breath, and let my fingers do the work of spilling the proverbial beans here.
For now, my feet are getting tangled under me as I dart this way and that in nervous anticipation and fervent getting readiness.  It's quite a dervish of a whirlwind that's whipping me around currently.
Luckily, in the breaks between spinning and racing and running around with far too much to think about and much, too much, to do, Braden and I have private dance parties to the music of The Beatles in our living room.  There is generally an abundance of giggling.  (You can dance really stupidly when there's no one but a 3 year old watching, and it doesn't matter.)  Often, there is falling down on the floor silliness to be had, as well.  And sharing a moment or two of just being.
Life, contrary to what you may have heard, is good.
I spend a lot of my time with a little boy and a little dog, and we mix it up together with this and that.
Sometimes a little bit of the other.
I am very fond of throwing open the blinds as far and wide as they will go when the sun comes out to play at this time of year.  I am not a fan of being cold and gray.  I need light and warmth and vibrance or I forget how to breathe.
The dog is very, very fond of sleeping in puddles of sun on the carpet. (I have to admit that I am, too.)
What he did not realize, however, is that if one chooses to sleep among the train tracks of the little boy, one gives up all rights not to be built upon.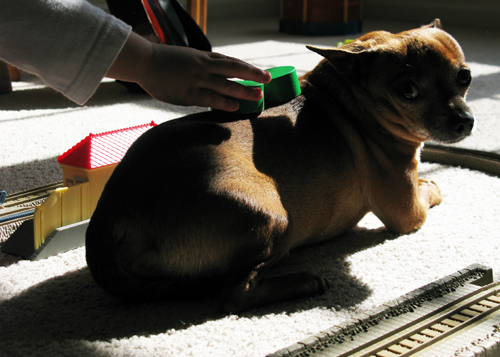 I was the foreman, looking on and supervising. I must confess that I felt this was a questionable choice of foundation.
But the builder, the artist, had a vision, and he followed through.
The foundation was kind of not interested in allowing the vision to be realized.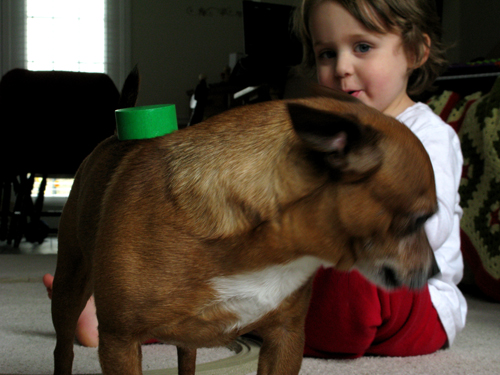 In fact, the foundation was all, "I am utterly displeased with the choice of building materials and deeply disturbed that nobody found it necessary to request my permission to build on these grounds. Oh and I'm definitely thinking of peeing on something you like as a form of revenge."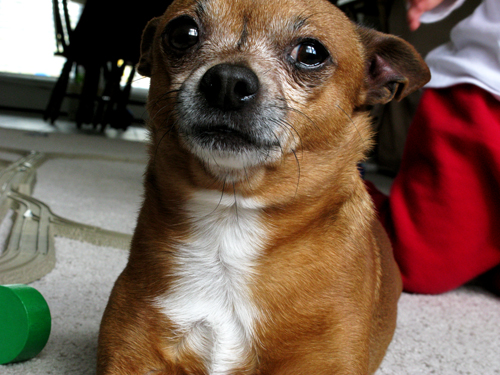 But the little boy builder was not going to give up so easily, and quickly went for a second try at his plan once the foundation had resettled.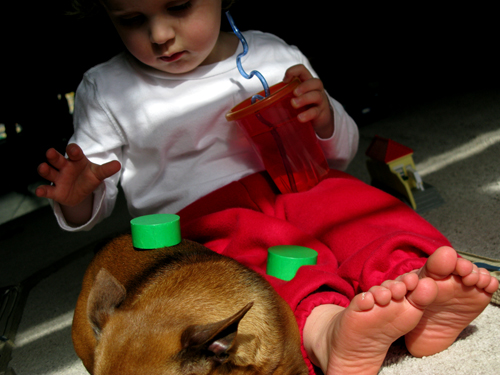 But the foundation was all, "Uh. No."
He had other things in mind.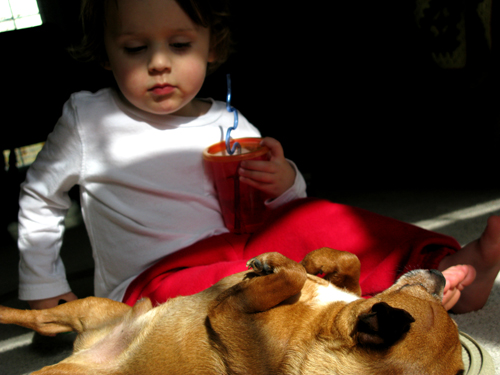 The little boy was unsure of how to proceed.
But then the builder decided he was really always meant to be a masseuse, and a compromise was reached.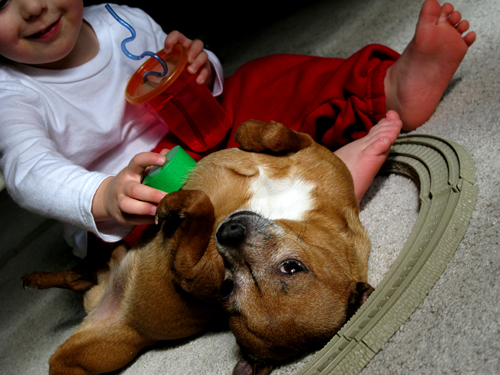 And everyone was happy.
Which, when laying in puddles of sunny carpet among train tracks, is really not all that surprising.
Copyright © Dandelion by Pexeto