We purchased this year's tree on a Sunday while John was home for a day.  That night, I put the lights on it.  The smell of a real Christmas tree is something I love so much that I don't exactly know how to put it into words.  The olfactory sense can trigger some of the strongest sense memories we have, and I think this smell is linked into the magic and joy that laces my memories of Christmas as a child.  We never had a fake tree, so when I smelled this smell – a real pine, cedar, or fir – it meant Christmas was coming.  And that meant magic, love, and light.  It meant my soul would lift and float for awhile.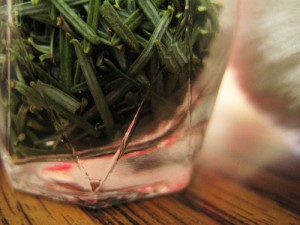 This year, before we bought our tree, I went in search of something I've had in a cabinet all year long.  It is a glass spice bottle with a black plastic lid.  The glass is very heavy, and the plastic is thick and sturdy.  It appeals to me in some way, and so I saved it to use for something when the spice ran out.  I had no idea when I put it aside that later I'd be gathering fallen needles to place inside.
Last year, I lost a baby (Davin) right at three months into the pregnancy.  It was my second miscarriage of the year and, for many reasons, it throttled me in different and harder ways than had the first one (in April).
I found out on December 9th during a prenatal appointment that he had died.  A D&C to remove Davin from my womb was scheduled for December 16th.
I had carried him for a week, knowing he was no longer alive.  It was both maddening and oddly comforting.  On the one hand, I felt insane knowing he was inside of me and he was not alive; my body was incapable of doing anything to help him.  On the other hand, I got to be with him and say goodbye, come to terms with him being removed.
On December 15th, the day before the surgery, I asked John to go get a tree.  I didn't tell him, but I wanted that tree in the house with all 4 of us.  That's how it was supposed to be, and in my fractured state of being, I was going to have it that way, regardless.
When last year's tree came into our home with all of its wonderful smelling glory my child was still inside of me.  The next day, he was all the way gone.  I was sedated for some time after that.  When the pills ran out there was still wine and liquor.  I got tipsy regularly; I ate crappy food.  No matter what I ingested, I was empty.
I was empty in more ways than the one that made my uterus ache as it healed.
That tree sat in the living room with me.  I watched those lights flash and dance through my bleary eyes.  I sat here, numb, with that happy smell.  Each day rolled by and I tried whenever I could to enjoy them, even if it was an altered, forced experience.
I cried a lot.  I was angry and sad.  A lot of days I was just nothing.
The tree was there.
At some time way past Christmas there came a point when I had to admit that the tree was dried out and needed to be taken away.  I cried about that, too.
When that tree came into my house, I still had my baby inside of me.  Now the tree was about to leave, and I had to keep a part of it, because somehow, it was the last thing I could hold onto about Davin.  Is that crazy?
I got down on my hands and knees with that damn spice bottle and I gathered up fallen needles until it was full.  Then I put it in one of my kitchen cabinets.
Only a couple of times during the year, when my heart ached the very most for Davin, I went and opened that bottle.  I held it, smooth, cool and heavy, in my hand.  In my fingers, it felt strong when I felt weak.  I stared at the needles.  I opened the bottle and smelled.
Pain and joy mingle together in that smell for me now.
Not long before we got our tree this year, I went for that bottle for the first time in quite a while.  When I smelled it, I wept for my lost son.  The smell was still very strong and crisp.  It wrapped me up; it sang to me of both sorrow and delight.  Afterwards, I felt a sort of peace.
I put the bottle out as the very first Christmas decoration in our home this year.
I will think of them both every Christmas: the baby who we thought would be born in December 08 as well as the baby who died in December 08.  I don't think I'll ever smell that happy smell or watch those dancing lights again without a twinge of sorrow.  But I believe I will always still smile at them, as well.
Pain and joy mingle together, and that is not such a bad thing to experience, or acknowledge.
It is far better than pain sitting in the heart by itself.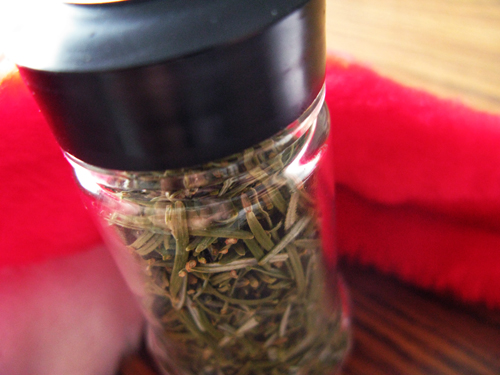 All Site Content: Copyright © Lotus Carroll // Theme: Copyright © Dandelion by Pexeto