There are people who suffer outrageous tragedy and somehow they pick themselves up and not only survive, but shine. They become an inspiration to others. They advocate, support, march on.


Live.
They live, not without pain, not without sadness, but with a beauty in the face of tragedy that says to others that they still see good in life.  That there is still occasion for happiness, and that laughter is healing.  They help other people to believe.  To Hope.

And when their long-awaited dreams are realized, those who love them cannot stand by and just let that pass without notice.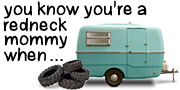 There must be rejoicing amongst all. Lifting up. Celebration!
And, because I admire and adore her, I really wanted to join this celebration, donate a little to the cause, and congratulate Tanis on this incredibly joyous and long overdue occasion. But when I read the email and post from Catherine (Her Bad Mother His Bad Redneck Aunty) and it became clear that, in order to participate, I had to talk about the ways in which I'm a "Redneck Mommy?"
Well, I got really depressed. Because there really is nothing for me to talk about along those lines! Total bummer, man.
I mean, we are just totally not rednecks over here. You know, it's not as if I grew up in a town that was so small it had to join with another, nearby town just to have enough people to form a high-school. Or as if that high-school actually had goats in its proverbial backyard. *cough*
And it's not as if there were corn fields right behind the house I grew up in, and my little brother and I played in an old, falling down barn, building forts out of discarded tobacco-drying sticks. I never built a fire right up against the old house we rented that was built in the 1800s and had no central air.
We so totally did not play on old stumps in our backyard and have a pile of sand there, too, that our cats absolutely did not shit in and then we played in it some more anyway.  Seriously.  Didn't.
I never once stepped in actual cow manure while playing at a friend's house!  We did not burn garbage in an old water well on the back of the property we lived on.  And I have no idea what it's like to watch my mother pluck the feathers out of a freshly slaughtered chicken.
NOPE.
And my husband is totally not a redneck, either! He is like, WAY more Not A Redneck than me, even! He doesn't play country music for a living, and he has most certainly never, ever said as a part of regular conversation, without a hint of joking intended, the words "over yonder," or "them are."
Or "here in a little bit" to mean, "in a little while."
Definitely not.
He is not from Texas.  He does not refer to our dog as a "turd-hound."  He has never danced the Two-Step or gone hunting a day in his life.
(Interjection:  If you ask him, he will tell you that dancing the Two-Step is NOT "redneck."  It's "country."  Then, when you ask him what's the difference between "redneck" and "country?" he will fidget and say, "I don't know."  And you will point and laugh at him, and mutter, "Sooo writing about this.")
He has never crapped in the woods and then wiped his ass with a ROCK.  And he doesn't speak with a drawl.  Ever.
And this? It is SO TOTALLY NOT HIM.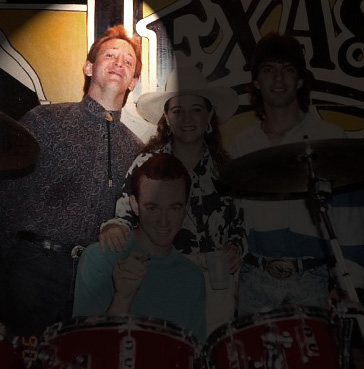 Photo is property of John Owens, used by permission.
Facebook is a wonderful thing. Heh.
Nuh-uh. Nope.  Totally not him wearing that bolo tie.
Also?
I do not go for days without a shower or actually like the taste of Ramen Noodles. I do not go around barefoot all the time, even in the dead of winter. I have never cut my own hair. Or peed on the side of the road. Or drank the shiznite out of some Koolaid and walked away with a Sweet-Ass Red Mustache. Or used a hoe, on a garden, and not the kind of ho you're thinking of either, because I've totally used the hell of out them hos.
Never worn a "wife-beater" tank top with bra straps showing under it.
If I had to put together a cowboy outfit, I'd be screwed, because it's not as if there are cowboy boots or hats easily accessible around here. *shakes head back and forth vehemently* And there really are no guns here. Especially not a shotgun wrapped in a damn rug because we're too lazy to figure out a better way to store it. Oh no.
Our Christmas tree is soooo not laying down in our yard, all dried out and crusty, begging to be hauled away from the reach of disapproving eyes.
WE DO NOT STILL HAVE CHRISTMAS LIGHTS ON A PORCH COLUMN BY THE FRONT DOOR.
Additionally, I never say, "ya'll."
My child is not, in fact, running around in nothing but a diaper, right at this very moment, banging a piece of metal he broke off of the wall-mounted toilet paper dispenser up against the living room wall. To say that was the case would be a total fabrication of the truth. Never happened.
And bah Gawd, we doan be a' havin' a rickety, hand-raised metal fence out tha back o' the house tah keep tha dawg and tha youngin' in, walk 'round half nekid in front o' them thar open winders, and most definly doan never scratch ar hind quarters or go a'pickin' ar noses in public!
That just ain't decent, folks!
We are a strictly, 100% Non-Redneck Family around here.
So, I must regretfully decline taking part in this fabulous celebration for Tanis.  As I am just not able to join with the others in proper fashion, you see.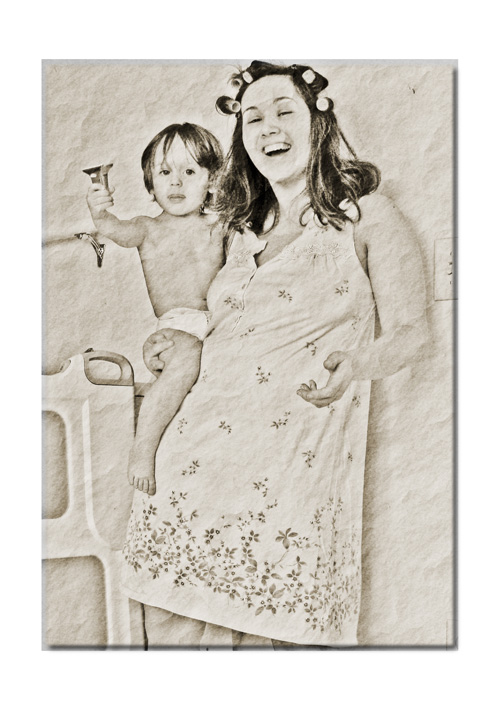 So happy for you, Tanis. My Totally Not Redneck Family and I are rejoicing for you and yours.
Heart.Bursting.
Rainbows.Unicorns.Glitter. You know.
<3
Copyright © Dandelion by Pexeto