It's no secret to me (and the world at large) that my child is freaking adorable.
Go ahead, roll your eyes and gag a little.  It's okay.  I don't mind.  But he is brilliantly handsome, and that's just a fact.
And when his hair gets all shaggy, I think it gives him this sweet charm.

But it's summertime now – a time when little ones get especially hot and sweaty.  He's been batting at his hair, getting annoyed with it.  I've been watching it inch closer to his eyes, slowly.  Haircut time has been approaching.
I knew this was coming and I've had… plans.
When he got so incredibly frustrated with it last week that he started slapping at the side of his head and growling, I asked him if he wanted a haircut.  His response was, "YES, MOMMY. OH. YES."
So I told him I'd cut it soon and asked him if he wanted the kind of haircut I was thinking of giving him.  He said yes without a pause.  I asked him if he knew what that meant.  He just looked at me and smiled. I laughed and saved the definition for later.
Yesterday, I showed him a photo to see if he was sure.  The child smiled so largely that his face almost broke.
"Do you want me to cut your hair like that?"

"Oh, yes, Mommy!  Yes, that's right!"
And then he bounded off and head butted the dog a few times before howling and racing into the kitchen, where he slammed into the cabinets, bounced back, and rolled across the floor laughing.
I'm pretty sure it suits his personality.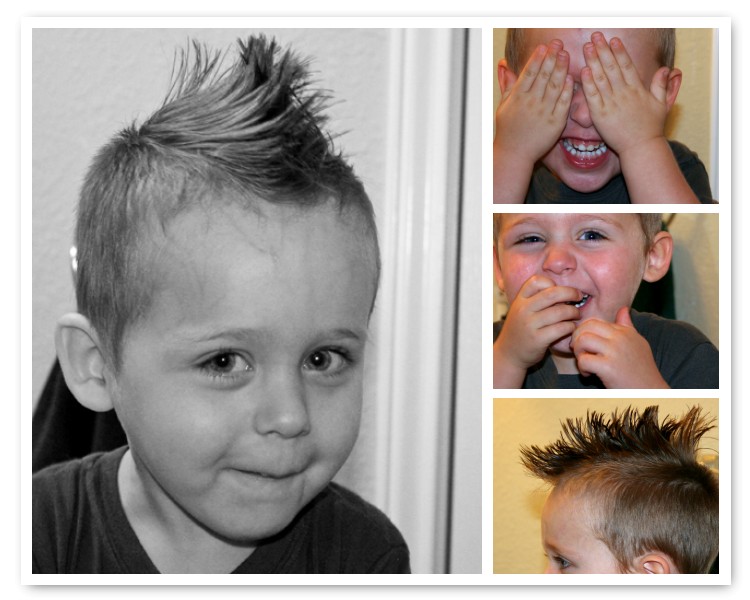 All Site Content: Copyright © Lotus Carroll // Theme: Copyright © Dandelion by Pexeto