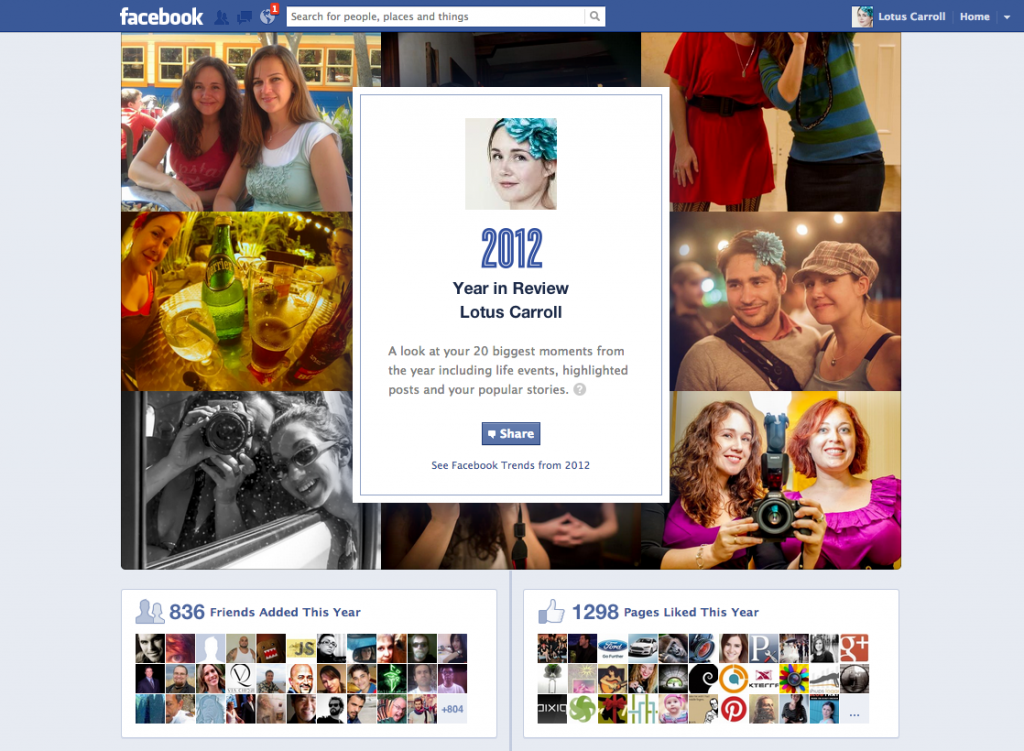 Facebook is showing us our "Year in Review" today. You can click the image above to view mine – see friends I added, things I "Liked" and various photos I've been tagged in. (There's a photo of Trey Ratcliff in it so I count that as a win.) Maybe they thought they had to go ahead and get it out there today, considering the world will cease to exist tomorrow. So live it up. Go check out your year in review while you still have time, people. But be warned, you'll have to provide your own appropriate theme music. I think I'll go look at mine again and queue up this one.
Edit: My friend Mabry Campbell suggested this song as my theme instead. I can't really argue.
UPDATE: Click this link to grab one of my invites to G+ and sign up RIGHT NOW!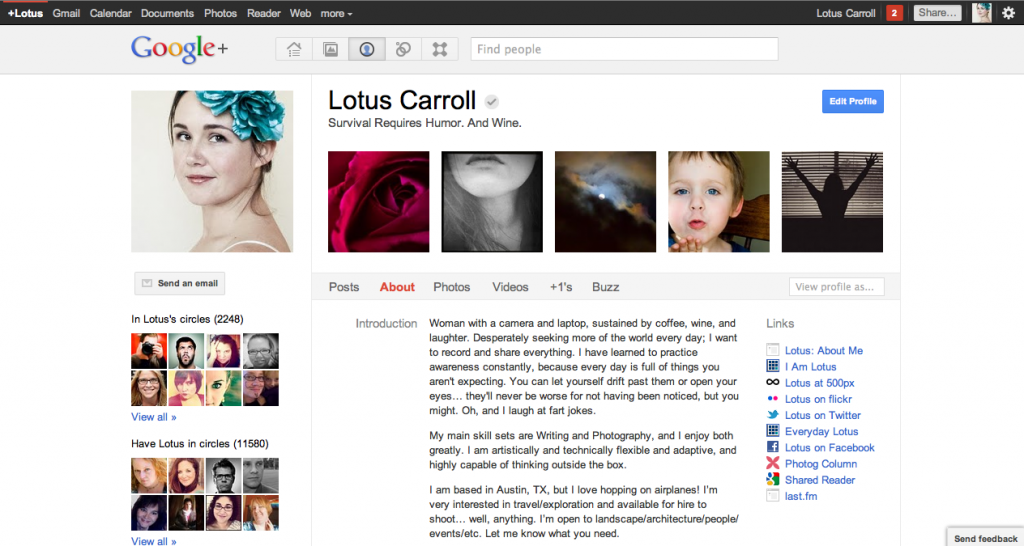 Are you on Google+ yet? I've been there for a couple of months now and you know what? I love it. Now, is it new and something you have to put a little work into to get rolling? Yes. (You'll have to put some time and thought into creating your circles and adding people.) If you're going to roll your eyes at me or bitch about that, well, then, hey. Go back to working on that thing where you're looking for someone to wipe your own ass too.
And when you figure that out, let me know. Also, the whole doing dishes and laundry thing. Man, do I hate that shit. (Insert: worst.housewife.ever.)
But really, look. Google has created a social media platform in G+ that answers so many of the problems we've all had with others. I've been on board with SO many social media platforms in the past few years. Notably and largest: Twitter, Facebook, Flickr. (More, but those are the biggest and best of them.) I've heard (and had) so many complaints about these platforms over time (especially FB). The smart muthas over at Google have been sitting back taking notes, people.
You know what happens to me all the time on Facebook? I get notifications about crap I have no interest in whatsover. It's basically spam that is not only tolerated, but supported and integrated into the system by Facebook. Oh look, someone did something interesting and I got notified! Nope, someone asked me to like the Chevy Tahoe Fan Page. Oh, look! Something in my sidebar! Oh. It's an ad asking me if I'm a Mommy Blogger Who Wants To Go Back To School. Um. Really? Oh, look, someone posted something on my wall! Oh. It's a request to help their cow birth a calf on Farmville.
On Google+ none of this crap is happening. On G+ I am not limited to 140 characters, conversations can be easily had on every update in comments, images are huge and beautiful in posts and on my stream, nobody tries to get me to help them water their corn or shave their sheep, I don't have ads in my face, WetBecky8325 isn't following me and inviting me to her nude webcam, and I'm not forced to go in and turn off email settings every time some yahoo adds me to a new group just so I won't get spammed ridiculously. Games are there for those who love them (including Angry Birds!) BUT – I haven't heard a single peep from them in my stream. They are in a separate tab, and you don't have to become involved.
Ahhhhh. (That's me breathing a huge sigh of relief.)
"Circles" allow you to share your content exclusively with certain groups of people and not with others, publicly, or just with one person. They allow you to filter the content you receive in your stream, as well. You can block OR ignore specific users, based on your needs. You have control over your content, where it goes, and what you see. Oh, that just makes all kinds of logical sense, doesn't it?
Google+ launched in Beta with a better product because they're overcoming issues that we've all had with Twitter, Facebook, and Flickr for years. And on top of that? They're actively listening and innovating like CRAZY right now.
Google+ is especially vibrant for photographers, and that is so great! If you are a photographer, you really, really need to be there. Photo sharing rocks, the photography community is bright and engaged – photowalks are happening all the time (and being actively supported by Google Staff) and you just can't find a better place for photographers on the web right now.
So yay for Photography on G+! But you know what? This can also be an amazing place for Bloggers, Musicians, Videographers, Crafters, etc., as well. The key is getting your community over there, testing the waters, asking for changes relevant to your community and making it happen. The community on a social network is built by… guess who? The members of that community.
The developers will give the burgeoning community the tools they need. You can believe that this time that's true – I've seen myself the members of the Google+ team interacting with the community of users, asking in posts and "hangouts" (awesome video chats on the G+ platform) what ideas we have for making things better, what we want, and talking about what they're doing. They are hungry to make this product the best it can be, and just what we want.
Feed the machine by not only signing up for an account with G+ but also if you have one USE IT. Engage, consume, interact, add content, and use that "Send Feedback" button at the bottom right to tell them exactly what you think and what you'd like to see.
I haven't seen anything in social media as good as Google+, and I'm really active in that area, and have been for years. Get in early and help build this thing up. Circle me here on my Google+ profile, leave your G+ profile link in comments – let's hook up there.  Support your community of users, whatever that may be (blogger? Go post your content there and also engage with your peers! +1 their blog links and comment on their stuff).
And if you're not on G+ yet – click this link and grab one of my limited invites or just let me know you want an invite and I'll send you one. I have a bunch to give out and I want you there with me.
Like this post? Get in the spirit and click that +1 button right down here on the lower left.

Copyright © Dandelion by Pexeto