Come stand the heat with us!
We're heading into the kitchens of Mr. Lady and Busy Dad, and you're invited.
When Shannon emailed me recently and asked me to help her and Jim with a cooking class they were doing for The Motherhood and ConAgra, I was all for it. Look, I love those two, and Shannon's email said something about food, porn and cheerleading outfits. It was pretty much absolutely and completely a given that I going to say yes.
I mean, really. Could you say no to these two?
So: I'm co-hosting an upcoming class in the Web's first-ever virtual cooking school, Cooking Connections, and I would love for all of you to participate! So check out the information below and get ready to see Shannon & Jim cooking and being dead sexy live, on camera, while their co-hosts heat things up in the accompanying chat. (Cheerleading outfits are not required and have absolutely nothing to do with the class, but I'm pretty sure that if you wear one, it can only enhance your experience. Especially if you send me photos.)
Here's what you need to know about the cooking class:
When: Wednesday, March 16, at 8 p.m. ET
Where: TheMotherhood – here's the link to the page where the class will be held: Cooking Connections Class with Shannon & Jim
What: The class I'm co-hosting is called "Cooking with Dad," and it is hosted by the awesome Jim Lin, aka BusyDad of The Busy Dad Blog, and the equally awesome Shannon, aka Mr Lady of Whiskey in My Sippy Cup. Join us for a fun and hilarious class – we are going to have a blast! Jim and Shannon will be chatting via live video feed, and the rest of us will be sharing anecdotes and tips for having fun in the kitchen with Dad (and/or the other non-cooks of the family) in the text-based comments below the video. Don't miss out on the party!
The class is sponsored by ConAgra and hosted by TheMotherhood.
The other fabulous co-hosts are: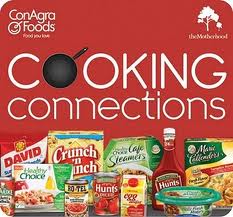 Julie – Angry Julie Monday
Mishelle Lane – Secret Agent Mama
Ashley Evans – Schadenfreudette
Tanis Miller – Attack of the Redneck Mommy
Dan Deguia – Deguia.net
Melanie Sheridan – Mel, a Dramatic Mommy
PJ Mullen – Real Men Drive Minivans
Diane – Momo Fali
Robin Sue Joss – Big Red Kitchen
Eddie Carroll – Life, One Pixel at a Time
And prizes even! Booyah.
To make it even more interesting, there's a pretty awesome way that you can enter to win one of three gift baskets from The Motherhood and ConAgra. You need to create a short video ahead of time, so get on this now! Go see Shannon's post for details on exactly what you – brilliant, creative, and fabulous reader – need to do to enter. (FYI, Shannon says cheating is totally encouraged. How can you not want to be a part of that?)
I hope you all decide to stand the heat and join us!
Copyright © Dandelion by Pexeto