For the record, it's not like Nostradomus has done any better at this point.
Braden's personality is this incredibly intoxicating blend of sweet, joyful, and smart mixed up with volatile, demanding, and loud.  I'm going to go ahead and claim responsibility for passing on/modeling the former behaviors and blame my husband for the latter.  Not because it's true, but because I'm mostly an asshole and I like to say anything I can to make myself look good.
My son is not shy. He is unafraid to let you, and everyone around you, know exactly what he thinks and feels at any particular moment.
His thoughtful observations and questions ["If the bug is dead, we should just recharge his batteries." / "Why is the sun sleeping?"]
strange ideas ["My penis is on backwards."]
silly, quick quips [Him: "You need to get me a new eyeball!"  Me: "Just call me Frankenmommy."  Him: "You're not green."]
and even his demanding and frustrated exclamations ["I CAN'T GO PEE, I HAVE TO DANCE FIRST."]
are equally interesting and enlightening, often funny.
He'll make you think and also laugh.
But did I mention that he's loud?  Holy crap, he's LOUD. As John put it the other day, "He goes to 11. And often stays there."
It's so true.
Because of this, I was both excited and somewhat scared (okay, more than somewhat, possibly a shitload at times, when I considered it too carefully) about Braden's very first time on an airplane.  In fact, as soon as I found out we were going to get on an airplane with him, I started punching myself in the face no less than 10 times every 30 minutes to toughen myself up.  I asked John to make airplane noises and then start screaming directly into my ear at random times when we're in public to help condition me.  For some reason he made the same face he made that one time I asked him how long he thought it would take for a mouse to explode in the microwave and whether or not that time would be altered by getting the mouse really drunk first.
I think he's just so in love he doesn't know what to say.
Of course, other than the idea that Braden might morph into a slightly more insane version of himself in-flight, causing all the other passengers to gang up on us and tape us to the wings, I was really excited about our trip home to North Carolina.  My father pulled a super-awesome act and purchased the three of us plane tickets to come for a visit while my sister and her family would be in the States. (They live in Switzerland. Incidentally, I love my sister very much, but I'm kind of mad at her because she has yet to introduce me to Swiss Miss and I just KNOW she's been blowing that giant horn on the mountain with the Ricola guy, but she hasn't so much as invited me to join them.  I also expected her to bring me a likeness of myself sculpted entirely out of the best cheese and chocolate in the world, but that has nothing to do with where she lives, it's just a tradition we have.)
Anyway, we accepted the tickets my father offered in a heartbeat – no way were we going to turn down such a generous offer. We love seeing our extended family. Where else can you drink too much, raid the fridge for pickled beets and cow tongue, set off fireworks when it's not even July 4th, and fart at the dinner table? (I know you are dying to hang out with us now. Please contain yourself.)
In order to make the trip go smoothly, I spent the weeks leading up to our trip thinking of ways to keep Braden busy on the flights, hoping to keep his roar to a minimum so that nobody would start fashioning voodoo dolls in our likenesses before we even disembarked the airplane at our destination.
I came up with some great ideas, like packing his favorite toys, a notepad and pen, new books for him to enjoy, and DVDs to play on my laptop with headphones just for him.  So we went shopping and I picked up some supplies of that nature along with a brand new roll of extra-strong, soundproof quality duct tape.  You know, in case our luggage got damaged.  And I swear that I only measured the width of the tape against the height of his mouth while I was in the store selecting the right roll because everyone knows that luggage tears generally only occur in the exact dimensions of a 3 year old boy's facial orifice.
If you don't believe me you can contact The Official Luggage Tear Association of America Aimed At Defending Moms Who Needed To Tape Their 3 Year Old Spawns' Faceholes Shut.  OLFAAADMWNT3YOSFS for those in the know.
I have their mailing address around here somewhere.  You can email me if you need it.
Anyway, in the car on the way to the airport, Braden was in a good mood, excited. I was only punching myself in the face a couple of times an hour at that point, so I was mostly able to enjoy the ride.  I did happen to remember that it was Friday the 13th.  While I tried to decide how we were going to die that day, I made sure to address the issue on Twitter.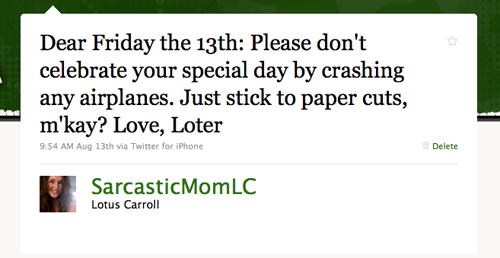 You know, for good luck.  And to remind everyone else that it was Friday the 13th, in the hopes that I could inspire all the superstitious people who follow me to be fearful and miserable for the rest of the day.  And because I secretly hoped all the rabbits on Twitter would get the message and hide their poor little paws.  I love rabbits, so I wanted to try my best to keep them safe.  I'm a giver like that.  Besides, they look like total dumbasses with peg legs.  Not cool at all, like pirates.
By the way, I'm not really all that superstitious, but I did decide that at some point that day either:
a) we would die a horrible, flaming death after our airplane plummeted from the sky and crashed in a heap of charred and twisted metal because I packed one too many pairs of shoes in my luggage,
b) we'd be chopped into a million pieces by a deranged madman who got pushed past his breaking point because he HATES TO BE ASKED TO TAKE OFF HIS SHOES IN PUBLIC much less be chided for not laying his carry-on bag down flat in the plastic bin, and besides, only assholes who hate their jobs would nitpick at you like that. So it's really quite understandable why he'd then lose his mind and kill us all with the machete that he somehow managed to get through security. (After they confiscated his nail file, of course.)
or
c) I would die from laughing so hard I couldn't breathe anymore after Braden got excited at correctly reading the word "frog" and decided to start yelling it out on the plane over and over again and by the way? This is how that sounds: "FUCK! FUCK! HAHAHA! FUCK!"
Three guesses which of my predictions was the closest to the truth. (Apparently I can laugh for a long time without expiring from lack of ability to breathe properly.  So I was wrong about the whole dying part.  Not all of us can be Nostradamus, okay?)
As usual, Braden found groupies all throughout the airport.  Having had his ego filled to bursting, by the time we got to our gate, Braden was already tired and hungry, and demanded sustenance.  Then he had a minor drama queen moment with head to the table, lots of sighing, and talk of feelings like "too sad" and then he ended up telling me he did not want to be at the airport.
I was all, "Suck it up, dude, we're going to wait here for awhile and then we're getting on the plane."
He told me I was a world class jerk and then wouldn't share his fries with me.
So I peed in his apple juice when he wasn't looking.
Okay, I didn't.  But I thought about it.  I actually decided the opening to the bottle was way too narrow and it would make more of a mess on my pants than it was worth.  Not having a penis is so unfair sometimes.
While the (clearly) cutest boy in the world ate his fries, John and I knocked back some pre-flight refreshments.
We boarded our first flight with no incident. Braden was almost humming with excitement on the way into the plane and arriving at our seats.
We got settled and waited. I could hear, across the aisle, the murmuring of John and Braden talking to one another.  Braden was a bit fidgety.  I suggested John tell Braden, using his toy airplane to illustrate, what was going to happen when the plane took off.
I saw the airplane sliding across the tray table, heard the quiet explanations. Braden was smiling, nodding. Suddenly he exclaimed, exuberantly, "The airplane is going to fly high, high up into the sky! *short pause* AND THEN IT'S GOING TO CRAAAASSSHHH DOOOWWWWWNNN!!!!!"
I swear I didn't laugh.  I'm not a complete liar, either.
We were an instant favorite amongst our fellow passengers.  I flexed and readied for my best one finger salute, just in case.  Luckily, nobody said anything, which is really kind of awesome, because I'd choke a kid for something like that if he wasn't mine.
Braden really liked the feeling of take-off and landing.  I had to suppress the urge to tell him that he only likes it because he doesn't know that we could die at any minute. (Okay, to be honest, I like it, too, and I do know. But turbulence can go right to hell.)
I wish I hadn't complied with the Flight Crew's requests to stow all electronic equipment during take-off.  And not just because I like to get in trouble and possibly taken to jail by TSA officials. (Though it is a favorite past time.) The photos and video I could have captured of Braden would have made you all smile and laugh.  (My life's sole mission.)
Other travelers laughed and grinned as he exclaimed, "THREE… TWO… ONE… BLAAAAAST OFFF!" It kind of made up for the whole "suggesting we were all going to die during a fabulous crash landing from hell" thing.  Plus, not even one person called him a dumbass for saying "Blast Off" about an airplane / thinking we were in a rocket.  Those were the nicest people ever.  I would have bought them all vodka drinks, but then there wouldn't have been enough for all the Bloody Marys that John and I needed.  Yes, needed.  There's a medical reason.  No, I can't talk about it with you. Not because I don't trust you, but mostly because I'm a liar but I can't think of anything right now because I'm too tired.  Shhh. Don't tell.
Luckily, Braden had only momentary discomfort with ear pressure, alleviated by noshing on helpless little gummy rabbits.  I pretty much felt like a genius for packing them, since he can't chew gum yet.  Well, I mean, technically he can chew gum, but he can also probably choke to death on it because he doesn't know how to not constantly laugh and yell, drawing in great amounts of air.  And I kind of like having him around because he can still eat for free at some restaurants and he makes me laugh.  Oh, and don't even act like I'm contradicting myself on the whole "love rabbits" thing from above, because those gummy rabbits were made of 100% fruit juice with no more than 10% actual rabbit flavoring.  See how superior you think you are? I showed you.
During the flight, I made a new friend, only 4.75 years old.  She was very adamant that I recognize how close to 5 she was, and even instructed me to be ready for her birthday.  Someone is a little too obsessed with herself, if you ask me.  She wouldn't even shut up and let me talk about myself any of the 50-some times I tried to tell her about my blog or all my funny Tweets.  How rude.  I mean, really.
She talked more than Braden does.  A LOT MORE.  She told me quite a few stories about her squishy pink lizard.  She said it can swim! and do flips! but I think she was full of shit because during the entire flight, the thing didn't move EVEN ONCE.  You know what I think, though?  That thing is conning her for her sweet little girl love.  It's not right.  I made sure to sneak it off of her before we deplaned and flushed it down into that blue death in the airplane toilet.  Lying lizard toys are one of the main things about this country that's causing the whole place to go to hell in a handbasket, and I, for one, will not stand by while nothing is done about it.  It's true.  I'm an amazing activist for important causes.  Don't be jealous, we can't all be so inherently wonderful.
My new friend (I don't remember her name, but it's not my fault, she didn't even have a cell phone number I could add to my contacts list) also regaled me with stories about her little sister, cartwheels, the color of her carry-on luggage (it matched her dress), and her mother's age.
LOUDLY: "My mommy is 33, almost 34! She's old. How old are you?"  I told her I am 5 – clearly better than her because she's only 4.75.  Then I asked if she also knew how much her mom weighs. Her mother just looked at me with glazed eyes.  I don't know much ALS, so I could be wrong, but at one point I think she signed "Please just take her, I won't tell anyone."
I don't need a girl, though, since Braden already lets me paint his toenails and put styling product in his hair, so I declined.
By the way, I think the little sister was totally trying to hit on Braden.  I think it's a chicks dig cars kind of thing.  Or maybe it's his keen fashion sense.  Maybe the killer blue eyes.
Watch out, mothers of daughters.  No, really, watch out because if we don't have this kid fixed (can you do that? will they do that at the Vet?) we are SCREWED.  Please to be fitting your female children with chastity belts.
Anyway, the flights went fairly well.  Nobody died at all and my fears of Braden losing his freaking mind were unfounded.
Well, unless you count the times that the Shrieking Banshee of Death emerged when seatbelts had to be buckled and tray tables returned to their locked positions.
Airplane windows really do need to be lower.
Can we redesign all airplanes to accommodate my tiny son's desire to look out at the amazing sights around and below us as we ascend/descend? Surely that's not too much to ask.  IT'S JUST MONEY AND TIME, YOU ASSHOLES.
No? Oh well. I'll just keep knockin' these back.
And making Daddy sit next to Braden.
You know… if he can handle it.
All Site Content: Copyright © Lotus Carroll // Theme: Copyright © Dandelion by Pexeto