I clearly have superior parenting skills.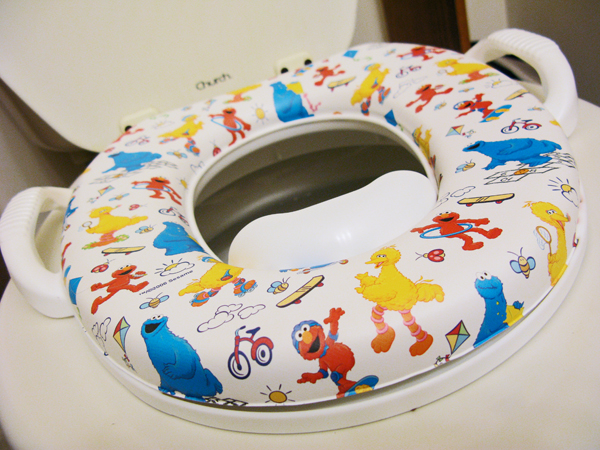 Braden is fully toilet trained.
I say this and feel odd, as if I'm talking about having gotten the puppy completely house trained. But yeah, it's a lot like that, considering he used to piss on the floor pretty regularly.
And before you (I'm talking to "you," the person who has spare time in his/her life to make asshat comments on posts because you hate yourself and you're taking it out on others) go making some bitchass comment about how that wouldn't have happened if I'd not let him run around naked all the time, please to be looking at this: click here for a special, pre-valentine's day gift of love from me to you.
In all seriousness, though, leave any comment your heart desires.  I like it rough.
Also, I fully expect gratuitous thank you's from ALL of you because for a split second, I considered posting Avitaballs as the link up there.
YOU'RE WELCOME.
Now we can move on.
So, Braden has been reliably doing all business on the toilet for quite some time now, but you'll have to forgive me for not talking about that as the progress/training was ongoing. If you have children you know the rule: IF YOU CELEBRATE IT TOO SOON, THE UNIVERSE WILL PUNISH YOU WITH A SWIFT REGRESSION.
It is only now, after such a long time, that I feel safe telling you…
MY KID GOES ON THE TOILET! MY KID GOES ON THE TOILET! I DON'T HAVE TO WASH DIAPERS ANYMORE! I DON'T HAVE TO WASH SHITTY AND PISSY UNDERPANTS ANYMORE! THERE AREN'T PUDDLES OF URINE ON THE FLOOR IN THE BATHROOM ANYMORE! I DON'T HAVE TO PULL DOWN TINY UNERPANTS FULL OF BROWNIE BATTER ANYMORE!
When he can actually wipe his own ass, I think I'll bake him a fuckin' cake.
Now, having said all this, we *do* have occasional pee accidents because he has taken to doing the very same thing his Mommy does. He gets all wrapped up in something and he can't.stop.and.go.pee.
Ladies and Gentlemen, my son is a Pee Holder.
He pretty much refuses to stop what he's doing until he reaches CODE RED. At that point, he's running to the bathroom like his testicles are on fire and sometimes he ends up wetting his pants while he's right in front of the toilet trying to pull them down.
Which, yes, is maddening, and I'm all, "DUDE. You finally learned how to do this really well, don't go screwing it up by waiting too long. Don't wait, come right to the toilet!"
To which he replies, "What? All I know is that I'm totally going to forget everything you just said except that part where you said 'don't go screwing it up' and I'm gonna yell that at top volume in public, repeatedly, the first time it seems like it might be really embarrassing for you. I might add in that word you said in the car the other day, too. 'Asshole,' right? Right. Now go wash my underpants, beesh."
So, okay, yeah. I admit there are still a few accidents here and there. And the occasional shart. Which is really just funny, quite frankly, because he says, "Oooh, Braden pooped in pants," and then quickly follows that with "It's okay, it's JustUhShart!"
It's all par for the course.  Most of the time, things are now clean and dry around here, and I couldn't be happier about that.
I have to admit that the Sentimental Mommy side of me does miss seeing that chubby hiney he used to flash as he ran around the house threatening carpets from wall to wall. Just a little.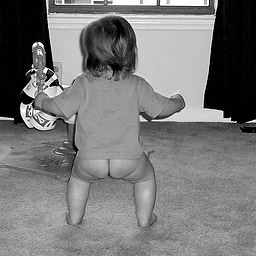 But sometimes, we have special moments like the one that happened the other day:
Braden: *fidgeting in living room*

Me: "Do you have to pee?"

Braden: "Yes."

Me: "Go to the bathroom."

Braden: *doing the hammer dance in the living room*

Me: "What are you doing!? Go to the bathroom and PEE!"

Braden: "No, I DANCING FIRST."

Me: *trying not to laugh. failing miserably*
Hey, at least he has his priorities. Sometimes, before you go to the bathroom, you just have to say, "STOP. HAMMERTIME."
I stand by my celebration.  Because that? Is clearly a sign of superior parenting.
All Site Content: Copyright © Lotus Carroll // Theme: Copyright © Dandelion by Pexeto