Nashville For Dummies
Who Also Happen To Be Lovestruck, Underage, and Extremely Gullible
So, Lotus clearly hates you and wants you to be miserable, and I know this because she asked me* to guest post for her. I only agreed because I actually have some valuable information to share with you, her devoted readers. You see, I remembered that there is some blog get-together thingy going on in Nashville in February, and I realized that many of you dear Sarcastic Mom readers will probably be going to that, if for no other reason than to get a view of The Rack close up. Something you don't know is that I am The World's Leading Authority on visiting Nashville.
Because I did.
Once.
So naturally, I am more than obliged to provide you all my expert advice on navigating through Lotus' hometown and getting yourself good and married in 17 easy steps. Prepare to be dazzled.
Fall head over heels in love with your bald, fat, 9 years older than you restaurant manager before you even come close to your twenties.
Let him take wild advantage of you, your car, your ability to both drive legally and go more than 17.39 seconds without snorting anything up your nose.
Hunt him down over the course of 18 months after he takes off from Denver to Nashville with little more than a "So long and thanks for all the fish" mumbled in your general direction one day.
Drive 23 hours straight through the pouring rain to spend two long, glorious weeks winning him back. In Nashville. That's the key to this whole thing working.
Get to his apartment after getting totally turned around trying to go straight through on the 65 only to end up on some horrible, middle of the night, lost and alone goosechase that lands you on the 40, which is weird only because the 65 and the 40 don't exactly hit each other even remotely closely to where you wanted to be in the first place.
After finally arriving, have the most awkward make up sex the world has ever known, or ever will know, and watch as he over the span of four hours goes from professing his undying love and suggesting marriage to forgetting you ever existed in the first place. Make sure this happens within your first 24 hours there, so you're certain to have 13 more days to be stuck waiting for your next paycheck to be deposited so you can get the hell out of there already.
Get fed up 10 days into your 14 day stay because you've been stuck in his apartment with his roommate that you don't even know, you've read all your books, and it's still raining all around you. Realize you are a rain god.
Get into your car and drive. ANYWHERE. End up dead smack in the middle of downtown Nashville, totally on accident. Park and walk. ANYWHERE. Check out Vanderbilt. Follow the river for a ways and end up in some back alley bar with a fabulous live band and a fabulous random guy more than willing to buy you drinks all night.
Get said guy's number.
Call said guy in front of dipshit ex-boss.
Get taken out by jealous ex-boss to a company function, get introduced as "the bff" and later that night get asked to move to Nashville with him. WITH him.
Drive 23 hours back to Denver, straight, and start packing your life up. If you survive the Kansas stretch.
Get a call at work two weeks later from the man you're planning to spend the rest of your life with saying he's just met the woman he plans to spend the rest of his life with.
Die.
Get the hot guy at work shit-faced drunk and nail him in your car to make it all go away.
Marry hot guy from work.
Thank god for small favours. And Jack Daniels.
*Me would be Mr Lady, which is of absolutely no relevance whatsoever to the post.
__________________________________________________________________________________________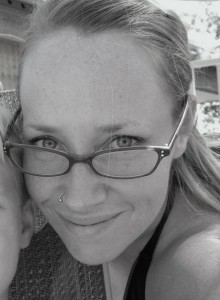 Mr. Lady is an amazing writer, a hell of a strong woman, and a damn sexy broad. She authors Whiskey In My Sippy Cup. Not being subscribed to her website is like waking up in the morning and finding out someone has removed both of your lungs. (Have you ever woken up dead? Don't start tomorrow… visit her today.)
Besides.  There's a half-naked photo of her on her sidebar, for crying out loud! Go.Now.
PS: She asked me not to blurb her because it makes her uncomfortable, but I like it when hot chicks squirm.
All Site Content: Copyright © Lotus Carroll // Theme: Copyright © Dandelion by Pexeto