our regularly scheduled program will return after this brief period of bliss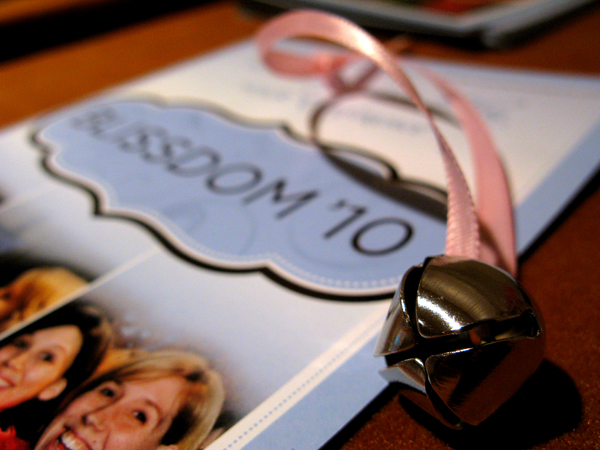 I got this tiny bell in the HerStory Workshop today, at Blissdom. Isn't it cute? Thanks to Aliza and Maya. The exercises they offered were thought provoking. And I discovered that the story of my life is entitled, "I haven't screwed up too bad, yet. But give me time." You'd buy it, right?
I also want to give giant props to the ladies who paneled the Writer's Craft Workshop. I *thoroughly* enjoyed myself – what a great discussion. I had the beginnings of what I think is going to be a very good post in my hands when I walked out of that room Thursday evening. Thank you so much, Megan, Arianne, Deb, and Amber.
I'll be heading back to the Opryland Hotel (can you say "friggin' gorgeous?") tomorrow morning and staying until Sunday (Weekly Winners may post late this week, but it will be up by Sunday sometime.)  Thank you so much, Monica & Bridget, for letting me share your hotel room.
Gotta go pack a bag now and get a little sleep before I hurry back over there tomorrow to hug on some more beeshes.

I love seeing so many women that I think the world of in one place.
Every time I hear a squee, an angel gets her wings.
Copyright © Dandelion by Pexeto