The First Installment of Project Support Beauty in Nature! 
For those of you who haven't read this post or this post, a bit of background.
(but please don't hesitate to actually click over to them and view the photos they contain)
Back on January 25th, I was feeling like a microwaved poop (smelly, hot, and a bit crusty), so I decided to go for a walk through my neighborhood.  Instead of meeting Mr. Rogers and making a new friend, I kept running into disgusting examples of the way humans befowl the earth with their dreck – litter. 
It made me angry and it made me think a lot about what other people do… and what I do and don't do.  And what I should be doing.
I decided that evening that my family would go on a "clean-up" walk the next week and pick up litter in our neighborhood, and I challenged everyone else to do something to help Support Beauty in Nature, and blog about it today, or to post about something they already did/do/plan to do.
We went for that walk on January 30th.  It was quite cold, but sunny.  
There was no shortage of crap for us to stick into our bags.

Braden wasn't entirely sure what was going on, so he pitched in by screaming every time his wagon ride paused briefly. At least he was witnessing us doing something good.

He was, however, a bit annoyed with us by the end of the walk. 

But we're hoping that by doing these types of things periodically, with him, as he grows, he'll eventually get the message. 
This Earth is a gift.  We're squandering it.  There is so much beauty.  We're covering it in crap.  It doesn't have to be this way – we can do things like this regularly to help push the reset button, so to speak.  And it DOES make a difference.
Of course, the way you live your daily life will also make a great impact. John and I have recycled in the past, but since moving to TN, had not gotten our recycle on, for various reasons (all of them lame, btw).  This whole thing made me realize that we've been lazy buttholes.  We have now purchased extra trash bins for our home so that we can separate out the different recyclable things (glass, paper, aluminum, etc) from the regular trash.  We have also ordered a curbside dumpster so that our recyclables can be picked up by the city.
YAY, RECYCLING! 
If you don't already recycle, check your local government website and see what programs are available in your area.  It might be way easier than you think!We currently recycle our plastic grocery bags as garbage bags in our house, including diaper garbage, so at least we're using them more than once.  But I think we can improve on the two behaviors I just mentioned…
First: I'm really interested in getting some reusable grocery bags.  I know that at least one of PSBN's participants (Julie) is going to talk about those types of bags, so I'm eager to see her post!
Second: I'm actually really interested in learning more about cloth diapers and what my options are.  I'm in the process of researching the different types, and trying to figure out whether the water/energy spent laundering will be worth the reduction in waste that would result from switching. 
Maybe someone did a post on this??? (I know you cloth diapered, Heather! Share the knowledge!)
I've been checking out this website. 
Still pondering it all…
But look at this super-cute diaper cover!

***************
Another cool tip given to me by a reader named Elsie was that she made bags out of tulle for her fruits/veggies so that she wouldn't have to use those plastic bags at the grocery store anymore!  I LOVED this idea. 
I did a little looking into it and I found these instructions on how to make them.  If you (like me) don't have a sewing machine you can also buy them here.  I'm getting some – I think they're fabulous!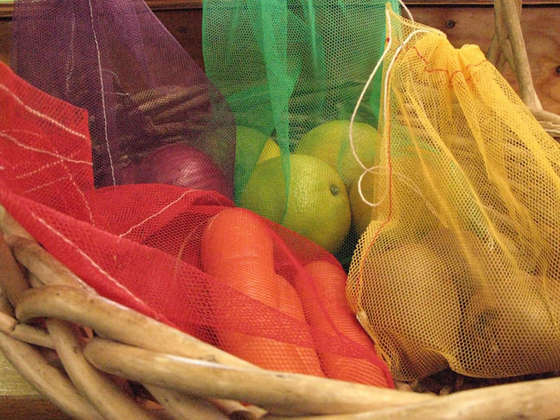 ***************
We're also de-junking our bodies here at The Carroll Household.  We're going back to the way we used to eat – healthy!  This means we remember to take our vitamins, we eat whole foods (bye-bye loads of processed crizznap!), and drink lots of water. 
Part of this will involve us trying to purchase organic foods when possible.  Unfortunately we can't afford to buy everything organic, but every little bit helps.  The more organic you eat, the less CRUD you're putting in your body… and ON THE EARTH!  I also got a tip recently from Laura that switching to organic milk made her feel better, and I thought that was a good idea, so we're doing that, as well.
Basically, John & I have a new motto: "Less Crud."  Less Crud in our bodies and on the earth. 
***************
My heart is bursting with an insanely (childish?) idealistic, wonderfully giddy happiness at making a difference.  I can't tell you how excited I am to read your posts… to see what you've done, and to learn from you all. 
If you've written a post, link up below!
If you haven't posted your story/tips/ideas on how we can Support Beauty in Nature, it's not too late.  Feel free to do a post anytime this week and come back here to link up. 
Even if you aren't posting anything – make sure to visit those who do.  See how they make a difference and look for ideas!
I'm off to hug a frickin' tree!
All Site Content: Copyright © Lotus Carroll // Theme: Copyright © Dandelion by Pexeto