This is Part 2 in a two-part Guest Post Series by Lou Lohman.  Enjoy! 
Tomorrow, the lovely and talented Veronica of Sleepless Nights is moving from her rented house to her newly purchased HOME.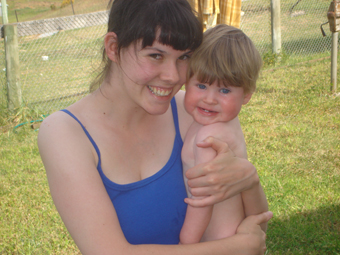 Actually, she's moving on Saturday, March the 1st, but by the time you and I wake up and smell the coffee tomorrow morning here in the States (Friday, February 29th), it will already be Saturday in Tasmania. So let's all pretend we understand all of that and just say she' moving tomorrow. Whatever.
Anyway, what follows is a Thursday Thirteen that outlines why you should own and not rent.
Mortgage payments are fun. Getting a mortgage is kinda like going to a scary movie. You KNOW you're gonna pee your pants, but you go anyway.
Renting wastes money. On the other hand, being homeless has it's drawbacks, as well. So let's just call renting the lesser of two evils. But still evil.
Mortgage payments end. Of course, you will be old and grey and not give a shit by then, but they DO come to an end – which leads us to our next one -
Renting never stops. And when you're old and grey and on a fixed income, the landlord will STILL raise your rent.
Your accountant (if you have one – doesn't everyone?) will tell you the TCO and ROI and all of that other stuff makes owning CHEAPER than renting.
Resale Value. If the neighborhood goes to hell in a handbasket, you can dump the place for more than you paid for it to the criminals and drug dealers moving in.
You can decorate as you want. And no one can tell you no. You want to paint the bathroom a nice, warm shit brown? Go right ahead.
You can keep what you install. And the landlord can't make you leave it when you move. Because guess what? There IS NO LANDLORD.
No evictions. The landlord can't sell the place out from under you and make you move. Because guess what? There IS NO LANDLORD.
You can entertain whomever and whenever you want, to the extent that the Department of Children and Family Services doesn't get involved.
You can add on if you run short of space. And you don't have to ask the landlord. Because guess what? There IS NO LANDLORD. However, you may need to check with the bank.
Owning your own home is better for families. You can add soundproofing to your heart's content to muffle the screaming, yelling and the sound of dishes and other household paraphernalia bouncing off the walls.
It's the American dream. And, apparently, the dream of a lovely young lady and her partner in the land down under called Tasmania.
I propose a toast. A World Wide Toast. To Veronica and her family as they take possession of their new home. May your new home forever be a place of warmth, and comfort and refuge and, most of all, Love. Prost. Salud. Nazdar. Here's How.
In your comments, leave your toast, tell us what your drinkin' (beer, wine, whiskey, water, soda pop, fruit juice, any or all of the above) and where you are.


All Site Content: Copyright © Lotus Carroll // Theme: Copyright © Dandelion by Pexeto