Sometimes you meet the most amazing people online. If you're one of those people that uses the acronym IRL or thinks that the people who are active online are "imaginary friends" then you won't get this, but maybe that's even more reason you should read it. I've been really lucky to have met a lot of really remarkable people through The Internet (remind me to thank Al Gore with a respectably green and energy efficient gift someday). Many of these people will be my friends forever. Some of them live deep in my heart, and I'm better for it.
One of those people is a lil' lady who became known 'round Blogosphere Land as Moosh In Indy. That would be Casey Mullins.
I was reading her years ago, impressed with her writing and the way she just put it all out there (I tend to be drawn to those types, go figure) which really made her something of a role model to me. That's the kind of person I have always been and wanted to continue being.
And then she went and mentioned me in a post.
And what she said about me, completely unprovoked, took me by surprise and totally melted my heart. It was pretty much one of those girl crush moments in your life when your pittery pattery heart is singing that song of "weeeeeeeeee, she likes me tooooo." (Please tell me you've heard that song in your heart.)
And over the years, I've gotten to share moments with her when we both ended up at the same travel destinations, and many a laugh through blog comments, Facebook posts, and Twitter reply conversations. She's a part of my world that keeps it spinning with a smile at the top and a little booty shake at the bottom.
It hurt my heart to see her struggle with expanding her family. This is a woman with so much love to give, so much creativity and wisdom to share. Her body was not playing nice with her for some time; The Universe was not playing nice with her. I was angry on her behalf.
She? Kept it real and was honest about her feelings and I'll be damned if she didn't still handle the most difficult of things with the most amazing grace you could ever imagine from a person trapped in a sack of turds with no sure way to see the light or open the knot at the top.
(Forgive the imagery, but something tells me Casey will appreciate it.)
And that's what makes her not only a friend in my book, but also a role model.
Later, when she finally got pregnant, she emailed me to tell me before she posted it online. Somehow, in some incredibly selfless way, she was concerned that the news of her pregnancy would upset me (after having had 2 miscarriages).
And that's what you call selfless and loving, kind and generous, to the utmost degree. And again, she was not only a friend, but a role model.
Are you catching this trend?
Just this past year, when my heart was in a very tenous place, she sent me a magnet. It had a saying on it that I needed so very badly to see/hear.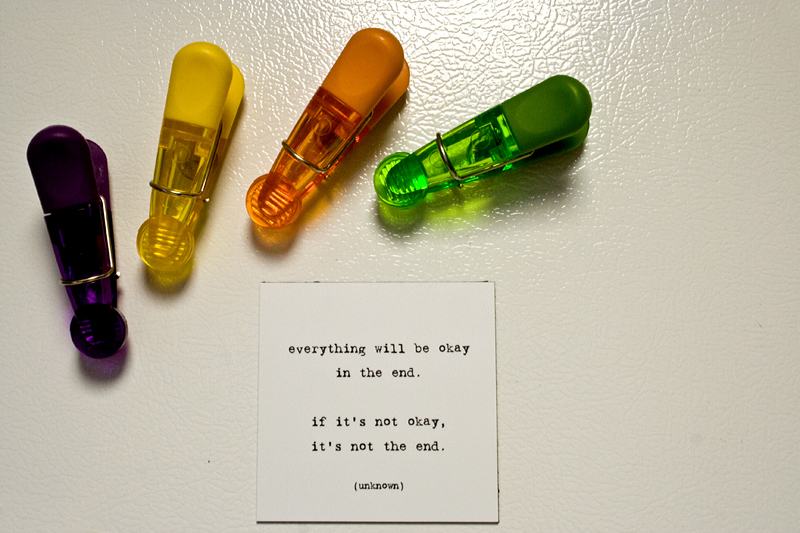 The Universe might be a jerk sometimes, but it often delivers the very best things just at the right time. Somehow, Casey is really good at being the vehicle of the Universe's better side.
This woman is the kind of woman who you are thankful to call friend if you are so lucky, and who you want to be like. The kind that makes you want to be a better person, while at the same time making you laugh and expanding your mind.
Casey, thank you for being you. The world is a brighter, happier, more meaningful place because you exist.
Happy Birthday. I hope you've enjoyed your first 25 years on this earth. *wink* We've sure enjoyed having you here, my friend.
All Site Content: Copyright © Lotus Carroll // Theme: Copyright © Dandelion by Pexeto