*For updates on Anissa, you can visit her CaringBridge Page.
~~~~~~~~~~
I was going to tell you about how great it is to have my laptop back and tell you a little about what I went through to get it fixed, but being on Twitter more again today led me to learn some awful news about a wonderful lady who is a friend and fellow blogger.
Anissa, of Free Anissa and Aiming Low, had a stroke this afternoon.
(This is her second. You can read about her first one in 2005 here.)
Often when you hear bad news about someone, the first thing you think of is that last time you talked to them or saw them in person.  In October, Anissa, Mishelle, and I spoke at a seminar and we got to share laughs and drinks together the night before.  It was a fabulous time because of the amazing company.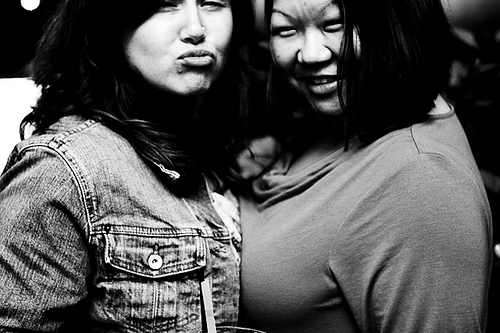 photo credit: Mishelle Lane, © all rights reserved
Anissa is such a fireball and, at the same time, just the most lovable sweetheart you've ever met.
This post, at Aiming Low, tells how you can help her and her family – especially if you are in the Atlanta area.  Please visit Aiming Low for this post as well as new updates on her condition and how you can continue to help.
(If that page won't load for you, it may be getting hit with a lot of traffic, and you can go here for the information it holds, as well.)
If you have a chance, send Anissa love on Twitter – (her handle is @AnissaMayhew) When you tweet, you can use the #hashtag #prayersforanissa so that your messages join together with those of many others thinking about and supporting her and her family.
You can also show your support by changing your Twitter Avatar to a photo of you and Anissa together, if you have one.  If you don't, you can still show support with your Twitter Avatar by adding a Twibbon to it.  There are currently two available:
For updates on her condition and to leave her and her family supportive messages on the guestbook, please visit Anissa's CaringBridge Page.
You can also send her messages on or her Facebook page if you're a friend of hers there.  And by all means, pray, if that is your way.  Remember, if you are in Atlanta, you may be able to help her family in a more practical way (see link above).
We are all used to seeing Anissa's smiling face online and being entertained by her quick wit, her fabulous humor… and her magnificent rack. (She was First Runner Up in Bewb Fest 09, remember?)
Tonight, many of us are shedding tears and wringing our hands in worry.  She is being showered with love, lifted in prayer, and thought of all across the world.  There is hope, boundless.  There are jokes and stories being told in her honor.  We wait for updates and continue to push our strength out to her and her loved ones.
Anissa, there's tons of love for you from all of your friends, all over.  We are sending you everything we can, and we won't give up!  We all know you'd do the same for any of us.
Now get your ass out of that hospital and back here where you're supposed to be making us laugh, woman.
We love you.
All Site Content: Copyright © Lotus Carroll // Theme: Copyright © Dandelion by Pexeto