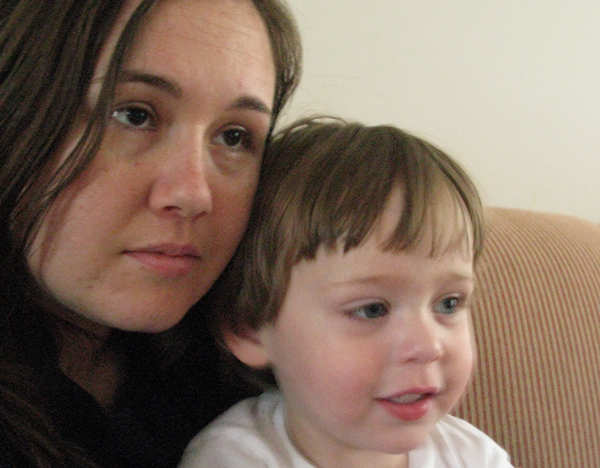 Being sick in Spring is not fun, wonderful, or delightful.
Being sick in Spring while your toddler is also ragingly sick? Well, that's about as fun as being a balloon animal at a drunk porcupine convention.
And let me add, you have really not LIVED until you have been force-fed a handful of Honey Nut Scooters (generic brand of Cheerios, for you rich assholes) coated in toddler snot. Until you experience this, your soul just has.not.awakened.
I could be wrong though, since my brain is stuck in this mucky haze which is part "I WANT TO KILL YOU ALL RIGHT NOW WITH MY BARE HANDS" (menstrual hag) and part "OMG I AM DYING, I KNOW IT" (pathetic, whiny, sick douche).
I just… well… he has been SO miserable and sad lately. And his nose has been steadily and continuously leaking sick toddler snot in copious amounts. I try to keep up with it, but most of the time he beats me to it. That little hand just darts up and swipes it away.
And while, yes, this is gross, it's not nearly as disgusting as that tendency some kids have to try mimicking a cow by sticking their tongues on up into the Snot Fest. So, I'm thanking my stars, here, that my kid hasn't thought of that yet. (We'll talk about how he licked snot off his fingers another day, okay?)
Anyway, today, he ran into the living room from the kitchen with a handful of his cereal. He made a bee-line for me on the couch, and since I was kind of slumped over towards the floor (yeah, I'm that pathetic) he had full access to my face. Which delighted him, and he just started shoving the cereal into my face.
He had this sparkle in his eyes as he crammed every last piece in my mouth.  Delight was painted across every inch of his face.  There was absolutely no way in the world I could bring myself to stop him.
His little fingers kept going in with the cereal.  I could detect the flavor of sweet, delicious cereal.
As well as the lovely sensation of cold, sticky, wet sick toddler snot.
And I just kept repeating in my head, "It's okay, you're going to be okay, just don't think about it, don't think about it, it's going to be okay…."
I ate snot for my kid today.  WHAT DID YOU DO FOR YOUR KID?
Copyright © Dandelion by Pexeto