Lions stalk the Jungles around us in August.
This August, Leo was hiding behind one of those particularly bushy and leafy plants in the Jungle, doing his Kingly Duties without me noticing him too much.
As the end of August neared, I walked past his hiding spot. I was expecting there to be a Virgin hanging around somewhere by that time, but it seems he ate her up, and when he saw me, he roared and reached out with a giant, furry paw and gave me a whap.
This was no friendly cat batting. His claws were out, and he threw me into September in a painful way. I landed in the Ninth Month 'O The Year hard on my ass and with jagged claw marks on my heart.
It was September, I realized with a jar, and midway through this month, it would be a year since I'd conceived the boy who had then died 3 months later.
A deep, aching sorrow captured me for awhile. On a few occasions I cried it out. One late night, in particular, left me on the living room floor doing what is known well as The Ugly Cry. Oh, that it was. Ugly with a side of Stinkin, Holy Hell.
For twenty minutes, I lay in a heap, pouring it all out into the carpet.
My face was a swollen mess the entire next day; my head throbbed.
But life keeps moving, and you kind of flow with it most of the time. I got back to flowing. In fact, I threw myself at going, even. Lions be damned… bikes, and hikes, and picnics… oh my!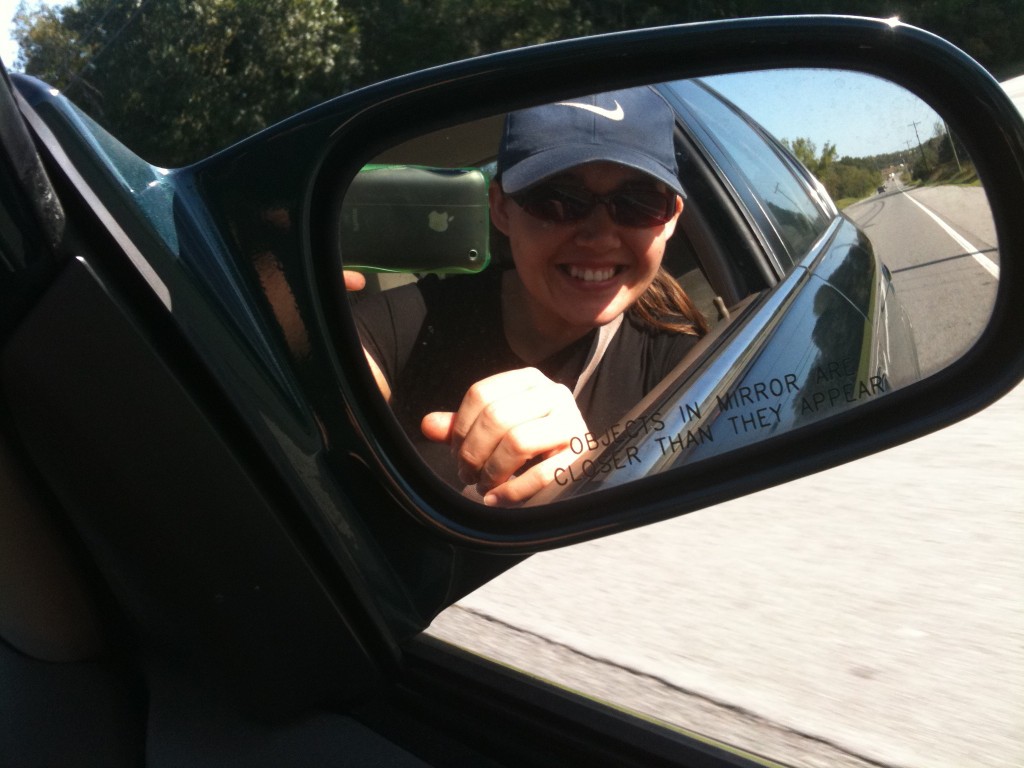 I can laugh in the sun as well as I can cry in the dark, it seems.
But then, can't we all? Yes is the answer. (Remind yourself of that if you need to, sometimes. It can be easy to forget.)
Then I realized as the end of September ran out that someone resembling Lady Justice had me sitting on her outward facing scale. Before I could throw something on the opposing one to keep things steady, she dumped me face-first into October, and crashing into another of those dates I can never seem to forget.
I knew, of course, the whole time I was flying down the bike path with the wind slicing past my grin and throwing out my pony tail in whips and flips behind me, that this next bump was coming. Of course I did.
Today is that date, and it marks one year since the last time I realized I was pregnant. It's been a year since I spied that little pink cross next to that little pink line.
It was an odd day one year ago, emailing my husband a photo of the pregnancy test with a message that spoke of my fear, instead of joy. A few weeks prior to that, I had finally come to terms with emotions and thoughts I'd been having and I felt sure enough about what I had decided to announce it out loud.
"I really just don't want to be pregnant again right now. Maybe one day, but not any time soon."
Soon after, I began having… those strange, but familiar sensations. You know, the bloating, the craving, the heightened senses. When my period was late, I pulled out an extra pee stick that was in the bathroom, and sure enough, it was time to turn off the neon vacancy sign on this lady's uterus.
I was struck almost simultaneously with fear, anger, disgust, disappointment, guilt, sadness, and grief.
The irony of the situation did not escape me. Luckily, a new set of emotions rose quite quickly from deep inside, as well: Hope. Longing. Joy.
Guarded, those three were. But they were there, unmistakably.
You can follow posts back through my miscarriage tag and find me talking about the feelings I had being pregnant again after a miscarriage earlier that year. You can obviously also read the posts that detail what I went through emotionally when this new baby also died, in early December.
This, right now and through December, is a hard span of time for me – it is the first anniversary of the pregnancy that ended in a second miscarriage. I know, it's confusing. But I think the first anniversaries are hardest. I tend to believe that while the dates will always have a sting, these initial ones offer the deepest blows.
And if you think I should be over this, I forgive you. You don't understand, and that's okay.  I sincerely hope you never do.  If you think I'm dealing with it all so very bravely and I am very strong,  you are sweet and kind. I appreciate that, but I'm just like you.  Some days I'm so strong. Other days, I'm nothing but Jello. In the sun.
October 3rd is the first blow of that second time when I decided I could let myself hope. I wrote a post about that hope. I damn near internally promised my dead son that I would never give up the hope that he taught me it was okay to have.
And yet?  I've spent a damn lot of time this past year being pissed off, signing off on hope, and mentally giving the finger to anyone who dared suggest I hold onto it. (Not you, really.)
Did he really teach me, in those short 3 months that it's okay to hope again?
I have to believe that was the truth, no matter how things turned out. I have to, even if I don't feel that way every day, you dig? I just have to keep believing that the lesson Davin taught me was true. About hope.
Because if you don't have hope for something new and maybe even better, if not every day, then at least with some consistency, how do you keep moving forward? How, without hope, can one keep flowing and going, smiling and laughing, growing and loving?
I just don't think you do, and so I know I still have it.  Even if it's a bit dented and has lost some of its shine.
Today I'm going to be sad, that's for sure. Really, really sad.
And that's ok.  But I refuse to allow myself to wallow in misery this time. This will actually be difficult for me – it seems I'm an innate misery wallower. (Spell check wants me to change this to "swallower."  So you hear it here first: I don't spit misery, I swallow it, folks.)
Yesterday, I said, on Twitter:
"Oct. 3, 2008 I took a pregnancy test & it was positive. Can't decide if I should let myself be miserable tomorrow or fight it tooth & nail."
I got a variety of answers, and lots of support. Thanks to all of you who reached out then, and to those who have done so in the past. Even when you don't hear back from me, please know that if you've done it, you've been a part of a support network that I value deeply, that keeps me going, and I thank you sincerely. (Even later, I come back to these posts and read your comments again.)
My favorite response yesterday was from @wbgookin (author of Daddy Is Tired), and I thought I'd share it with you. It is simple, and yet seems powerful to me. That's the best kind of advice, isn't it?
It's what I aim to pull off today, and hopefully any time this same kind of question arises inside of me.
"Be both. Be sad for what might have been, be glad for what is."



So yes… Today, I'm going to miss Davin. I'm going to be incredibly sad about what could have been, but was not. I am going to wish he was with us while I still rejoice in how wonderful it is to play in the sun at the park with Braden.
I'm going to do the Sad, Sad, Happy, Happy, Joy, Joy Dance.
Here's hoping your Saturday is peaceful and beautiful, even though you live with a sorrow, too.
All Site Content: Copyright © Lotus Carroll // Theme: Copyright © Dandelion by Pexeto