Lazy Douche Enablers write guest posts for me every other Tuesday. That way, I can be a much better… you guessed it: Lazy Douche. I've been such a LD lately, that I hadn't been posting the LD posts people wrote for me awhile back. One might say I don't NEED the help. Regardless… Today's Enabler is Veronica, of Sleepless Nights. In fact, she wrote this for me in March. I had to one-up her to show her that she can't out-lazy douche me by holding it until September. Yup, I suck that hard.

Holy Crap, It's Nearly March?

I looked at my calendar today and nearly had a fit. It's almost March and I promised Lotus that I would guest post for her all the way back in December. I mean sure, there was this little thing like me giving birth in the middle of January, but hell, I should have had something put together by now, right?
It's not like I don't have the time or anything, Isaac spends most of his days sucking on my boobs, so surely I would be able to tap SOMETHING out. [Heh, kinda like I am doing now while he feeds.]
Anyway, back to the topic at hand.
I write a blog called Sleepless Nights. I have a toddler who doesn't sleep very well and a newborn who isn't much better. The only difference is the toddler learned to sleep without my nipple in her mouth a little while back. Therefore, I feel sort of qualified to talk about lack of sleep.
You know what drives me batshit insane? When I'm sitting on the couch at 8pm, trying to breastfeed a fussy baby to sleep, occasionally stopping to let him bounce on my stomach/suck on my nose, and the news comes on touting some crap about sleep.
'Lack of sleep can be extremely detrimental to your health…'
[You think I don't know that Jackass? I haven't slept in 24 hours here]
'…and new studies have shown that sleeping in of a weekend can actually help reduce the harm lack of sleep causes…'
[Keep going idiot. What about those of us WHO HAVE SMALL CHILDREN AND CANNOT SLEEP IN?! Do we not count?'
'...so take the chance to catch up on sleep whenever you can.'
[Splutter cough cough cough curse]
This is where Nathan broke in and nearly cost himself his manhood.
'See sweetheart? You can't complain when I sleep in of a weekend now, because they have proved that it has health benefits!'
WTF? So what, I'm IMMUNE to lack of sleep simply because I pushed a baby out of my vagina 5 weeks ago? You know, lack of sleep doesn't affect me anymore because I am a mother? Seriously, just call me superfuckingwoman. While I'm at it I will just do all the housework and cooking too, because damn if you don't work! No matter that I am up all night with a fussy baby and awake all day with a whirlwind toddler.
The bitterness. I have it.
And I suspect I am not the only one.
Sleep deprived, with baby vomit caked in the crook of my arm [I suspect there is some in my ear too, but I'm not game to check] and the day stretching before me; an endless stream of feeds and food prep and housework and ohmyholyhell can you pick that back up and DON'T throw that at Isaac and PICK those books back up and if you tip that potty on the floor again I might just LOSE IT, the grass always looks greener over there.
Sure he might get eight hours of uninterrupted sleep, a shower every day and actual conversation with adults, but me? I get to smell the top of my sons head as he nuzzles into my breast. I get to run my hands through soft-as-silk hair. I get toddler kisses and declarations of 'I love MUMMY!' I get the soggy cuddles after tantrums and the rare as rare baby smiles.
Even better though? I get to palm off all the crappy toddler nappies 'because when was the last time you changed one of Isaac's?'
And that my friends, is priceless and I wouldn't change it for the world. Sleep or no sleep.
______________________________________________________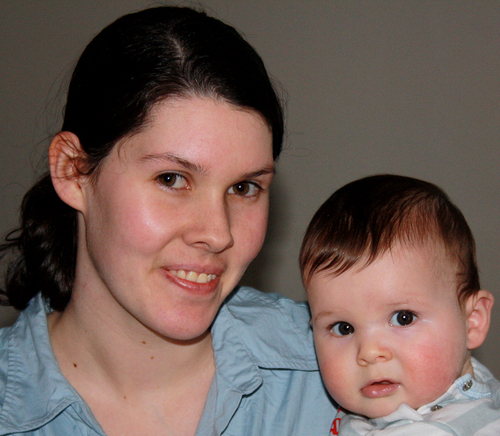 Veronica is near and dear to my heart. She has been my friend since before the birth of "Sarcastic Mom," enduring my Myspace Blog posts, and helping me gain the courage to actually start a real website. She was my first commenter, and she has stuck through with me this whole time. She is a beautiful, compassionate, strong, funny, and talented woman. I am honored to call her my friend. Go check in on her at Sleepless Nights – if she's actually catching a nap for once in a row, just tuck her in, okay?
All Site Content: Copyright © Lotus Carroll // Theme: Copyright © Dandelion by Pexeto