Science Fiction / Futuristic
You'll Come In Peace, Or You'll Leave In Pieces
prints available here, for a limited time.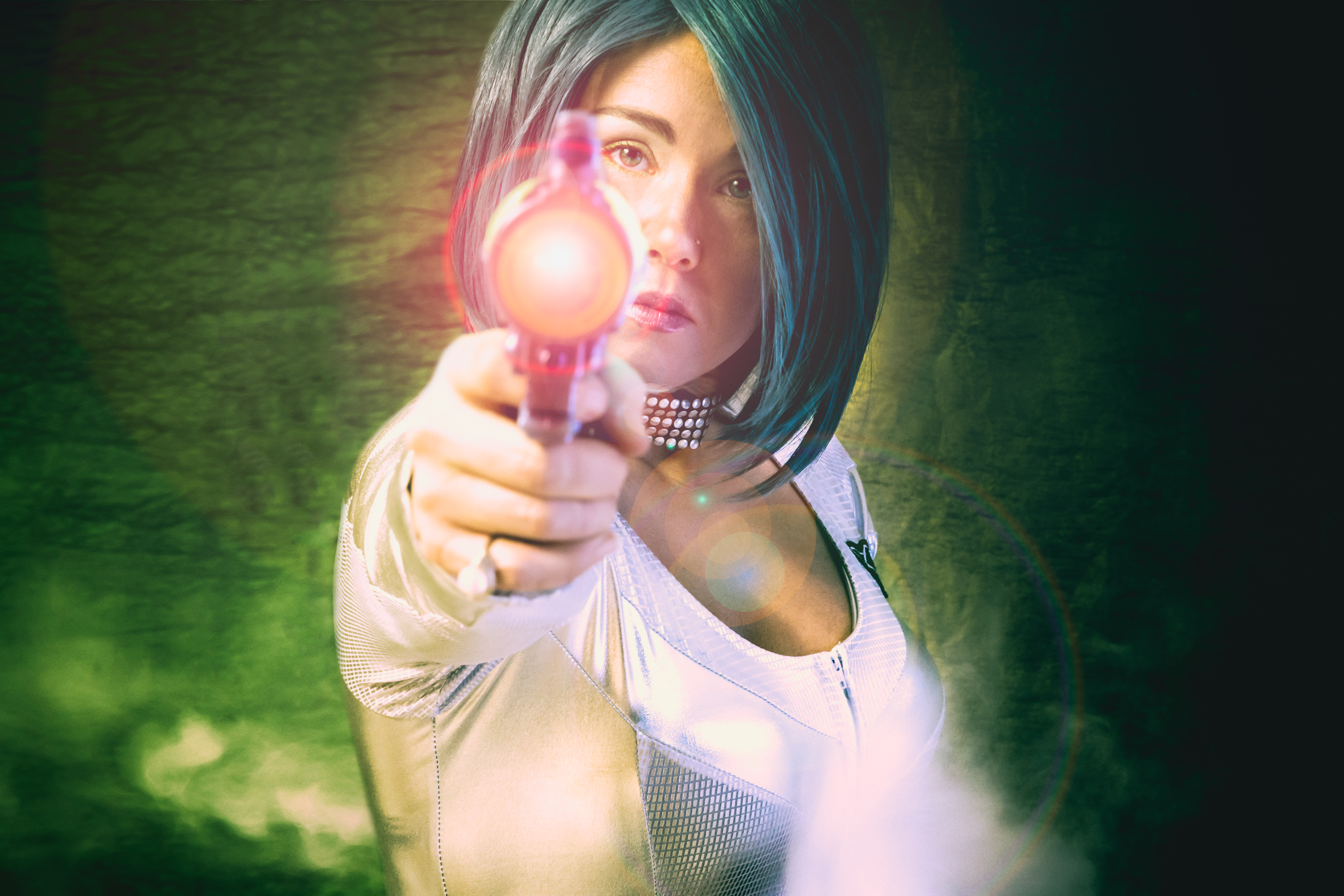 Created for:
Self Portrait Sunday
January Science Fiction/Futuristic Challenge
I had a lot of fun creating this image!
My setup was pretty simple:  I tacked an old curtain section to the wall behind me in my garage, got some boiling water ready to pour over dry ice* in a plastic cup, and set up my camera on a tripod with my phone connected via a TriggerTrap dongle (this turns your phone into an intervalometer – so much easier to shoot self portraits with, as it enables you to pose without worrying about holding a wireless remote). Then, after I got into my handy-dandy space suit and applied makeup and wig, I faced the camera and pointed my "laser gun" at the lens, making sure to have it just a little to the side of my face. While I was doing this, I had the cup of bubbling dry ice in my other hand, moving it around, up and down and behind me, and making sure to bring my arm down right before the shutter released. I had to do a few test shots to get the focus in the right place. I tried several different poses, but this was my favorite.
For the post processing, I used Lightroom (mostly color and basic adjustments, like white balance, but also some targeted adjustments, like my eye color, and vignetting/painting in shadows) and Photoshop, where I used pieces of the "smoke effect" from a couple of different images, cloned out a few wrinkles in the curtain fabric, and added a lens flare to make the laser gun really pop with action. The title came to me during post processing, as I was taking in the look on my face – it seemed right.

*If you're thinking of using dry ice, please take all the necessary precautions. Also, expect a learning curve – this was my first time using it, and it took me awhile to get the hang of the way it behaves! It's fairly cheap, so I'd suggest a "play time" before your actual shoot, so you can get the feel for it.
*****
© Lotus Carroll, All Rights Reserved
To license commercially, please email: lotuscarroll@gmail.com
All Site Content: Copyright © Lotus Carroll // Theme: Copyright © Dandelion by Pexeto