And this would be one of the many reasons: he's super in-tune with sounds of all kinds. He often recites things like stories from books and the words of songs, which I find terribly awesome. Somehow, however, his love for sounds themselves is even more intriguing and endearing to me. He picks up on sounds that I have learned to zone out. He doesn't ignore any of them. He hears every creak, pop, ding, whirr, chirp, and squeak in the world around him.
Even before he could talk, he was an expert at mimicking the microwave, dish-washer, toaster, birds chirping, airplanes flying, and water running, just to name a few.
"Mommy, I hear sound!" flies off his lips with unbridled delight every day, still. I'm adding this to the "joys" category of parenting, and I'm once again incredibly glad that I always have my camera nearby. The days just seem to fly by, but I have these memories documented.
On Sunday, I shared this photo as one of my favorites from the past week:

He looked for those letters among the rest and laid them out like that on the side of the tub.
Then he did this:
If it doesn't sound familiar to you, here ya go: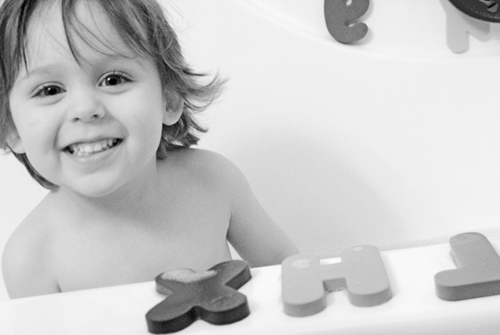 brilliant.
All Site Content: Copyright © Lotus Carroll // Theme: Copyright © Dandelion by Pexeto