Some of you may remember the post waaaaay earlier this year where I admitted to you something that really was no surprise, considering I have mentioned how gross and lazy I have been on a regular basis.  Yeah, I'm talking about the one where I basically said, "I smell like forty ripe asses rotting in the sun.  Oh, and I have fat rolls that have fat rolls and their fat rolls are bigger than their fat rolls' fat rolls."  I'm not sure if that even makes any sense, but I wrote it out anyway, because I like the way it sounds.  You do too, you just don't know it.
The point is that I had gained quite a bit of weight (enough to aggravate my joints and make my fat pants tight on me) and I wasn't caring enough about myself to bathe regularly.  Unless you'd say once every week or two is regularly.  I guess it is, since I regularly waited that long to scrape the accumulated layers of sediment off of my body. (I swear I found a tiny, fossilized animal in one of the layers once. It was from the Cretaceous Time Period. I'd be rich if I hadn't dropped it down the drain.)
By May, I was carrying a good amount of weight…
By the end of May, I was sick of myself.  I made a lot of changes (that really needed to be made) and turned my life onto a healthier track again.  Instead of drinking the local liquor store and grocery beer aisles dry practically every other day, I stopped drinking entirely for a whole month.
I hated every fucking one of you bitches that talked about drinking on Twitter during that time.  I wanted to stab you in the face.
Hahaha, just kidding!
No, really.
It wasn't as hard as I thought it would be, in all honesty.  And during that month, I dropped junk food and excessive carbs, as well as late night eating.  You know what else?  I started moving.  And I had some support: people who motivated me by talking to me about what they were doing, listening to what I was doing, and just being there.  They lifted me up when I was dragging, and they celebrated my successes with me when I was floating.  That kind of support from friends is instrumental for me.  Thank you so much Leslie, Haley, & Karen.   I got my ass in gear and I started doing The Shred – downloaded it right to my computer and did it almost every day.  I added in some Yoga, too.
And the real killer for me?  I went to bed at a decent hour more often than not.  It was like a sign of the Apocalypse.  Or flying pigs.  Or that monkeys streaming out of your butt thing.
But mostly, it was a whole heap of positive change in my life that both cleared my head and dropped pounds of fat off of my body.
I lost 15 lbs in just a couple of months.
Then I started traveling.  Oy!  Chicago first, then NC, and before I knew it I was drinking and eating excessively again, and not exercising.  And sleeping? Hah, what was that?  I was up into the wee hours again.  For some reason, I love the wee hours.
I was still making half-assed efforts to exercise once I got back home, but it wasn't adding up because I was being really inconsistent, and the other bad habits were still hanging on, blossoming even.
By mid-September, I was saying, "hello again!" to the last 8lbs I had dropped.  (And by "hello again" I mean, "awwww, shit, you again? Damn.")
But I was in a funk.  The sloth in me was in charge.
By mid-October I had reached a point again where I realized this crappy way of whipping myself back and forth has got to stop.
I called on the cavalry again:  I've got Haley, Leslie, and now Mishi motivating me in a Skype chat regularly (thank you, ladies! I love you.).  And I'm trying this novel concept: moderation!
I cut way back on drinking, but I still have one drink most nights.  Junk food is out again, and healthy food is in.  But "cheats?"  Oh yeah, they're around about once a week.
I'm *trying* to go to bed at a decent hour (most nights, and sometimes I'm actually successful) and I'm moving again.  I've been doing different things to keep it fresh –  Shred, Yoga, Dance, Walking.  I've lost that ugly 8 I gained back, and then some.  I'm feeling better again… lighter, smoother, and quicker.
Just this week, I started pushing myself to jog and run.
And then a little birdie named Leslie got on my proverbial shoulder and whispered in my Skype Chat ear: "Fiiiiive Kaaaaaay?"
And I said, "What, me? Surely not."
But later in the day I said, "Why not? I can do that.  I am *going* to do that."
And that's where I am right now.  In total, I'm down 21lbs (and counting!) from my May 09 top weight, and I've built some muscle.  It's time to tone, train, and build endurance.  I have a plan, some tools, and at least one friend to do this with.  I'm about to bust crazy and go for something I've never attempted before.
And I'm not talking about going one whole day without saying, "fuckbuckles!" (What, you don't say that every day?)
It's time to train for a 5K, my friends.
I plan on leaving a little piece of my funk behind me with every step.
When sloth and apathy has set in for months, it's hard to get your ass moving again.  And even once you've passed the hurdle of actually making yourself START moving with effort once more, you face that initial battle of trying to stop screaming out in pain and agony at every little leg lift find your strength again.
Exercise takes strength.  And strength is built via exercise.  Chicken. Egg.  Circle, circle, circle.
So when you're trying to get back on track with a healthy lifestyle, you have to force yourself through that beginning time, when the shit is HARD.  And you have to keep going until you can hack it.
And sometimes it's hard, in the middle of a workout, to feel confident that you can do that.  Especially when all you want to do is power jumps on the instructor's face.  What?  I am NOT full of anger and bitterness, and if you even hint that I am, I will eat your face. (I'm sure it's full of lean protein.)
What I really love is when a workout instructor is saying some shit to me like, "You should be feeling some heat in your thighs now… almost a little burn!"  right around the time when I'm looking down in bewilderment because my left thigh literally just exploded and peppered the wall next to me with clots of flesh and my right thigh currently has a 4 foot flame shooting from it.  And my ass just sent me a memo that said, "Really?  You're serious?  Just checking.  Because… really???"
Yeah.  Almost a little burn.
Whore.
Look, lady… did you forget what it was like when you were fat?  Before you became this little waif of a thing that is now cheerfully telling me to, "see if you can push it just a little bit deeper each time!"
Oh, I am, cutie-pie, I am.  I'm pushing the imaginary knife blade just a little bit deeper into your upper torso (can you feel the BURN!?) every time I stab you with it inside my head.
Maybe she was never fat.  Maybe she has always been so skinny that her nipples existed on her chest completely independent of the titty base they are generally known to reside on in females. (And no, I have nothing against boobies of any size, but just let me rant here, ok?)
I'm sorry, I just can't not see them.  In that tight-ass yoga top they are like little rocket missiles under a tight stretched tarp and I'm hearing the countdown in my head at full volume.  They are moments from firing and I don't want to get hit, okay?  Someone needs to deactivate the launch sequence.  Who readies missiles that are still in storage anyway?
Where the hell is Jack Bauer when you really need him?
Clearly, she is excited about the burn.
I'm excited about making it through this without dying.  Which I'm not entirely sure yet is going to be happening, but I like to delude myself like that.
Wait.  What did she just say to me?  "Really challenge yourself."  Were you not here just now when I said I was going to try to make it through this alive, woman? Clearly you do not understand that is a challenge in and of itself.
Shit, it is a challenge for me not to come over and take a bite out of your ass cheek.  I haven't had a burger in weeks.
And if she says, "for an extra challenge…" one more time, I think I might just choke on all the cuss words that want to fly out of my mouth because YEAH.  Really, trust me, I don't need anything extra at this point.
Unless it's pickles.  On the ass burger I'm about to take from you.
And still, I'm doing this.  And I want to do this (hahaha) and I am going to do it again.  Because I know that over time it will get easier and I will hate her less and less.
Wait, she just said, "I don't know about you but I'm really starting to feel my legs!"
*insert mental image of me SHITTING MYSELF I'M LAUGHING SO HARD*
If I could FEEL them anymore, I'd actually be able to "control it" like you keep telling me to do and then I wouldn't be shaking, and tripping over my own two feet every five seconds, woman.  But thanks for letting me know that YOU can feel YOUR legs.  I am so proud of you.  You are doing great!  Soon you'll be even MORE sexy and attractive than you already are!  And then there can be an even greater, more stark contrast between the two of us.
Really, the hilt of the knife couldn't go any deeper.  I need to invest in an imaginary pitch fork or something.  Axe?  Hm.
And if you're disturbed by this?  Me having immature, malicious thoughts towards my workout instructors is really nothing new.  See here.  While this makes things no less disturbing, at least you can see that I am consistently whacked out.
Oh, but now she's saying something that makes me love her.  A lot.  (And it wasn't, "Would you like ab fries with that ass burger?")
"Last one."
Okay, Miss Itty Bitty Everything.  I think I can forgive you.
But right now I need to go see what I can do about my right eyebrow.  That four foot flame really took me by surprise.
So, I recently made you read about how my mouth stinks and my pits are a sweaty mess of BO pretty regularly lately, but that it's just a mild distraction from the nest of greasy hair in knots all around my face and the bags of fat hanging off my waist and ass.
Er, or maybe I just said I've stopped having good hygiene and I've gained weight. Hm. Words words words.
Well, I'm trying to smell less like ass and stop being a jiggly mass of cellulite speckled, moving J-E-L-L-O (Pit Sweat Flavor), and I figured that since I let you in on that, I'd go ahead and offer an update on "How this stupid shit is going so far."
Did I just call my Unfattening and Destanking "stupid shit?" Why, I did, didn't I? I must be bitter about the whole thing.
You already know that I wandered into the kitchen at 3am one night and crammed my mouth full of sticky smashed peanuts. Mmmm, peanut porn.
Well, every damn night I've been telling myself once I look up and see it's about 9:30 or so, "Okay, Lotus. NOT GOING TO EAT ANYTHING ELSE TONIGHT."
And then around 10:30 I look at myself and I'm all, "So, what are we gonna eat!? Pretzels? Beer? Oh, hell yah."
And, ok. So, I'd call that mild failure so far.
But what's NOT mild failure? Well, that would be GIANT FAILURE.
Did you think the peanut butter at 3am was bad? (No? WTF is wrong with you? That is ridiculous. You should NOT be eating a spoonful of nut (hehehehehehehehe) at 3am.)
I can top it.
Wiener.
That's right.
That's what I woke up cramming into my mouth the other night.
*pause*
And I'm not talking about a fun-time wiener, I'm talking about a cylinder of smashed pork lips and penises.
Oh baby, now THAT'S sexy.
That's how I want you all to think of me.
Yes. I'm the chick standing in her kitchen at around 3am wearing underwear and a wife beater with peanut butter stuck to the roof of her mouth and a hot dog dangling from her lips.
And I am probably scratching my ass.
Or farting.
Ok, both.
It takes effort to be THIS SEXY.
Oh, but I've lost 5 lbs so far.
And if you even try to patent the peanut butter and wieners diet before I can get to the patent office, I swear I will hurt you with knives.
Mmmmm.  Peanut Butter Wieners.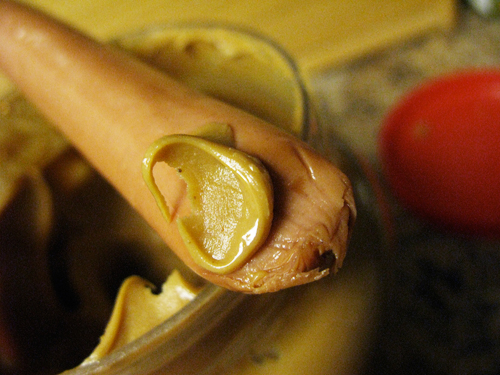 All Site Content: Copyright © Lotus Carroll // Theme: Copyright © Dandelion by Pexeto