You know what's fun? Walking. Walking is awesome.
In fact, I think I want to start walking a lot. To all kinds of places. Like the gym and the grocery store and, well, pretty much anywhere I want to go.
And I think to make it more awesome than it is inherently, which, in case you didn't know, is really freaking awesome, I think I'll carry Braden strapped to my back, everywhere I go. You know, WALKING. Everywhere.
You know, the gym, the grocery store, the pool, downtown, the library, special events, you know PRETTY MUCH ANYWHERE I WANT TO GO.
Do you know WHY?
Because I freaking love walking.
Oh, and it might have just a little bit to do with the fact that on Sunday our car decided to die a horrible death. As in, the engine had a myocardial infarction and its soul has risen to Engine Heaven.
We do not have the funds to remedy this kick in the ass by The Universe.*
Because we are stupid and don't save our money properly awesome.
I mean, walking is a nice thing to do for exercise or window shopping and all but DAMMIT it's TEXAS out there people, as in 105 degrees, and my ass isn't walking ANYWHERE awesome.
And I'm going to do it. A lot.
Please kill me now.
PS: The only thing I hold onto that makes this all okay is that the day that our car decided to give up and leave us stranded like the selfish son of a bitch it clearly is, I pulled out my phone to search for something and it suggested I choose from the closest wireless networks.  And either this person is supposed to be my best friend EVER (something just suggests to me that we'd think the same things are funny) or the dickhead was totally serious and did some black magic on our car.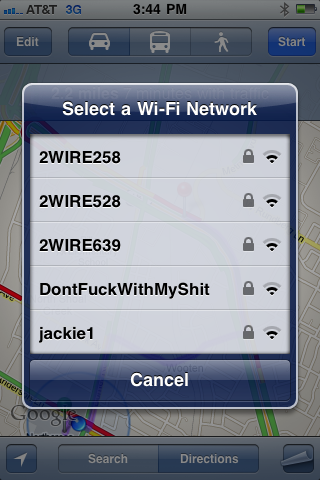 Yeah, that's right. I'm talking about jackie1.
I'm on to you, Jackie.  We're either going to be blood sisters, or I'm contacting a crazy voodoo witchdoctor to help me send your soul to hell for eternity.
*Post which documents previous signs that The Universe is a dickhead.
All Site Content: Copyright © Lotus Carroll // Theme: Copyright © Dandelion by Pexeto