Thanks to Books from Birth and Dolly Parton, Braden gets a free book every month, which is all kinds of awesome. Recently, his new book was The House That Jack Built. I was pleased – that's a cute story!
Then I read it to him at bedtime.
It screamed "COCK!" at us.
No, seriously. Look: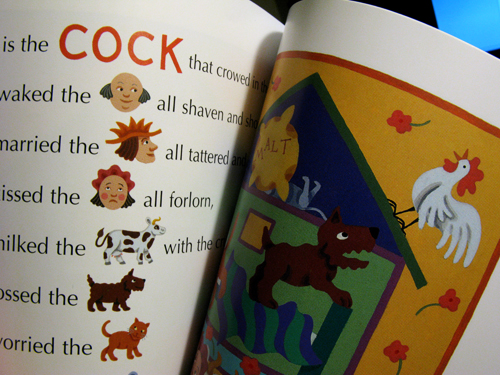 And really, I can't read this to him a single freaking time without picturing a giant wang all up in Jack's house.
And yes, I know that a "cock" is a rooster. I also know that "gay" means happy and a "fag" is a cigarette. And yet, I wouldn't say that a happy farmer smoking a cigarette next to his rooster is a gay dude tokin' a fag by his cock.
And you probably have a lovely mental image that illustrates exactly why.
So. Thanks for this book selection, Dolly.
(Who, incidentally, I can never think of without picturing… you know damn well what.)
All Site Content: Copyright © Lotus Carroll // Theme: Copyright © Dandelion by Pexeto