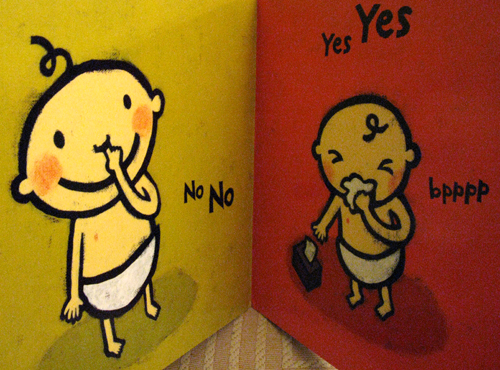 a page from "No No Yes Yes" by Lisa Patricelli
For a very long time, this is a rule that Braden has respected. Hey, if Mommy says fingers in the nose is a "no-no" and there's even a book backing her up, it must be true.
But now we have reached the Age of Contrary. We see evidence of this with classic conversations like, "Here's your peanut butter and jelly sandwich." "NO. Dat's not peanut butter jelly sandwich, DAT'S PEANUT BUTTER JELLY."
And who could not see the genius in "Sit down at the table now." "NO, I HAVE TO SIT IN DIS CHAIR NOW." (The chair at the table.)
And if it's fun to say "NO" to things just so you can restate them in a different way, well, then it must also be delightful to do things that have been forbidden. It's all just part of the same circle of fun, right? Of course it is!
Life without testing the boundaries is boring, my friends. And the boundary between fingers and boogers is just SCREAMING TO BE BROKEN.
I mean, just look at how much fun this little dingaling is clearly having!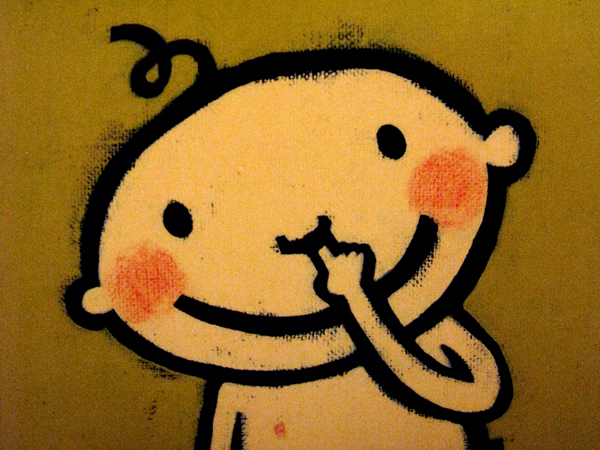 did he really have to be wearing the shit eating grin?
And so it goes, the boy realized that perhaps even if the book and The Mommy say fingers in the nose is not so groovy a thing to do, it can, in theory, still be done. And so he tested this idea, and found that yes, it can be done, and in fact, he quite enjoys sticking his fingers in his nose.
Over and over again.


it kills me that he can make even booger picking cute
Though it is clearly quite a bother to request a tissue before nostril exploration has begun, apparently it is no problem at all to do the same thing once one's finger has been befouled. He walks over to me with his finger stuck out in front of him, a fine specimen riding the peak of his pointer, and says, "Put my booger in a tissue."
Such gifts he presents to me, and lo, they take my breath away. It is an honor, such an honor.
And hey, I guess I have some idea of where he gets the appreciation for sticking things in his nostrils.

i.am.dead.sexy.
At least he's not sticking other things in his nose.
Yet.
All Site Content: Copyright © Lotus Carroll // Theme: Copyright © Dandelion by Pexeto