Oh, Raw Honey, look at you sitting there waiting for me!  I heard you whispering for me to come over, Raw Honey.  And you are sounding soooo really, very good to me right now.  Let's get better acquainted in a situation involving bread and butter, m'kay?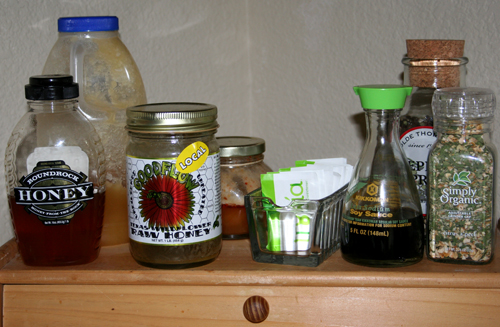 What the hell, Raw Honey…
YOU'RE EMPTY?
Why would you toy with me so, Raw Honey? Why would you sit there, practically beckoning to me with your sweet, delicious Raw Honeyness… and then… and then… be… EMTPY?
How cruel you are, Raw Honey!
How. Very. Cruel.  You have hurt me deeply, Raw Honey.
*deep, heavy sobs*
What is that you say, Raw Honey?  You mean, you didn't do this to me on purpose?  You say it was beyond your control, Raw Honey?  You were just sitting there, being Raw Honey and someone came along and emptied all the delicious Raw and sweet Honey inside of you out?
You are telling me that someone scraped you clean, selfishly enjoying every last drop of you, Raw Honey?  Someone didn't share you, but just ate you all in private?  Someone ELSE did this to you and then PUT. YOU. BACK?
Just to fool me?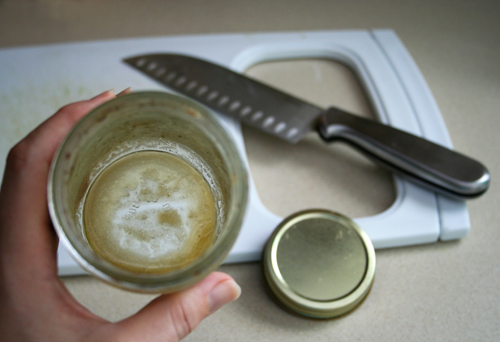 What is that you say, Raw Honey? Yes, Raw Honey, you are right, I *am* feeling rather stabby.
Don't worry, Raw Honey.  I'll get even.  I make all the meals around here after all, right, Raw Honey? People eat what I prepare, without question.
Hahahaha.
What is that, Raw Honey? You say there's a funny tone to my laugh?  Oh, Raw Honey, just ignore that.  Everything is just fine.  I am in a peaceful state, don't you worry.  Just overlook the strange new element in my laughter, Raw Honey.  I promise, I'm okay.  You just rest.  Shhh, shhhh, now, Raw Honey.
Someone else better watch his Raw Honey Thieving, Trickin' a Bitch Ass, though, Raw Honey.
But you?  You just sleep now, Raw Honey. Shhhh.
Shhhhhhh.
As I write this post, it is Tuesday morning.
John and I have waited since Saturday night for news about our baby.
I started bleeding on Saturday night.
The experience continued through the weekend and into Monday.  I won't describe it in detail.
I had blood tests on Monday.  The results we got this morning confirmed the worst.
It was a miscarriage.
The baby I had already begun to love is gone.
I feel rather empty, in more ways than one.
I need to go hold my son very tightly and be held very tightly by my husband.
I may not post for awhile – not sure.  I appreciate your patience and understanding while I carefully fold another Swan.
All Site Content: Copyright © Lotus Carroll // Theme: Copyright © Dandelion by Pexeto