So, I recently made you read about how my mouth stinks and my pits are a sweaty mess of BO pretty regularly lately, but that it's just a mild distraction from the nest of greasy hair in knots all around my face and the bags of fat hanging off my waist and ass.
Er, or maybe I just said I've stopped having good hygiene and I've gained weight. Hm. Words words words.
Well, I'm trying to smell less like ass and stop being a jiggly mass of cellulite speckled, moving J-E-L-L-O (Pit Sweat Flavor), and I figured that since I let you in on that, I'd go ahead and offer an update on "How this stupid shit is going so far."
Did I just call my Unfattening and Destanking "stupid shit?" Why, I did, didn't I? I must be bitter about the whole thing.
You already know that I wandered into the kitchen at 3am one night and crammed my mouth full of sticky smashed peanuts. Mmmm, peanut porn.
Well, every damn night I've been telling myself once I look up and see it's about 9:30 or so, "Okay, Lotus. NOT GOING TO EAT ANYTHING ELSE TONIGHT."
And then around 10:30 I look at myself and I'm all, "So, what are we gonna eat!? Pretzels? Beer? Oh, hell yah."
And, ok. So, I'd call that mild failure so far.
But what's NOT mild failure? Well, that would be GIANT FAILURE.
Did you think the peanut butter at 3am was bad? (No? WTF is wrong with you? That is ridiculous. You should NOT be eating a spoonful of nut (hehehehehehehehe) at 3am.)
I can top it.
Wiener.
That's right.
That's what I woke up cramming into my mouth the other night.
*pause*
And I'm not talking about a fun-time wiener, I'm talking about a cylinder of smashed pork lips and penises.
Oh baby, now THAT'S sexy.
That's how I want you all to think of me.
Yes. I'm the chick standing in her kitchen at around 3am wearing underwear and a wife beater with peanut butter stuck to the roof of her mouth and a hot dog dangling from her lips.
And I am probably scratching my ass.
Or farting.
Ok, both.
It takes effort to be THIS SEXY.
Oh, but I've lost 5 lbs so far.
And if you even try to patent the peanut butter and wieners diet before I can get to the patent office, I swear I will hurt you with knives.
Mmmmm.  Peanut Butter Wieners.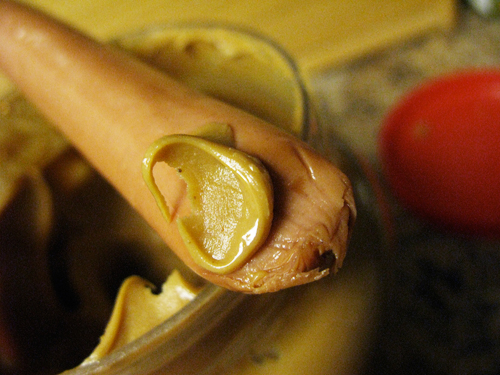 They have now returned me to my regularly scheduled Internet Addiction program by replacing the power source in my Dell.  I picked up the computer containing its nice, new power supply on Tuesday night.
Sorry I waited so long to let you guys know… I've been cuddling and snuggling with it privately for a day or so now.  Making sure it knows how much I love it.  (Even while I secretly forge plans to purchase a Mac Laptop behind its back. Shhhhh.)
By the way – Super Kudos to my own husband for making that exact diagnosis over the phone the day the failure first occurred when I called him to freak out about it. More Super Kudos to those of you who also correctly diagnosed the actual problem – Lisa, Michell's husband, Lou, Sarah, Yam, Stephanie, Becky, Momma Mary, and beautifulmess . You are all computer geniuses. Someone should pay you! But not me. I'm saving all my $$ for Asian Porn. Sorry.
The Awesome Tech Nerd who helped me with my compie even made friendly jokes about the rather shrill, seemingly endless screaming that was emanating from the area of a certain stroller directly to my right while he was wrapping things up and getting the bill of sale in order for me.
Seriously. He made happy, silly, sweet jokes to Braden instead of clapping his hands over his ears and running away while the blood poured through his fingers and he cried out, "I just can't take it anymore, God, Please give me the sweet release of DEATH!!!"
Oh, wait, that's just what I always end up wanting to do. *nervous laugh*
Anyway, he was a really nice Tech Nerd who has kids and grandkids, so he gets both computers and parenting issues. See? Super Hot, Sexy and Awesome. He's the one who ran to help me through the door yesterday when he saw me struggling with a stroller in one hand and a computer under the other arm. And he didn't even let me think about trying to get everything to the car by myself. He took the computer and carried it out for me, placing it inside the vehicle. Then he said goodbye to Braden, giving him a kind little rub on the back while Braden screamed, "BYE-BYE! BYE-BYE!!! BYE.BYE.BYE.BYE.BYE BYYYYYYYYYYYYYYYYYYYYEEEEE!!!!"
Of course, it wasn't free. I thought about offering to touch his no-no spot, and all, like I said before, but it really seemed inappropriate. Braden was there, after all. So I paid money. It hurt, but like they say, it hurt so, so good.
By the way, I really do get the Ultimate Assholes of the Universe Award –
(the one I tried giving to that Asshat Internet Marketing Specialist, only to end up on the top of that Google Search myself. That's how I roll.)
– because you know what? You know how several of you advised me to buy an external hard-drive to back up all my documents in the future, etc. HAHAHAHA. Yeah. We already have one. It's huge, too. And we've had it for MONTHS. Had I taken the time to move ONE THING to it yet?
NO! BIG FAT, STINKY NO! (Yah, I suck all the balls.)
Guess what I will be doing pronto?
All in all, I'm really glad to be up and running again on a computer that's not farting at me or handing out rude taunts.
I'm the only one around this household who's allowed to terrorize others by those methods, thank you very much.
All Site Content: Copyright © Lotus Carroll // Theme: Copyright © Dandelion by Pexeto