On October 3rd, 2008, I found out he was alive inside of me.
I was surprised.
I sent my husband this photograph in an email with the subject line, "Ready to rumble?"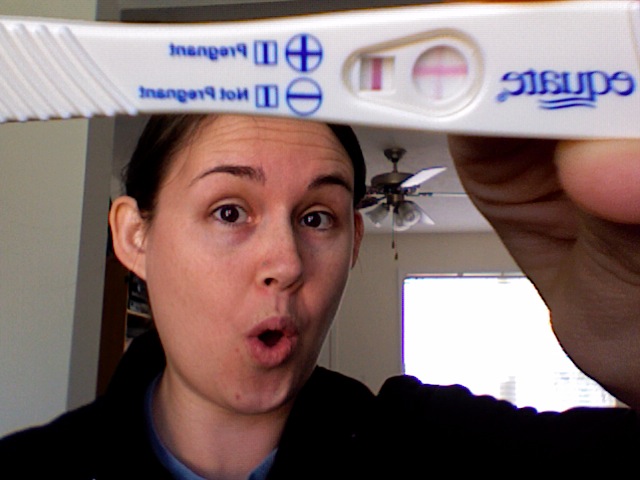 The body of the email said, "Here comes the fear, do-do-do-do…."
I was scared.
But also, I was cautiously happy.
Before long, I was full of hope. And dreams. And the future.
My last pregnancy had ended in miscarriage at 5 weeks.
The 5 week mark came and went. Trumpets blew inside my heart.
On October 18th, 2008, I had morning sickness for the first time. I have never been so happy to feel so sick.
I turned my arms within and held my baby a little closer, starting to believe I could hold on to that sweetness forever.
On November 10th, 2008, I saw him on a fuzzy, mini-ultrasound.
I saw his heart beating. And that was it. I Believed. He could make it.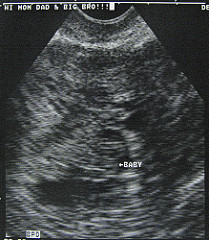 We called him Fuzzball.
I thought one day I would be rubbing his head, calling him that.
I began showing.  It felt glorious.
On November 24th, 2008, I heard his heart beating. It was vigorous.
In spirit, I jumped over the moon, grabbed a star, and brought it back to earth with me.  It glowed inside of me.
Up until the end, I thought he was a girl. Maybe that is because, at a time when I felt like I was filled with snips and snails, he filled me with sugar instead. And spice.
And everything nice.
On December 9th, 2008 I found out he had died.
Everything nice scattered in the wind so quickly.
I saw him on a high quality ultrasound that day. He looked beautiful to me. I wish I could see him again.
I was too shaken up to ask for a print of the image. I regret that so much.
I have a pile of things – a pregnancy test, papers, armbands, photographs.  They're just material things.  They are cold.  They do not kick me in the stomach.  They will never smile at me or hug my neck.  But I look at them; I touch them.
I think of him.
On December 16th, 2008, people I hardly knew removed him from my body by way of a cold, surgical procedure. His body was sent for testing.
He was considered biological material.
Biological material. He did not have a name then. He was labeled "the product of conception." They cultured his cells in a lab.
Davin had Trisomy 13.
I could write a whole essay on this alone, but that will come later.
I wanted to find a boy's name I liked that meant "Hope."
Even though I feel very little of it right now, I wanted to name him after the thing I thought I had lost forever, but which he gave me in surplus, even for such a brief time, without receiving anything in return.
Hope
And which, I know, will return in time. In part because he taught me that it's okay to hope again even after you think it's impossible.
Hope
Even if it hurts. Because it tells you that you are alive. And that you want to keep living. And that you believe that each day can be new if you can just let that come back to you.
Hope
Instead, we named him Davin, which means "Beloved."
Forever he will be.
I miss him so.
EDITED BY POPULAR REQUEST TO INFORM YOU THAT THE BABY IS FINE.


Wednesday night was a little weird for me, so I didn't draft a post for Thursday.
About a year ago, I was sitting at the dinner table, finishing some food and watching Braden's antics as he played in the living room. Suddenly, there was some weird, shiny blob (Yes, "weird, shiny blob" is the technical, clinical term for the phenomenon) floating in the middle of my field of vision.
When this happens to you and you have NOT just dropped acid, it causes some amount of alarm.
(On Acid, it's just funny. And then the elves come out and the party really starts! Ok. Just kidding. I have never dropped acid. Now, on mushrooms… )
The Blob grew and grew, and as it did, it moved off to the left side. By the time it reached its peak, it was covering my entire left field of vision, and I couldn't focus on anything very well.
Frankly, it was beautiful. It was a shimmery circle with a large C-Shaped leading edge. Geometrical patterns of all types danced and twhirled within it – all of them lovely, shimmering rainbow colors.
It's hard to appreciate the beauty of something like that when you're wondering things like, "Is this indicative of a brain tumor in my occipital lobe?"
I was scared, and I talked to John on the phone while it was happening. It played out and went away after somewhere between 20-40 minutes.
I did some Googling (of course) and determined that what I was experiencing was "scintillating scotoma" a symptom of "ocular migraine." It's basically the "migraine aura" without the follow-up headache – so I counted myself lucky and moved on. It didn't happen again until about a month ago. When it did, I just thought, "Oh, well… that hasn't happened in a while, but I can handle it." And just like the first time, it shimmered and danced, but I was a bit more able to appreciate it. Again, it resolved completely after about 30 minutes.
It happened again on Wednesday afternoon, while I was outside trying to shoot some weeds and other random things while Braden was sleeping.
Just as I was taking the shot above, the now familiar Blob showed up in the center of my visual field. I decided to shoot a little more until I felt I had to stop. After about 10 minutes, I gave up and went inside.
I tried looking at my computer screen, but i could only see parts of words, the C-Shape was becoming increasingly dominant, and I was starting to feel… funny.

It was just as beautiful, visually, as ever.
That is where my appreciation of the event ends. And where the pain started.
I'll remind you, the "aura" always moves off to the left. The pain was on the right side of my brain. It started off heavy in my temple and towards the base of the skull. Soon the pain spread to cover the entire right side of the brain. Along with the pain came a strange, muddled feeling. It wasn't dizziness… more like a mild drunk feeling – maybe that of a heavy buzz (but not pleasant).
It was hanging on, so I decided to rest. Braden was still napping, so I went to sleep.
I slept fitfully, dreaming of discomfort and children in pain.
Over an hour later, Braden woke me, and I went to his room to get him. The first thing I registered on waking was that my head was still hurting. The next was that there was still a streak of "aura" in my left visual field.
The Panic Switch was officially thrown. I tried to stay calm and get Braden occupied with something.
Then I noticed the pain and tenderness in my neck surrounding my left carotid artery. And it was getting worse. Over 5 minutes, it increased such that all I had to do was turn my head to the left and my carotid would sing the song of pain directly into my left ear in a shrieking Soprano wail.
My heart was beating the rhythm to a furious and heavy dance that was getting faster and faster… it was like evil jungle music in my veins.
The next few hours after that are a blur. I Googled. I spoke with different people on the phone… John, Becky, Lea… I am thankful to each of them for spending time with me and giving me advice. I worried. I hemmed and hawed about going to the ER with no health insurance.
I worried about getting someone to drive me because a) I am moderately night blind, so driving at night is BLEH for me, and b) I was afraid of another aura while driving.
I watched Braden running around playing, making silly faces at me, and doing little dances, and it struck me that for all I knew, if I didn't go to the ER, I could be on very limited time with my son.

It doesn't take much more than a thought like that.
I got on GTalk and told Alli I might be MIA from Photo Bliss for a day or so. She came to my rescue – virtually grabbed Karla and pulled her into chat.
Karla lives just a bit south of us. And she was willing to come get me, drive me to a hospital, and watch Braden. AKA = She is an Angel of God.
I ran around getting a bag together for Braden, putting on jeans, and readying the house for me to leave. Karla arrived and we headed to the hospital. It was all so very surreal. I was leaving the house with a girlfriend and my son just before 9pm at night on a random Wednesday.
To go to the ER, worried about my brain.

Was it the right choice? Was I being silly?
At the hospital, I explained to the doctor about the previous ocular migraines and what I had experienced that day.
When I was done he smirked at me and said, "Okay, you're saying things to me like, "visual field," "right hemisphere," and "carotid artery." It sounds like you've been reading way too much. What have you been up to?"
As he was looking into my right ear, I laughed and said, "Well, I have a BA and an MA – I'm pretty well educated and I have access to Google so I'm probably your worst nightmare."
As he looked into my other ear and then my mouth he said, "No, you're certainly not, but you ARE overthinking it all. You are going to be fine."
"Yeah, I do tend to over-analyze everything."
"What is your MA in?"
"Psychology."
"Ah-ha. One of those."
He nodded to himself. I chuckled.
He pulled up the legs of my pants about 5 inches or so and squeezed my ankles, saying, "No swelling."
Then he paused and stared at them for a moment, and said quite seriously, "You're going to need to have your pituitary gland checked."
I just stared at him.
He continued, "There is an overgrowth of hair here…" indicating my legs.
I got myself a funny doctor.
"No, that's what you would call a serious, clinical case of Motherhood."
"No, no, you're going to need to get it checked. You could grow a beard any time now."
His official diagnosis was that I had a full blown classic migraine, and that, other than it being highly unpleasant, it was no big deal. I asked him if I could punch him in the head several times, because other than being highly unpleasant, it would really be no big deal.
Ok, I didn't really ask him that. He was nice looking, had a wonderful bedside manner, and was doing an excellent job checking all my vitals and making me feel at ease. I didn't suggest punching him in the head (I just thought it).
So the ending to the very long story of my Wednesday night is that I am okay. My neck is still tender, which concerns me, but I am okay for now.
That migraine was particularly ugly and I know they can be worse. They are triggered by weather changes, hormonal changes, stress… all kinds of things. The thought of doing things that would trigger another is highly unappealing to me.
I'm looking to de-stress a little bit, so you might see me let a day or two go by without a post once in awhile. My stress levels have been high for awhile, and that can cause all sorts of health problems. It's not worth it.
Nothing on this thing we call The Interwebz is worth me looking at my precious kid and worrying about having my time cut prematurely short with him. Nothing is worth adding stress to my pregnant body and chancing never getting to spend time with that baby.
Trust me, I'm not signing off, by any means. I'll still be around quite a lot.  You guys can't get rid of me, are you kidding? But maybe I'll be around just a bit less every now and then.
_______________________________________________________________________
PS: No mushrooms for me either, btw. I tend to shy away from putting things that grow under cow shit in my mouth. Yeah.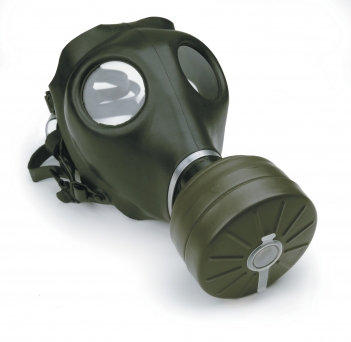 For the past couple of months, I've switched my diet back to a very healthy one, and found it easy to stick to, because it's filled with foods I love. I've even done moderate exercise!
The result has been that I lost 15 lbs and FINALLY made it back to my pre-baby weight! It's about time, considering that Braden is very, very close to his 2 year birthday.
It's kind of hard to keep calling it "baby-weight" once your kid can walk, talk, and count.
I've been fitting back into clothes I haven't worn since 2005 and I've been feeling pretty darn good about myself. Being back at the weight I was when I got pregnant with Braden feels really good.
And I'm glad I really enjoyed it, for the short time I got to experience it again.
Braden has another chance to be a big brother, it seems!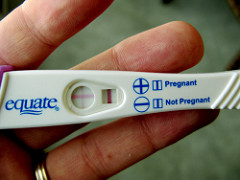 This past week there have been signs… tenderness, bloating (already? gee.), increased hunger (also already? great.), olfactory sensitivity. A week ago, I knew that Braden, who was on the second floor, had dirtied his diaper. I was on the first floor. Hai, Pregnancy Nose!
This past Friday morning I did the ole' Pee On A Steek test, and it confirmed that there is a tiny life beginning a journey inside of me. It's been about 4 weeks since first day of last period (I'm sure you wanted to know)… so the pregnancy is considered to be about 4 weeks along (though conception probably occurred about 2 weeks ago).
I know some of you are wondering why the hell I would tell everyone so early. Especially since Baby Number 2's journey ended in miscarriage just 5 months ago. The answer is simple: it's just not in my nature to pretend things are anything other than what they are, or to hide things that are a big deal to me.
I would be lying if I told you I wasn't scared. Nervous. Apprehensive. A tiny bit freaked out. Periodically on the verge of tears. Gassy as hell. (Well, it's true. I am one HORRIBLY Gassy Preggie.)
But I am also excited and hopeful. I'm choosing not to let the fear consume me. To that effect, I can't pretend I'm not pregnant. I can't not share it with you guys! It would be like saying I'm expecting the worst, instead of believing for the best.
Oh, and yeah, I'm going to put one of those creepy baby widgets on the sidebar again. Because I'm sure it will skeeve a few of you, and that kind of makes me smirk.
Check out my lil' 3D stomach alien on the left sidebar, folks!
By the way, I'm super thrilled to have discovered, on the same day I found out I was pregnant, that this gorgeous woman is pregnant with me and due around the same time! Look for dueling belly updates in the future. 😉
PS: Here's one of those semi-obnoxious tickers, too. What can I say? I'm cheesy like that.
All Site Content: Copyright © Lotus Carroll // Theme: Copyright © Dandelion by Pexeto