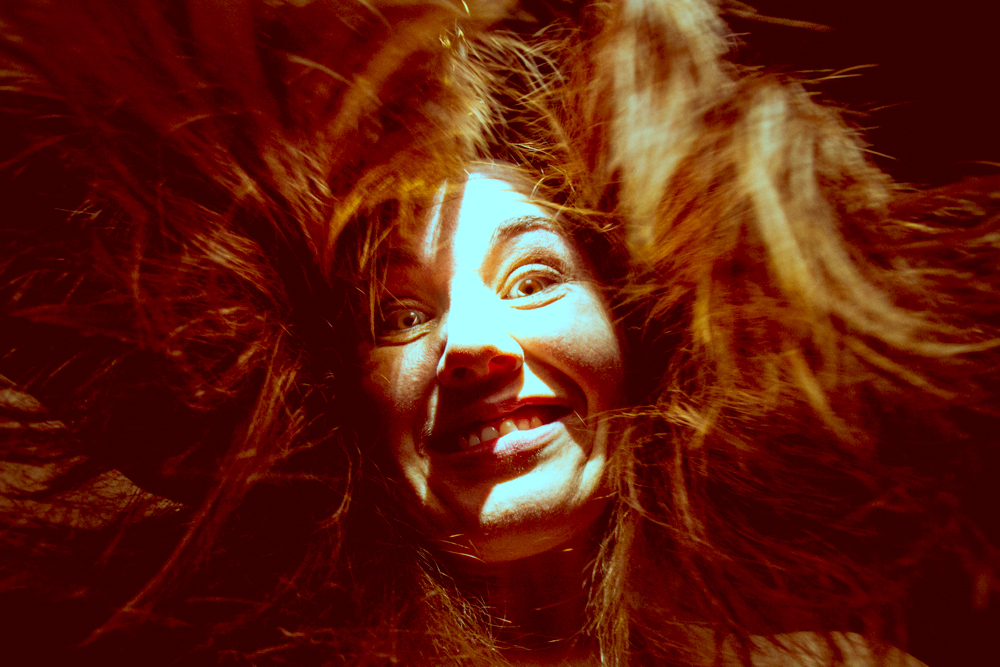 The October Self Portrait Challenge in The Art of Self Portraiture Community on Google+ is live! This month's theme is "Creepy/Disturbing" in honor of Halloween. So go ahead and do your best at doing your worst and submit a self portrait before the end of the month. You may learn a little something and you'll have a chance to win one of 4 great prizes. Details below.
Event Details >>>
This Event remains open until 11:59 CST October 31st, so you have until then to create and enter your best photo from this month. Please read all rules (scroll down). Not adhering to rules will get you disqualified.
Inspiration
Keep an eye on the submissions to the Event and you'll notice moderators of The Art of Self Portraiture Community adding their own "creepy/disturbing" self portraits. We each may add multiple photos – remember that moderators cannot win, but we're putting our photos in to inspire you! If you have questions or need help, please pop into the Community http://goo.gl/M7XTQ and ask away! We have categories for questions and discussion and are happy to help with anything.
Get your disturbing on, be creative, and have fun!
Prizes
1 Year of SmugMug Pro
Think Tank Sling O' Matic 20 Sling Bag
Capturing Couture Gift Code in the amount of $43.95
A signed copy of the newly released book by Jon Blacker, Musical Ink
Please circle these sponsors – they make these prizes possible, so having them circled is a requirement to be a winner.
There will be 4 winners. 1st place winner selects choice of 4 prizes. 2nd place selects choice of 3 remaining prizes. 3rd place selects choice of 2 remaining prizes. 4th place receives the remaining prize. Winners must respond within 24 hours of being contacted or new winners will be chosen.
At the end of the month, the Owners and Moderators of The Art of Self Portraiture Community will vote on the submissions and choose 1st, 2nd, 3rd & 4th place winners. Please note that this is subjective (art always is!) and so we'll be basing our votes purely on our own opinions. Everyone who enters a photo is already a winner, of course.

Please Remember These Rules:
*Enter Only Your Own Work
*Enter Only ONE Photo
*Only SELF PORTRAITS
*Must adhere to this month's theme.
*Photo Must Be Taken in October 2013
*Can Only Win Once Every 6 Months
*Winners Must Respond Within 24 Hours of Contact
*Circle Our Prize Sponsors
*No Trickery or Spamming
*We Reserve The Right To Remove Entries for Misconduct
*Anything Outside Guidelines/Rules Disqualifies A Participant
Dear Hashimoto's,
Thanks for making every day harder. You're a dick.
Dear PMS,
I do not like you. You do not actually make me more powerful, you just make me want to break people in half all day long. You do not help me deal with my emotions more effectively, you just make me cry at things that should not be cried at (the fight scene in Ice Age? Really? No. Really?) You do not make my son's toddler habits easier to deal with, you make me want to run screaming from his presence. You are like a disorder all unto yourself. I am tired of you, officially.
Dear Braden,
Yes, it's true. Your "farts are stinky like poopoo," indeed. The amount of joy you bring into my life with simply silly things like that cannot be measured. Oh, but please don't kick me in the eye again. That was the opposite of joy.
Dear Birthday,
I see you lurking there. I know, I know. I'm almost officially a whole year older. It's really not even exciting anymore. It just validates the white hairs and the callouses. If you were really as awesome as you claim to be, you'd give me my old bewbies back. Now THAT'S a happy birthday.
Dear John,
I know you miss being at home. To make sure you feel welcome upon your return weeks from now, I am saving you all sorts of chores to complete! Nothing says loving like that, right?
Dear Debt Collectors,
Thank you for the recent letter demanding the thousands due in medical bills, immediately. The way the entire sheet of paper was pink truly made me feel the threat inherent in your message.
Dear Property Management,
I'm guessing the magic number for phone calls before you come and fix the light in the kitchen is something higher than 3. Even if you have promised "someone will be out tomorrow," they won't. You don't really mean it. It was a joke – you were just kidding! I get it now. I hope you get explosive, burning diarrhea on your birthday.
Dear Jillian Michaels:
When I do the "butt kicks," instead of holding my hands in fists in front of me, I hold out both my middle fingers. It totally helps me make it through. I'm not flipping you off, though. You are the toughest bitch I've ever not known but loved. In a completely platonic, non-I think of you naked when I'm in the shower kind of way. (Really.)
Dear Mexican (our dog),
Please just stop being gross. Seriously.
PS: I know. Watch your back.
Dear Body,
I know that you are tired. I know that you hurt. I know that it's not your fault. I know that you feel bad because I always hate you. I am sorry. I'm still pushing and I'm trying really hard to get you healthy again. Please hang in there and work with me on this, damnit.
Dear Hair,
Did you hear what I said to Body? You are leaving me, and it's making me frantic. I know you are just really tired of the antibodies in my bloodstream and the Hashimoto's that is the result. I feel embarrassed that you are so important to me, in a way, but it's true. You are important to me and I have cried several times already now, noticing how you are taking leave of me steadily. I do not like to see my scalp. Please reconsider. Please stay.
Dear Health Care Industry,
Please just fix it. Please stop telling me there is nothing you can do to help me. I am broken and you are supposed to be able to fix me.
You are supposed to.
So when I come in this next time, please do not turn me away again, telling me to keep waiting. I am done waiting. Ok?
Dear Reality Television,
You are still really, really stupid. Stop tricking people who I know are otherwise really smart.
Dear Halloween,
I hate the temptation of your endless bags of delicious candy. I love your ghouls and goblins, witches, werewolves, vampires, and ghosts. I delight in feeling your spirit as I watch horrible movies about undead monsters. As you approach, I tilt my head back in the dark and utter a high pitched cackle. When you are gone, please make any leftover candy disappear. My ass does not want to be dressed up as an elephant for the rest of the year.
Dear People Who Drive,
YOUR BRAIN. USE IT.
Dear You Guys,
Thanks for still coming here.
All Site Content: Copyright © Lotus Carroll // Theme: Copyright © Dandelion by Pexeto