On October 3rd, 2008, I found out he was alive inside of me.
I was surprised.
I sent my husband this photograph in an email with the subject line, "Ready to rumble?"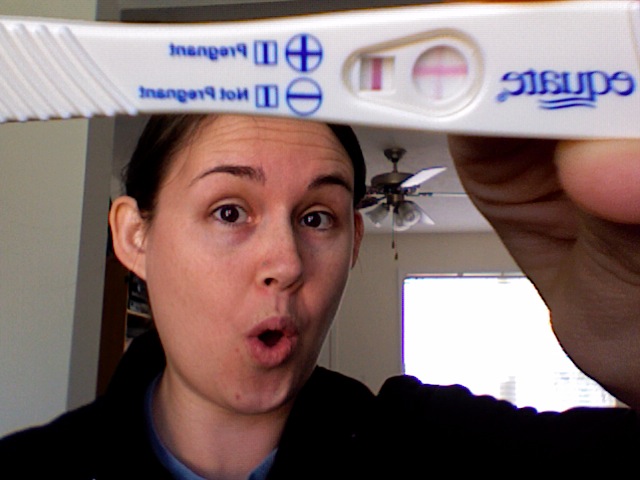 The body of the email said, "Here comes the fear, do-do-do-do…."
I was scared.
But also, I was cautiously happy.
Before long, I was full of hope. And dreams. And the future.
My last pregnancy had ended in miscarriage at 5 weeks.
The 5 week mark came and went. Trumpets blew inside my heart.
On October 18th, 2008, I had morning sickness for the first time. I have never been so happy to feel so sick.
I turned my arms within and held my baby a little closer, starting to believe I could hold on to that sweetness forever.
On November 10th, 2008, I saw him on a fuzzy, mini-ultrasound.
I saw his heart beating. And that was it. I Believed. He could make it.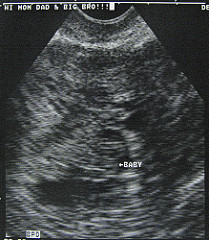 We called him Fuzzball.
I thought one day I would be rubbing his head, calling him that.
I began showing.  It felt glorious.
On November 24th, 2008, I heard his heart beating. It was vigorous.
In spirit, I jumped over the moon, grabbed a star, and brought it back to earth with me.  It glowed inside of me.
Up until the end, I thought he was a girl. Maybe that is because, at a time when I felt like I was filled with snips and snails, he filled me with sugar instead. And spice.
And everything nice.
On December 9th, 2008 I found out he had died.
Everything nice scattered in the wind so quickly.
I saw him on a high quality ultrasound that day. He looked beautiful to me. I wish I could see him again.
I was too shaken up to ask for a print of the image. I regret that so much.
I have a pile of things – a pregnancy test, papers, armbands, photographs.  They're just material things.  They are cold.  They do not kick me in the stomach.  They will never smile at me or hug my neck.  But I look at them; I touch them.
I think of him.
On December 16th, 2008, people I hardly knew removed him from my body by way of a cold, surgical procedure. His body was sent for testing.
He was considered biological material.
Biological material. He did not have a name then. He was labeled "the product of conception." They cultured his cells in a lab.
Davin had Trisomy 13.
I could write a whole essay on this alone, but that will come later.
I wanted to find a boy's name I liked that meant "Hope."
Even though I feel very little of it right now, I wanted to name him after the thing I thought I had lost forever, but which he gave me in surplus, even for such a brief time, without receiving anything in return.
Hope
And which, I know, will return in time. In part because he taught me that it's okay to hope again even after you think it's impossible.
Hope
Even if it hurts. Because it tells you that you are alive. And that you want to keep living. And that you believe that each day can be new if you can just let that come back to you.
Hope
Instead, we named him Davin, which means "Beloved."
Forever he will be.
I miss him so.
All Site Content: Copyright © Lotus Carroll // Theme: Copyright © Dandelion by Pexeto