Congratulations to the winners of last month's Self Portrait Challenge!

First Place: Jake Johnson 
Second Place: Yvette van Teeffelen 
Third Place: Karin Nelson 
Fourth Place: Darla Hueske 
Fifth Place: Paul Bagley 

You can see their photos below. Eeeeek! Great job, guys! 
photos are slightly cropped for the purpose of the mosaic – you can view the originals in the event linked below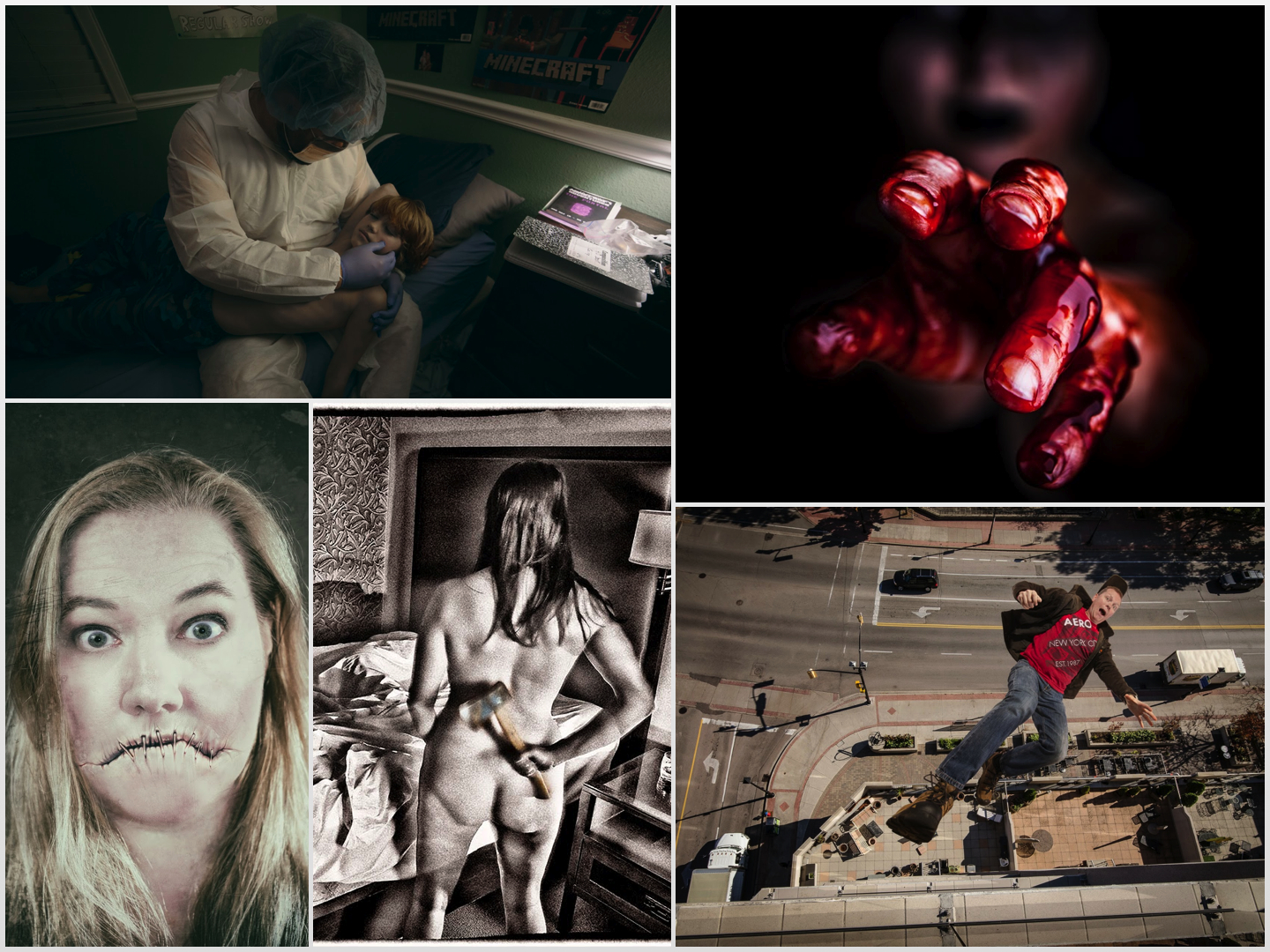 The winners got prizes and their photos will be featured in the Winners Category at The Art of Self Portraiture Community here: http://goo.gl/qc7VO

Big thanks to all of our fantastic October sponsors, Think Tank Photo, BorrowLenses.com, Capturing Couture, SmugMug, & 500px – our winners will be enjoying great prizes from them. Make sure you circle them for great photography products and services.

I loved seeing all the submissions to this challenge that told about people's fears. You can see the finalists here:http://goo.gl/GvFYVT, honorable mentions here: http://goo.gl/7vfiW9, and all photo submissions and the event here: http://goo.gl/DkTNI2

Want to get in on the next Challenge? Everyone's invited! It's already up – view it here: http://goo.gl/R6BksF

* * * * *

Viewing this post but not a member of The Art of Self Portraiture? If you're serious about exploring creative self portraiture, request to join here: http://goo.gl/M7XTQ Membership requests must be approved. No "snapshot style" photography allowed.
***
Photos in this post belong to the photographers who created them and are not available for use without permission.
We had a great time on the show this past Saturday. Did you miss it? Watch it now.

I was joined by guest Mark Rodriguez and panelists Christi Nielsen, Sandra Parlow, & Jake Johnson to talk about post processing and share images.
During the show, we unveiled the winners of the Drink and Click™ October Challenge: "Shadows". Dara Choy (Drink and Click ™ YEG), Björn Kleemann (Drink and Click™ Monterey – Santa Cruz) and Ina Gat (Drink and Click ™ BLN) took 1st, 2nd, and 3rd, respectively. Thanks so much to our prize sponsors: Think Tank Photo, c't Digital Photography, & Stuck In Customs by Trey Ratcliff.
Remember to watch us every month on the second or middle Wednesday at 9:30PM CST. Our next show is on Wednesday, December 11th with special guest Dave Morrow and we'll be talking about Star Photography.
* * * * *
Don't forget to join in on your city's monthly Drink & Click Photowalk Event – you get to take photos, socialize with people who share your interest, and have a chance to win great prizes. Check the website for a chapter in your area!
More information about Drink and Click™ http://drinkandclick.com
Subscribe to Drink and Click™ on YouTube:http://www.youtube.com/user/DrinkandClick
Join the Drink and Click™ Community on G+: http://goo.gl/R7hTZ
Like us on Facebook: https://www.facebook.com/DrinkAndClick
Questions? drinkandclick@gmail.com
All Site Content: Copyright © Lotus Carroll // Theme: Copyright © Dandelion by Pexeto