Braden started a "Kid's Day Out" program today. He'll be going there twice a week for about 4.5 hours.
I made a joke on Twitter last night about it, where I may have said something like, "Braden is starting a "Kid's Day Out" program tomorrow. I'm sad. And by sad, I mean, HELL YEAH BITCHEZ!!!!!!!!!!!1!1 *cough*"
Give or take a Hell yeah. Or a few exclamation points. Or something.
Okay, okay so those were my exact words.
I was really just kidding. I mean, it's not as if I've had this written on my calendar for MONTHS in bright red ink, circled in double-wide black sharpie marker with large, swooping circles and underlined with pink glitter pen ink that almost screams I CAN'T WAIT, HOLY CRAP, I CAN'T WAIT.
Nope.
Who would do something like that? Pffft. Not me, that's who. I'm a loving parent who never takes a moment with her son for granted.
No, you may not borrow my calendar to check on something real quick. Get your own damn calendar.
And it isn't like I'm insanely stocked on party streamers and noise makers and booze and practically did flips all the way home from the damn place today. What kind of horrible parent do you take me for?
(Do not pay any attention to that pile of streamers and noise makers and booze over there. I am collecting for Goodwill. That's the donation pile. Shut up. People who shop at Goodwill have to party too, DON'T THEY? Look at you, all High and Mighty, all "only us highly privileged people get to have parties with streamers and noise makers and booze." You disgust me.)
Furthermore, I didn't run out the door without even saying "Goodbye" to him, or telling the teacher his name. I didn't forget to leave his lunch with him, and just throw it at one of the windows of the building as I was running away, deliriously screaming (or doing flips). And I didn't yell something like, "YOU MAY NEVER SEE ME AGAIN!!!!" followed by mad cackling so loud it scared the birds out of the trees in a three mile radius.
I'm kind of baffled that you would even think any of those things. Where did you come up with that crap? Are you mentally unstable? I think you might need help.
I'd have to be as insane as you clearly are to do any of those things. I mean, I'd have to be plain out of my mind to do anything other than have been excited for him for the past week while at the same time feeling a weird tightness in my chest that I couldn't shake.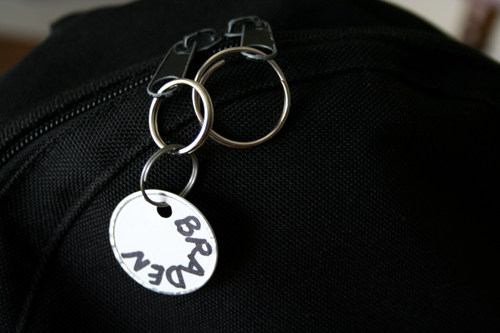 I'd have to be kind of a crazy lunatic not to realize that, while cliched, this is literally the start of a long process where my child starts to cleave from me.  This is a thing I am both carefully, joyfully, preparing him for with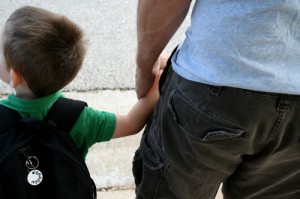 everything I do for him every day and dreading with all the tiny fibers in my heart – the heart that clenched up a little this morning when I kissed him goodbye and I had to leave.
But I'm cool with it. Yeah, totally.  I didn't feel kind of angsty while I was packing his lunch, I didn't get a little sentimental when I wrote his name on a tag for his backpack, my heart didn't swell and smoosh when I watched him walking to school with his Daddy, I didn't take too many photos of him on his first day of school, and I didn't frown a little when I got home and the house was blessedly quiet.
And empty.
Sigh.
This will be good for him.
I hope I can survive it.
(The booze will help. WOOOHOOOOOOOOO!)
All Site Content: Copyright © Lotus Carroll // Theme: Copyright © Dandelion by Pexeto