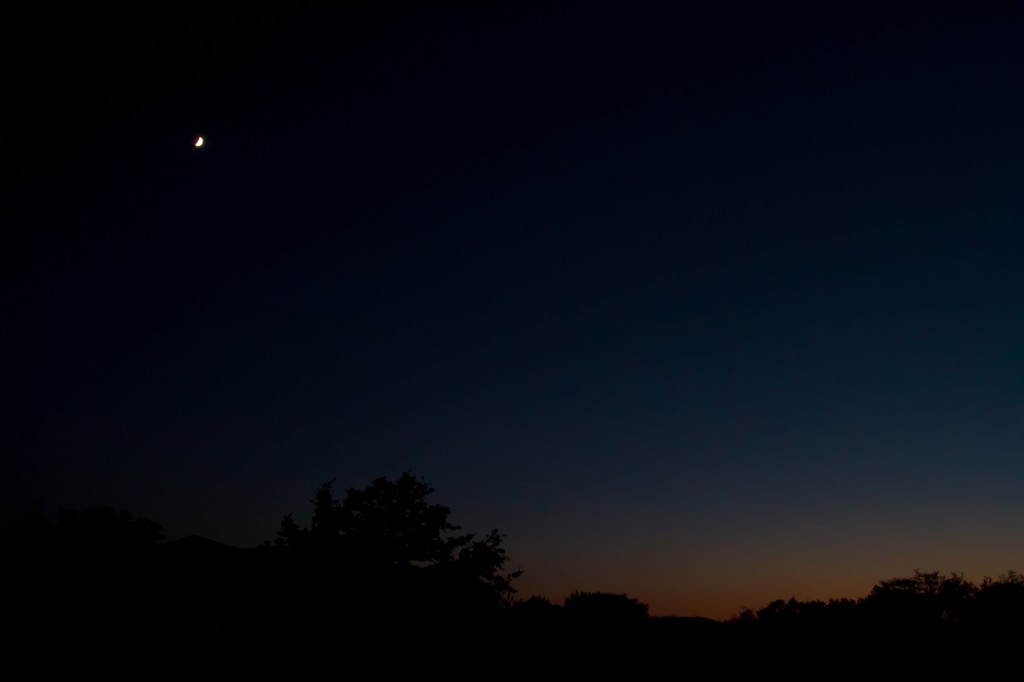 it is early evening and
a drink has found its way
into her hand while a
heaviness settles
inside her heart
her feet hit the hot concrete
of a texas back patio
warmly, they wander across
lightly, they fall in a pattern
leading to an edge
she settles herself there and
the moon looks down
upon her quietly
showing her
only half of himself
she ponders the idea
of seeing only part
of someone
and wondering what else
might be there
the day has slipped away
as quickly and blindly
as usual, leaving behind
only the memory
of how hot it was
the sky tells her to look
it wants to remind her
that the day was bright and strong
by painting the edges
of her world
the streaks of a sunset
almost gone and forgotten
linger on the horizon
in blue, orange, purple
and gold
she wants to soak those in
remember them, cherish them
she wants to capture them
and carry them with her for
later
she knows that darkness approaches.
a full moon
weeks of untamed grasses
tickle the bottoms of bare feet
wind chimes usually soft and melodious
sing out furiously, keeping time with the
stinging breath of a riling wind
while goosebumps break the skin
unprotected by sleeves of any kind tonight
a chin tilts skyward; hair whips madly
clouds up above that might otherwise linger
on a warmer, more lazy night
rush by overheard now
hurry hurry hurry
the wind is chasing at them
biting their heels, anxiously
lips part in a lack of self awareness
arms hang at sides, uselessly
eyes widen, taking it in, lost in the clouds
they seem to cover the sky
but for spaces of black ink in patches
large and small, leaked from some large well
and puffy thick here, thin and wan there
they flow, flit, fly by
racing past the moon
the orb burns bright and wide and round
and doesn't flinch as each band of cloud
stretches and gallops before it
the glowing eye, stoic and almost aware
instead creates an explosion of color, a rainbow
bursting from nowhere, everywhere, right there on each cloud
lips purse and eyes narrow
then the mouth bends in a crooked smile
gears spin in my mind as my right brow arches
oh to be like the moon –
to brightly color and then chase away
all the fluff that dares to come between you and me.
Always the first to push off from the light
The fastest car, the quickest start
I see them in my rear-view.
I see you
Behind me.
so what is there to rush off to?
what is so important
that I have to be the first one
every time?
why do I have to make sure you are behind me?
why do I have to go first?
must get there.
what is so important?
the moon hangs heavy in the sky tonight
she hangs low
so low
a half moon, like a milky breast
so big, grazing the horizon
tempting, teasing, calling my attention.
against my better judgment
my eyes flick to her
the moon
the heavy, half bust in the sky
over and over again.
as the car pulses onward
every time faster than all of the
rest of you
i steal endless glances
of the moon
calling me to her.
urging me to go faster.
challenging me to get to her first.
instead of watching the things
i should be watching
instead of keeping my eyes on
what is most important
i am making sure I rush onward
i have to get there fast
beat you
beat them
get my prize.
that is what I'm doing, right?
rushing forward because I have something to gain.
or maybe
the truth is that
i am fleeing what lies behind.
the moon is just my scapegoat.
an easy target.
a pleasant distraction.
either way.
I'm fast.
All Site Content: Copyright © Lotus Carroll // Theme: Copyright © Dandelion by Pexeto