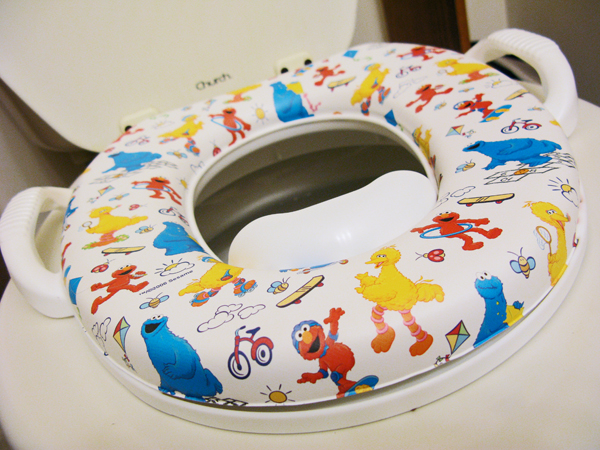 Elmo, Big Bird, & Cookie Monster are my latest allies in The Great Potty Training Challenge.
Braden is so good at peeing on the toilet when he's naked. I mean, seriously, I never thought I'd be writing these words about anyone, but:
I am SO proud of the way he hops on that pot and pees!
I've watched him progress from a potty in the living room to the toilet that's off the kitchen near the garage. He'll stop playing (!!!) hold it while he runs all the way there, move a stool over, put the potty ring on the toilet, climb up, hop on & slide back, and then let the stream go.
It is the best hissing sound I've ever heard (so far).
We're working very carefully right now at getting him to be just as good at it when he's wearing pants.
Some days are good. Other days? We're swimmin' in Peed Up Pants, Yo.
And, just in case you were wondering?
Good Things To Swim In:
I was going to say Jello, but enough to swim in would be enough to drown in. Yeah.
Note To Self: Save the Jello for the super awesome, fun Naked Wrestling with girlfriends at our slumber parties.
Bad Things To Swim In:
Vomit
Unpaid Bills (Speaking from experience here)
Booger Pies
Warm Spit
Peed Up Pants, Yo
We are making strides, but it is bumpy and sometimes ugly. It is as if having anything on his butt is a signal to him that it's okay to let'er rip.
We have been calmly and lovingly letting him know that we have other expectations, and encouraging small steps towards the final, desired behavior at all times.
Simultaneously, we've been talking to him about how FREAKING AWESOME WONDERFUL GREAT AND FABULO-TASTICAL it is to "put your Poo-Poo in the toilet!!!!!!!!1″.
And can I just say, that on the day that he pulls down those pants and drops a log into the porcelain throne, it will be the most FABULOUS PLOP I have ever heard.
I think I might cry a tear when it happens.
Or do some Naked Jello Wrestling.
Yup.  That's right.  Today, I am going to go all out and show my nipple.
You see, some time ago, I asked everyone around these parts to ask me some questions. 
I said that I would answer them all.
You are probably thinking (if you've been around awhile, or especially if you asked a question)… "Yeah, Lotus, you sure did SAY you were going to answer them all, but you sure as hell haven't DONE that."
I did not say how long I would take to do so, though. 
BUT FEAR YE NOT.
Every.Single.One will be answered in due time.  And some of them in far too many words, as I am known to over-do everything, especially talking and writing. 
Today, I address a question left on that post which seemed quite a lot like a request.
And, boy am I ever eager to please!  It must have something to do with my insecure nature.
"karastav" asked, (in Haiku form, even!):
Will we ever see
a photo of your nipple
its such a nice rack?
And like I said, I must be insecure, because I just can't pass up an opportunity to give my readers what they want.
So, Yes, karastav, you will see a photo of my nipple.
Here it is:
And today's PhotoHunt Theme is "twisted," so I'll even twist it for you!  Aren't you lucky?
What?  I may be insecure from here until infinity, but I'm no Cheap Floosy!
I only show my nipples to my husband.
Oh, and I guess, to my son.  He breastfed for awhile, after all.
And my Gynocologist. She even gets to feel them up!
Oh, yeah, and the girls I have slumber parties with, when we're showering together.  That's before the full-contact pillow fighting.  But after the naked JELLO-Wrestling.
But that's about it, really.  Yeah.  No Internet Nipples.
Not today, anyways.

All Site Content: Copyright © Lotus Carroll // Theme: Copyright © Dandelion by Pexeto