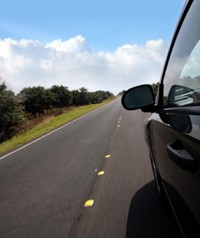 It's something like 6AM in the morning and I'm in my car, driving home. The windows are down, and the breeze pushes long strands of hair past my face now and again. There's music on the radio, and some part of my consciousness acknowledges that, but the dominant sound in my mind is a soft rushing, maybe like the sound of moving water. It's comforting, and at the same time the edges of it pulse excitement. I'm somehow disconnected from my surroundings, and at the same time, I am recording them in some part of my brain, a running log of experience and environment. The sun is warm through the window even though the air is crisp. The still, green grass flies by on either side of the hard, black asphalt. It is September, 1994. At the end of next month, I will be 18.
I am way more relaxed than I should be. I have no idea exactly what awaits me at my destination, but I know it's not going to be very far on this side of good. I did things last night that I probably should not have, and still, I feel the quiet stillness of being that comes with justification. I'm not worried. Some part of my mind thinks I should be, but I ignore it. The rest of my consciousness rests on high ground. Or perhaps, it just sits wrapped in happiness.
I'm hungry. My physical body is nagging me to stop daydreaming and disconnecting myself from reality. I turn off to a fast food joint and order a special love of mine: hash browns. In your youth, you can drop these down your throat in multitudes without paying the price. Like a blessing, I know this, and I take advantage of it, one of many small pieces of pleasure that is often wasted on the young of form. I dawdle with my ketchup packets and my orange juice before driving onward. I'm not in a hurry, obviously.
At the same time, I am eager. Eager to make the confrontation… if that is what it must be. I am right in my mind, and even if I can't persuade them of that, I don't care. Here, in a rare moment, I don't need to be right for anyone else. I'm on the verge of something I've never felt before, and it's spilling over into the rest of my character with no stoppage. The flood gates have opened, and this warm thing is coming through them, this demanding feeling. It is new to me. He is new to me.
I have no idea what the future will hold, but I know that I'm already obsessed, wrapped deeply in a web that I don't want to be released from. I'm already yards beyond the present emotionally, though in coming months, I will hold onto passing moments so fiercely that I almost seem to be demanding that time stop.
It will never be quite like this again. It will never again be this new, amazing, almost incomprehensible blossoming of hope and joy, excitement and rapture, obsession and passion, mixing and swirling with such force that it almost brings me to my knees.  I will never be crushed to my core so pleasantly again.  This is the part I'm not aware of at the time, what I cannot appreciate in that moment – this fleeting dimension of the first time one falls in love.
While I savor the fried potatoes in my mouth as I drive too quickly towards my angry parents, I allow the beauty of youth's first love to wash over me and away, not holding onto it long enough.
Is it even possible to hold onto it long enough?
All Site Content: Copyright © Lotus Carroll // Theme: Copyright © Dandelion by Pexeto