So, I recently made you read about how my mouth stinks and my pits are a sweaty mess of BO pretty regularly lately, but that it's just a mild distraction from the nest of greasy hair in knots all around my face and the bags of fat hanging off my waist and ass.
Er, or maybe I just said I've stopped having good hygiene and I've gained weight. Hm. Words words words.
Well, I'm trying to smell less like ass and stop being a jiggly mass of cellulite speckled, moving J-E-L-L-O (Pit Sweat Flavor), and I figured that since I let you in on that, I'd go ahead and offer an update on "How this stupid shit is going so far."
Did I just call my Unfattening and Destanking "stupid shit?" Why, I did, didn't I? I must be bitter about the whole thing.
You already know that I wandered into the kitchen at 3am one night and crammed my mouth full of sticky smashed peanuts. Mmmm, peanut porn.
Well, every damn night I've been telling myself once I look up and see it's about 9:30 or so, "Okay, Lotus. NOT GOING TO EAT ANYTHING ELSE TONIGHT."
And then around 10:30 I look at myself and I'm all, "So, what are we gonna eat!? Pretzels? Beer? Oh, hell yah."
And, ok. So, I'd call that mild failure so far.
But what's NOT mild failure? Well, that would be GIANT FAILURE.
Did you think the peanut butter at 3am was bad? (No? WTF is wrong with you? That is ridiculous. You should NOT be eating a spoonful of nut (hehehehehehehehe) at 3am.)
I can top it.
Wiener.
That's right.
That's what I woke up cramming into my mouth the other night.
*pause*
And I'm not talking about a fun-time wiener, I'm talking about a cylinder of smashed pork lips and penises.
Oh baby, now THAT'S sexy.
That's how I want you all to think of me.
Yes. I'm the chick standing in her kitchen at around 3am wearing underwear and a wife beater with peanut butter stuck to the roof of her mouth and a hot dog dangling from her lips.
And I am probably scratching my ass.
Or farting.
Ok, both.
It takes effort to be THIS SEXY.
Oh, but I've lost 5 lbs so far.
And if you even try to patent the peanut butter and wieners diet before I can get to the patent office, I swear I will hurt you with knives.
Mmmmm.  Peanut Butter Wieners.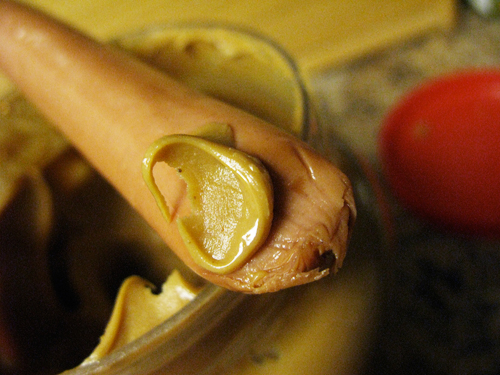 All Site Content: Copyright © Lotus Carroll // Theme: Copyright © Dandelion by Pexeto