I'm not sure what my willingness to show it to you anyway says about me as a mother. But let's not dwell on that. Instead, let's spend some time in your life that you will NEVER GET BACK together, shall we?
Braden and I like to have "Elaine Benes" dance parties together. Nobody on this earth is allowed to see what we do when we crank the music. Not even my husband. If some poor, unsuspecting person happened upon us… well. I would say that I'd have to kill that person, but I'm sure they'd find the nearest cliff to jump off of themselves, unable to bear living with the mental images of what they've seen.
Today Braden started busting a move and then perfected it and began repeating it over and over again, and really, what is a dedicated, tech-savvy, camera obsessed mom supposed to do? Film that shit, suckas. I was not disappointed with my decision. I did have trouble trying not to laugh, which just resulted in a squeaky, half-assed muted laugh. All in all, this video is the worst video you might ever decide to watch.
Warning: You really will never get this time in your life back. However, if you're going to hit play, I suggest you really do make sure you see the ending. Elaine Benes has got NOTHIN on this kid.
Dear Potential Future Girlfriends: I have naked photos, too, but that's so 1985-girlfriend-threatish. This is way better. (But if you want to see the naked photos, by all means, let me know.)
It's no secret to me (and the world at large) that my child is freaking adorable.
Go ahead, roll your eyes and gag a little.  It's okay.  I don't mind.  But he is brilliantly handsome, and that's just a fact.
And when his hair gets all shaggy, I think it gives him this sweet charm.

But it's summertime now – a time when little ones get especially hot and sweaty.  He's been batting at his hair, getting annoyed with it.  I've been watching it inch closer to his eyes, slowly.  Haircut time has been approaching.
I knew this was coming and I've had… plans.
When he got so incredibly frustrated with it last week that he started slapping at the side of his head and growling, I asked him if he wanted a haircut.  His response was, "YES, MOMMY. OH. YES."
So I told him I'd cut it soon and asked him if he wanted the kind of haircut I was thinking of giving him.  He said yes without a pause.  I asked him if he knew what that meant.  He just looked at me and smiled. I laughed and saved the definition for later.
Yesterday, I showed him a photo to see if he was sure.  The child smiled so largely that his face almost broke.
"Do you want me to cut your hair like that?"

"Oh, yes, Mommy!  Yes, that's right!"
And then he bounded off and head butted the dog a few times before howling and racing into the kitchen, where he slammed into the cabinets, bounced back, and rolled across the floor laughing.
I'm pretty sure it suits his personality.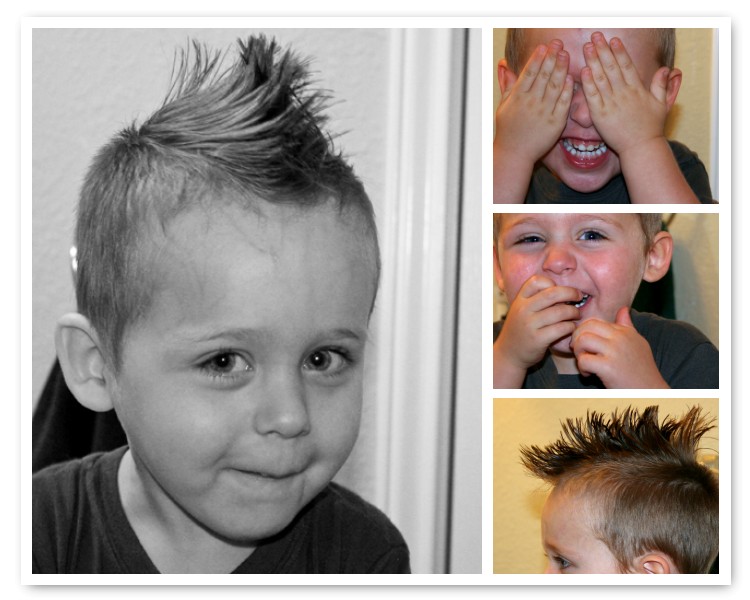 "Mommy! Take a picture of my bum!"
"Did you take the picture of my bum?"
"No, Mommy! NO TAKING PICTURES OF MY FACE."
"But take a picture of my hands, Mommy!"
"Thank you, Mommy! Good job, Mommy."
any day with him is filled with all kinds of emotions…
some highs and some lows, curious adventures,
and the fantastic and beautiful little things
that, without him, I'd
never see.
All Site Content: Copyright © Lotus Carroll // Theme: Copyright © Dandelion by Pexeto