I've started taking a lot more photos with my phone than I used to take. I still shoot with my larger camera(s), but I've enjoyed the simplicity of using my phone: I don't have to "pack" it up, I don't have to lug it around, I don't have to worry about lenses (though I do have little ones I can put on my phone). When I take photos with my phone, I get taken back to the basic idea of capturing a moment, rather than worrying so much about things like fstop and shutter speed. It's kind of liberating! Now, don't get me wrong, I love being able to control those elements and really create an image that looks as I'd mentally envisioned it, or have a more powerful tool so that I don't miss a shot because of variable available light, etc. But in taking and editing a daily photo with my phone, I've also reminded myself that with a few basic tools, no matter how I shift those around (camera, photoshop, lightroom, scanner, iphoto…. or my phone and some apps) I can create art that sings of the world around me, who I am, and what I'm doing and feeling.
I can look back through all the photos I took in the past month (regardless of capture device) and see a story that tells all those things for me (with the help of my memories, of course). Here's what the story of my life and thoughts in February looks like when I do that.
*
A simplification of huge, life bending concepts when applied daily:
big things are little.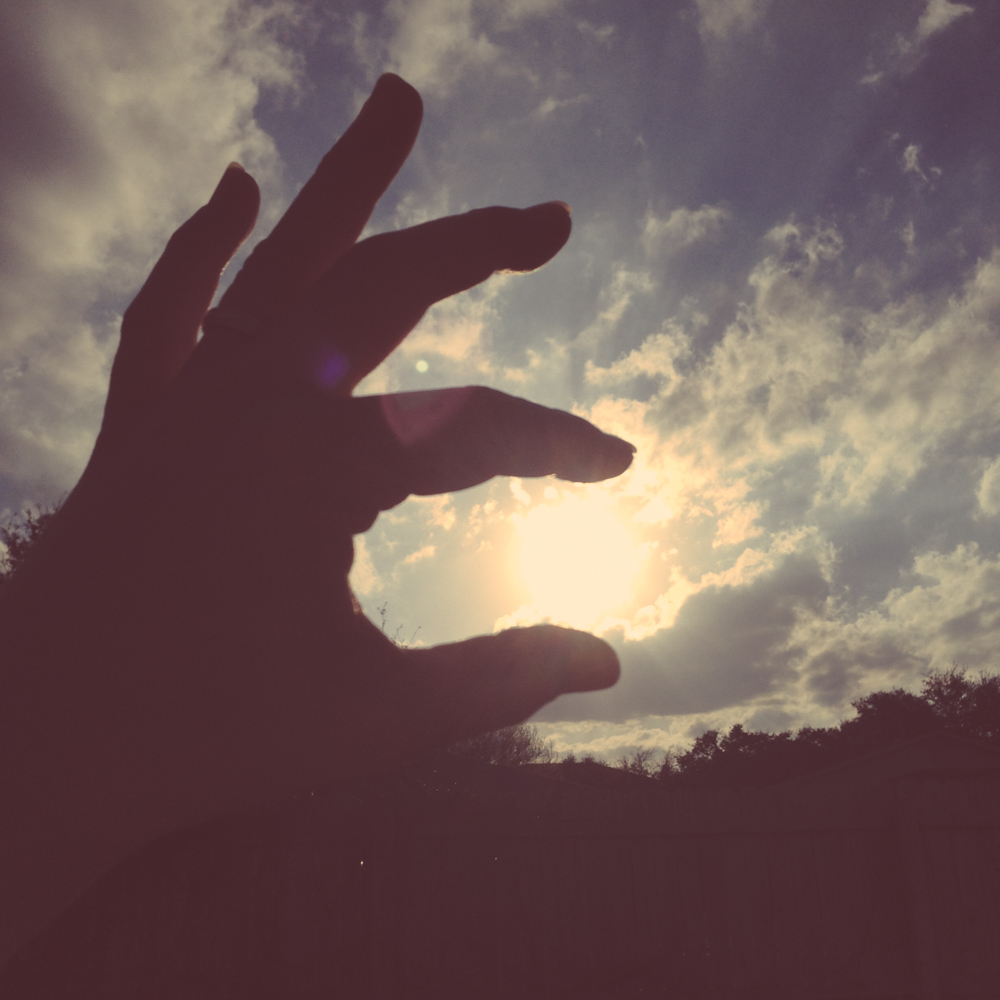 little things are big.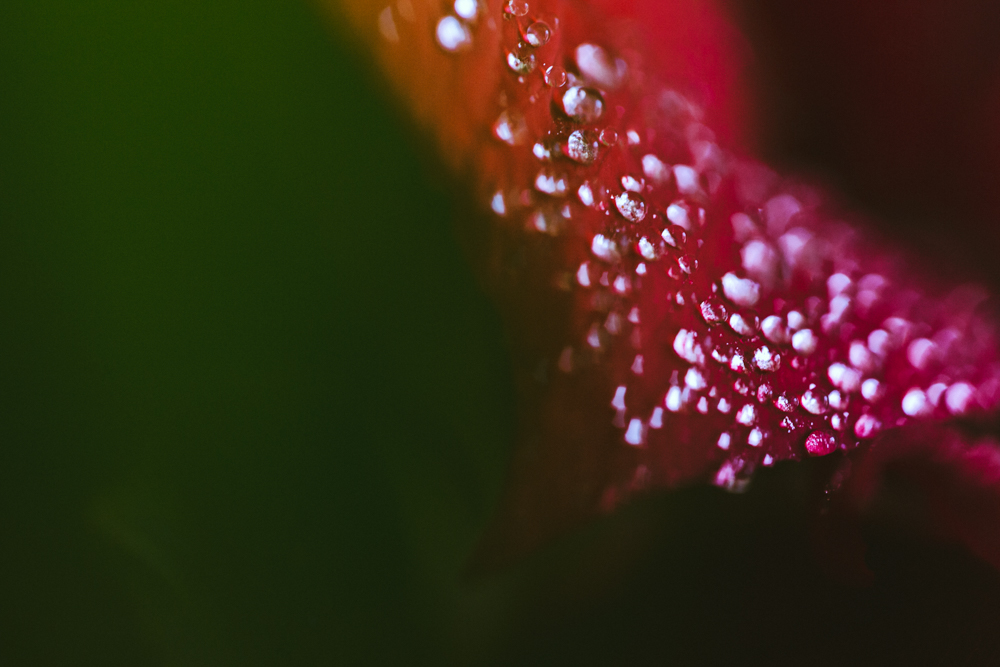 ya dig?
it's up to you how much credence and attention you give to any of them.
*
Some days you feel really small, and defeated, but you know (from experience and faith and hope and dreams that you can't give up on) that love will help you, that love is greater than any other thing in your life that might try to distract or overpower. And so, before your journey ends, long long before, you know you should always seek it, no matter how discouraged you may be about that fight at any given moment.
I think that a lot of my life has been spent looking for perfect love. I could hypothesize about why that is (and often do) but the main issue is that it's non-existent. There's no scale or grade for love; no love is greater or lesser than any other. There are moments when I check the tally marks in my heart and count up all the time I've wasted wishing for someone who "wouldn't hurt me that way" or someone who "really knows me," and if I think of these as tears in a bucket, the weight feels crushing and regretful.
But I don't want to think of this all as wasted time, rather, it's been a journey of learning. It may have taken a long damn time, but I'm finally realizing this, and it feels really big, bigger than that bucket of tears.
All (any, every) love is a gift.
Love is bright and shiny and scarred and broken, it has wings or scales or feathers or skin, it is strong and it is weak, it is straight on or sometimes crooked or angled, it is first and second and third and fourth chances, it is falling down and getting up, it is crawling and walking and for damn sure it is flying. But it's all love. And love is a gift. Hell, love looks funny sometimes, but it's there all the time.
You have to learn to see it right in front of you, don't parse it or weight it, and then take it without judgement.
Read More

»
Did you know that RUNNING! is awesome?  It is.  RUNNING! is fun and exhilarating and it tones your body and makes you feel alive.  RUNNING! makes you float on a layer of endorphins called Awesomeness Coated in Hell Yes every time you do it.  You do a lot of RUNNING! when you're training for a 5K.
So, what happens when you've started training for a 5K and then it gets ass-shattering cold outside, so you start going to the gym with an indoor track to continue your training?
Well, apparently, if you're using my body, you get a sweet-ass case of shin splints in your left leg, but you keep running on it because you're a bonafide dumbass. Then, when it starts hurting like the hurtiest hurty thing in Hurtville, you do some research on http://www.sportsandsafetysurfaces.co.uk/ and find out that shin splints are not uncommon in new runners, especially when using an indoor track that has stupid, shitty, short turns (yes, like the one you started using when it got cold because you're a whiny pansy-ass).  SO, YAY – CONGRATULATIONS! YOU HAVE SHIN SPLINTS!
You employ R.I.C.E therapy like a good, little idiot person who should have done that right away instead of running on the injury, but has now seen the light.  You rest, ice, compress, elevate.  In fact, to also 'medicate' the severe disappointment caused by having to stop RUNNING! you take it to a whole notha level, and you throw down some R.A.I.A.C.A.E.A therapy.  (All together now, A is for "apple" and "airplane" and "ALCOHOL")
After a couple of weeks, EUREKA! your leg is healed.  To make sure you don't get too damn happy for too long, you run on it for a week, but then do some stupid exercises one day at home without shoes on after you've already run that day, and don't stretch/cool down when you're done because your child wakes up from a nap and he's screaming like a banshee with a porcupine that's been set on fire shoved up its anus, so you just bolt up the stairs like your life depends on it mid-stupid exercises.  (Let's be totally clear here, it was obviously the kid's fault. Jerk.)
Later, you realize that you were mistaken before.  The shin splint was definitely not the hurtiest hurty thing in Hurtville.  It was clearly only a slighty painy pain that lived somewhere outside of Painstoria.  THIS CALF STRAIN IN YOUR RIGHT LEG IS THE REAL HURTIEST HURTY THING IN HURTVILLE.
And it's on vacation ALL UP IN YO BIZNASS.
So you limp around like you've been Kerriganed for over a week. (Again employing a massive dose of R.A.I.A.C.A.E.A therapy, because this is what professionals like you do.  You?  Are a master at physical therapy. And stuff that requires you to drink alcohol.)
Finally, oh finally, you are healed.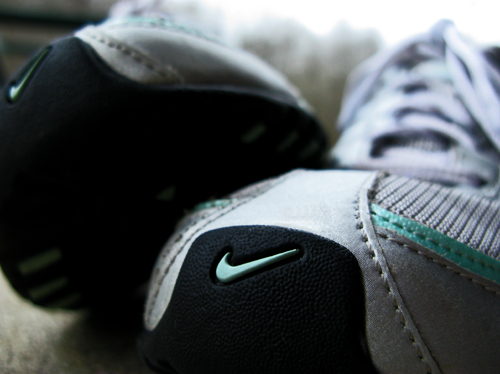 And so excited to start RUNNING! again.
So then you go RUNNING! again because RUNNING! was making you feel so good and so happy and heralding all kinds of gold glitter and rainbows from your rectumular area oh so many weeks ago when you were doing it regularly.
And you know what? RUNNING! is still awesome.
But you are not.  Because YOU LOST YO GROOVE while you were all up in some R.A.I.A.C.A.E.A Therapy at the Bar in Hurtville/Painstoria for weeks on end.
I've got some news for you.  Now you have to work back up to the same level of endurance you had before, and oh hell yes, you will.  Don't you doubt that, because you've been there before, and you plan on kicking super ass and getting there again in short time.  In fact, the bursting feeling in your chest can just GO HOME TO ITS MOMMA, because you are completing every damn interval of every damn train, pushing through the sucktastical feeling of weakness,  and you will NOT give up.
You? WILL BE TRIUMPHANT ONCE MORE. Hell, you're already well on your way as we speak!
However, during your return to triumph, while you're doing your warmup mile one day, you do think that it would be awesome to do two sets of 50 jumping jacks at 1/4m and 3/4m, and you know what?
You could have been using all that time you spent sitting on your ass with your compressed, iced legs elevated while you sucked down booze and healed doing something you could have really benefited from.
SOME DAMN KEGELS.
Some of you may remember the post waaaaay earlier this year where I admitted to you something that really was no surprise, considering I have mentioned how gross and lazy I have been on a regular basis.  Yeah, I'm talking about the one where I basically said, "I smell like forty ripe asses rotting in the sun.  Oh, and I have fat rolls that have fat rolls and their fat rolls are bigger than their fat rolls' fat rolls."  I'm not sure if that even makes any sense, but I wrote it out anyway, because I like the way it sounds.  You do too, you just don't know it.
The point is that I had gained quite a bit of weight (enough to aggravate my joints and make my fat pants tight on me) and I wasn't caring enough about myself to bathe regularly.  Unless you'd say once every week or two is regularly.  I guess it is, since I regularly waited that long to scrape the accumulated layers of sediment off of my body. (I swear I found a tiny, fossilized animal in one of the layers once. It was from the Cretaceous Time Period. I'd be rich if I hadn't dropped it down the drain.)
By May, I was carrying a good amount of weight…
By the end of May, I was sick of myself.  I made a lot of changes (that really needed to be made) and turned my life onto a healthier track again.  Instead of drinking the local liquor store and grocery beer aisles dry practically every other day, I stopped drinking entirely for a whole month.
I hated every fucking one of you bitches that talked about drinking on Twitter during that time.  I wanted to stab you in the face.
Hahaha, just kidding!
No, really.
It wasn't as hard as I thought it would be, in all honesty.  And during that month, I dropped junk food and excessive carbs, as well as late night eating.  You know what else?  I started moving.  And I had some support: people who motivated me by talking to me about what they were doing, listening to what I was doing, and just being there.  They lifted me up when I was dragging, and they celebrated my successes with me when I was floating.  That kind of support from friends is instrumental for me.  Thank you so much Leslie, Haley, & Karen.   I got my ass in gear and I started doing The Shred – downloaded it right to my computer and did it almost every day.  I added in some Yoga, too.
And the real killer for me?  I went to bed at a decent hour more often than not.  It was like a sign of the Apocalypse.  Or flying pigs.  Or that monkeys streaming out of your butt thing.
But mostly, it was a whole heap of positive change in my life that both cleared my head and dropped pounds of fat off of my body.
I lost 15 lbs in just a couple of months.
Then I started traveling.  Oy!  Chicago first, then NC, and before I knew it I was drinking and eating excessively again, and not exercising.  And sleeping? Hah, what was that?  I was up into the wee hours again.  For some reason, I love the wee hours.
I was still making half-assed efforts to exercise once I got back home, but it wasn't adding up because I was being really inconsistent, and the other bad habits were still hanging on, blossoming even.
By mid-September, I was saying, "hello again!" to the last 8lbs I had dropped.  (And by "hello again" I mean, "awwww, shit, you again? Damn.")
But I was in a funk.  The sloth in me was in charge.
By mid-October I had reached a point again where I realized this crappy way of whipping myself back and forth has got to stop.
I called on the cavalry again:  I've got Haley, Leslie, and now Mishi motivating me in a Skype chat regularly (thank you, ladies! I love you.).  And I'm trying this novel concept: moderation!
I cut way back on drinking, but I still have one drink most nights.  Junk food is out again, and healthy food is in.  But "cheats?"  Oh yeah, they're around about once a week.
I'm *trying* to go to bed at a decent hour (most nights, and sometimes I'm actually successful) and I'm moving again.  I've been doing different things to keep it fresh –  Shred, Yoga, Dance, Walking.  I've lost that ugly 8 I gained back, and then some.  I'm feeling better again… lighter, smoother, and quicker.
Just this week, I started pushing myself to jog and run.
And then a little birdie named Leslie got on my proverbial shoulder and whispered in my Skype Chat ear: "Fiiiiive Kaaaaaay?"
And I said, "What, me? Surely not."
But later in the day I said, "Why not? I can do that.  I am *going* to do that."
And that's where I am right now.  In total, I'm down 21lbs (and counting!) from my May 09 top weight, and I've built some muscle.  It's time to tone, train, and build endurance.  I have a plan, some tools, and at least one friend to do this with.  I'm about to bust crazy and go for something I've never attempted before.
And I'm not talking about going one whole day without saying, "fuckbuckles!" (What, you don't say that every day?)
It's time to train for a 5K, my friends.
I plan on leaving a little piece of my funk behind me with every step.
All Site Content: Copyright © Lotus Carroll // Theme: Copyright © Dandelion by Pexeto