Braden started a "Kid's Day Out" program today. He'll be going there twice a week for about 4.5 hours.
I made a joke on Twitter last night about it, where I may have said something like, "Braden is starting a "Kid's Day Out" program tomorrow. I'm sad. And by sad, I mean, HELL YEAH BITCHEZ!!!!!!!!!!!1!1 *cough*"
Give or take a Hell yeah. Or a few exclamation points. Or something.
Okay, okay so those were my exact words.
I was really just kidding. I mean, it's not as if I've had this written on my calendar for MONTHS in bright red ink, circled in double-wide black sharpie marker with large, swooping circles and underlined with pink glitter pen ink that almost screams I CAN'T WAIT, HOLY CRAP, I CAN'T WAIT.
Nope.
Who would do something like that? Pffft. Not me, that's who. I'm a loving parent who never takes a moment with her son for granted.
No, you may not borrow my calendar to check on something real quick. Get your own damn calendar.
And it isn't like I'm insanely stocked on party streamers and noise makers and booze and practically did flips all the way home from the damn place today. What kind of horrible parent do you take me for?
(Do not pay any attention to that pile of streamers and noise makers and booze over there. I am collecting for Goodwill. That's the donation pile. Shut up. People who shop at Goodwill have to party too, DON'T THEY? Look at you, all High and Mighty, all "only us highly privileged people get to have parties with streamers and noise makers and booze." You disgust me.)
Furthermore, I didn't run out the door without even saying "Goodbye" to him, or telling the teacher his name. I didn't forget to leave his lunch with him, and just throw it at one of the windows of the building as I was running away, deliriously screaming (or doing flips). And I didn't yell something like, "YOU MAY NEVER SEE ME AGAIN!!!!" followed by mad cackling so loud it scared the birds out of the trees in a three mile radius.
I'm kind of baffled that you would even think any of those things. Where did you come up with that crap? Are you mentally unstable? I think you might need help.
I'd have to be as insane as you clearly are to do any of those things. I mean, I'd have to be plain out of my mind to do anything other than have been excited for him for the past week while at the same time feeling a weird tightness in my chest that I couldn't shake.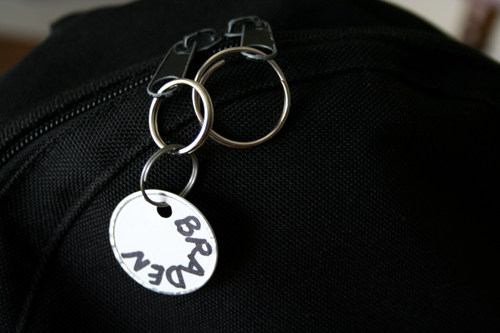 I'd have to be kind of a crazy lunatic not to realize that, while cliched, this is literally the start of a long process where my child starts to cleave from me.  This is a thing I am both carefully, joyfully, preparing him for with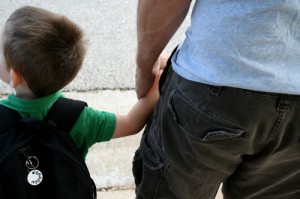 everything I do for him every day and dreading with all the tiny fibers in my heart – the heart that clenched up a little this morning when I kissed him goodbye and I had to leave.
But I'm cool with it. Yeah, totally.  I didn't feel kind of angsty while I was packing his lunch, I didn't get a little sentimental when I wrote his name on a tag for his backpack, my heart didn't swell and smoosh when I watched him walking to school with his Daddy, I didn't take too many photos of him on his first day of school, and I didn't frown a little when I got home and the house was blessedly quiet.
And empty.
Sigh.
This will be good for him.
I hope I can survive it.
(The booze will help. WOOOHOOOOOOOOO!)
Elementary school lunch. Remember that? What was it like? At first I think that surely I can't remember something from such a long time ago. I mean, if I were trying to call on a specific, dramatic memory, I'd have more confidence in my ability, but this? I'm doubting I'll reel in anything of describable value when I cast my line into what have become the murky and age muddled waters of my memory.
Elementary school lunch wasn't important. It was just another thing that happened every day – same place, same people. I don't need that information anymore. It has to have been crowded out by important things, right? Surprisingly, instead of fishing a boot or an old tire out of those polluted waters, when I close my eyes I see into my mind, as if through the crystal clear waters of the Caribbean. It is almost like I am actually standing outside that cafeteria, looking in through the rectangular windows at rows and rows of tables, each one lined with chattering children.
Then suddenly, I'm not standing outside the windows anymore. In a flash, I'm inside the room where the ambient noise rises ferociously with the spark of my transition. Utensils scrape across and smack into plastic, segmented tray plates that clink against one another and slide along table tops and counters in search of final resting places. Chairs scratch the floor both meeting and departing table tops, as diners come and go. Bags, books, and other items thump and bump as they drop into waiting places, becoming items of secondary importance now that the task at hand is eating, socializing.
Above and beyond these sounds there are the types of audible events that come only from the mouths of humans: talking, laughing, yelling. The majority of this is of the child variety, mostly high-pitched, squeaky, and giggly. Most of the yelling is happy, jovial, prankish. Occasionally, there's an angry yelp or an adult admonition. The overarching effect of the mingled, youthful voices in all of their utterances is a feeling of busyness, of pleasant fellowship and mirth.
I feel, in my mind, as if I'm standing there now. Having entered suddenly, but still separate from all of this, I stand apart from it all. I'm just taking it in with my eyes closed. But the deeper I go, the more I process. I'm allowing myself to sink into those waters and wade out to a place where eventually there's a drop-off.
I'm going to fall right in.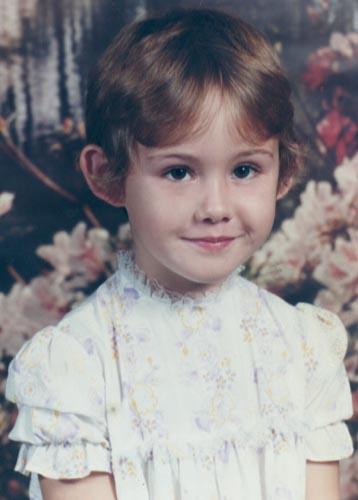 It happens, and the next transition hits me with cool, hard plastic under my posterior. My legs dangle towards the floor, and I grasp a metal fork with curiously uneven tines in my right hand. The fork is poised over a pretty ugly example of fruit cocktail, slimy with syrup and unnaturally vibrant.
The cocktail isn't half as bad as the rectangular piece of gooey mess masquerading as pizza. I know this and at the same time, I also identify with the unarguable fact that I love this disgusting mockery of a real pie, just as I indiscriminately adore the grease-laden tator tots that neighbor it in the adjoining tray segment.
I look up and now I'm taking in a sea of faces at my level. Instantly I'm overcome with emotions that blast me almost simultaneously: wonder, excitement, insecurity, awkwardness, need, desire, invincibility.
This is youth, glorious youth. I have more than just miles to go; there's a path stretched out in front of me to what seems infinity.  All I can see is shining horizon and I know that forever is just over the hill up ahead, a sparkling, unknowable treasure of eternal proportions.
For a moment the sounds disappear. For just a heartbeat every smell of sickeningly delicious grease puddled over cheap cheese on soggy crust is undetectable. The cool, slick cardboard milk carton under the curled fingers of my left hand disappears. All the children move in slow motion.
I feel like a time-traveler in my own mind, and for just that one moment, there's a distinct and deep pain that knifes through me, witnessing this slice of my past, this irrelevant little reenactment of an any-day sometime so long ago in my life.
I want to stand up and scream, "We are all here again! Back here again! Have we made mistakes!? Let's do better this time!"
But then it all rushes back in with its loud busyness, its irreversible hurrying of children forward into their fates. For a moment, I feel defeated, and then I blink my eyes, and it all swirls away in the same way that bath water flows down the drain – pulling away both the bright, gleaming bubbles and the dirty scum that once clung to you, in the same smooth motion.
As I open my eyes in the here and now, I reflect on that moment at the end, that painful longing to hit the "restart" button. But I'm here, for better or worse, and it's okay if I can't change the things my momentarily enlightened "little" self so worried about for that brief spell inside my mind. She forgot for a beat that out here on the other end, I'm not too shabby, and even all of the mistakes and occasional bad decisions have had a hand in making me who I am today. No regrets.
Well, I do kind of wish she had grabbed one of those tater tots and slammed it. This lagging metabolism is a bitch. *wink*
—————————————————————————————————————————————————————-


This work by Lotus Carroll is licensed under a
Creative Commons Attribution-NonCommercial-ShareAlike 4.0 International License.
To license commercially, please email.
All Site Content: Copyright © Lotus Carroll // Theme: Copyright © Dandelion by Pexeto