We had a great time on the show this week! If you missed it you can watch it any time, like now!

 Juan Gonzalez and I were joined by guest Joe Azure and panelists George Krieger, Nicolai McCrary, Tamara Pruessner, Tony Eckersley, & Vincent McMillen to talk about Long Exposure Photography and share some great images. It was a wonderful learning experience and there were more than a few laughs. "That's What She Said" made an appearance – can't seem to keep that one down.  (Say it with me.)
During the show, we unveiled the winners of the Drink and Click™ December Challenge: "Celebration". Jon Cohen of Drink and Click™ Toronto, George Krieger of Drink and Click™ Monterey – Santa Cruz, and f.a. fiebig of Drink and Click ™ BLN took 1st, 2nd, and 3rd, respectively. Thanks so much to our prize sponsors: SmugMug, c't Digital Photography, and Trey Ratcliff's Stuck In Customs!
Congratulations also to Giovanni Piliarvu who had the correct answer to the trivia question on air – Joe taught us that the right time to use a graduated filter is when you need to balance the light in a scene (put the dark glass over the brightest part of the image). Giovanni won a handmade original Joe Azure print! Read more on Joe's printing tips here: http://goo.gl/9UzWko
Remember to watch us every month on the second or middle Wednesday at 9:30PM CST. Our next show is on Wednesday, February 12th with the incomparable Jaime Ibarra and we'll be talking about Model Photography.
Don't forget to join in on your city's monthly Drink & Click Photowalk Event – you get to take photos, socialize with people who share your interest, and have a chance to win great prizes. Check the website for a chapter in your area!
More information about Drink and Click™ http://drinkandclick.com
Subscribe to Drink and Click™ on YouTube:http://www.youtube.com/user/DrinkandClick
Join the Drink and Click™ Community: http://goo.gl/R7hTZ
Like us on Facebook: https://www.facebook.com/DrinkAndClick
Questions? drinkandclick@gmail.com
#drinkandclick   #longexposurephotography   #photography   #photowalk   #onair
Jeff Smith and I, along with 13 talented and interactive moderators, created The Art of Self Portraiture Community on Google+ this year. We're inviting people to share their self portraits as well as challenging them to learn and grow with us.
Each month, we post a tutorial that we hope will help the community grow and try something new or brush up on an old skill. With each tutorial, we tie in a monthly challenge with prizes from our fantastic sponsors: SmugMug, Think Tank Photo, and Capturing Couture.
This month's tutorial by Tamara Pruessner discusses using selective color and textures appropriately. The Challenge is to submit one fantastic self portrait using selective color and/or textures. You can read more about prizes and rules for submission on the Event Page here.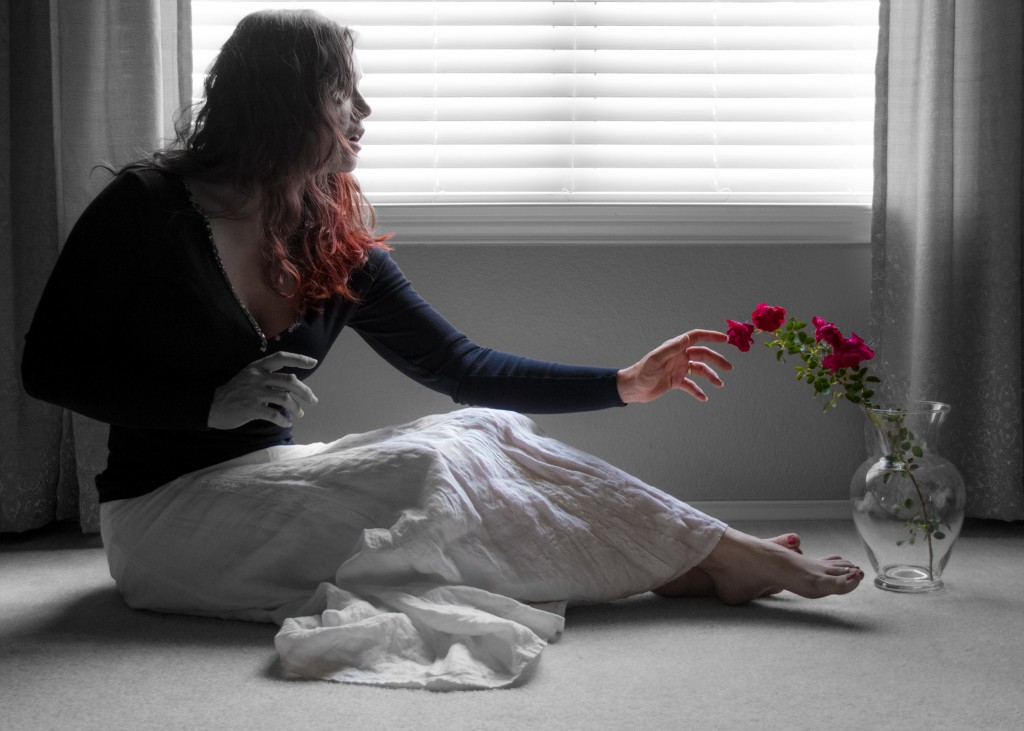 This is an example that I created for this week's Selfy Sunday Project Event (we do this bi-weekly) that uses selective color to tell the story. Just touching this rose is causing color to flow into my body – this illustrates the story indicated by my title. Selective Color done purposefully can be a wonderful thing! Beware, though, it can easily be ultra cheesy. 😉
Everyone is welcome to join in on the monthly challenges, and join our community to share your self portraits regularly. Hope to see your work there!
All Site Content: Copyright © Lotus Carroll // Theme: Copyright © Dandelion by Pexeto