Were you looking for a reason to finally push you over the edge to sign up for Adobe's Creative Cloud? This might be it – Adobe announces the availability of Lightroom Mobile, which acts as a companion to the desktop version. This will "unlock photography from the desktop," said Lightroom Product Manager Tom Hogarty, and allow us to "organize, edit, and share – from anywhere."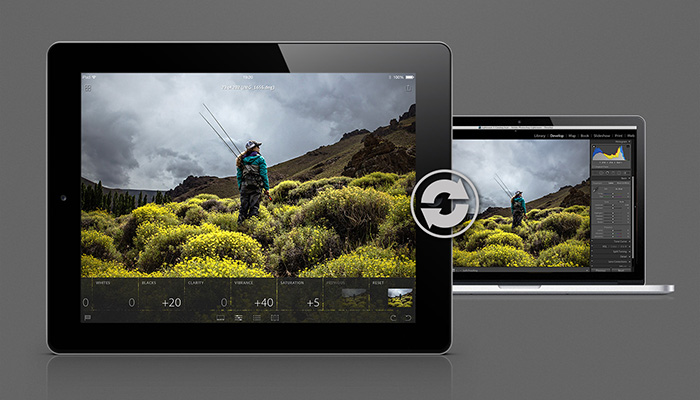 This new product will allow you to take the essentials of Lightroom on the go. Both instances (desktop and mobile) will sync seamlessly with one another, allowing you to edit metadata and do image processing on the go from your iPad, transferring those changes immediately back to your desktop, and vice versa. This is going to be a powerful addition to the Lightroom-using mobile photographer's photo organizing, processing, and sharing setup. You can turn on auto-import of your mobile images, as well, bringing them into the mobile version and sending them back to the desktop version. All changes you make translate across both instances, and sharing can be done from homebase or on the go.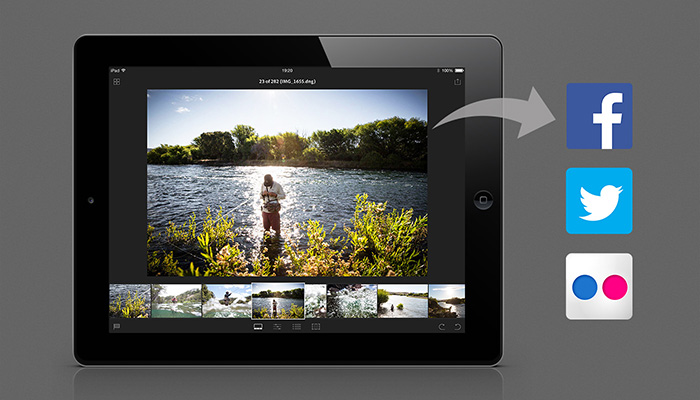 How do you get it? Lightroom Mobile is a service that is subscription based. Anyone who is a member of Adobe's Creative Cloud will have access. The Photoshop Photography Program (USD$9.99 per month) is particularly attractive: it includes Lightroom 5, Photoshop CC, Lightroom Mobile and a public portfolio site through Behance. Lightroom Mobile is free to try for 30 days.
Lightroom Mobile is currently available for iPad2 or later and iOS7 or higher, as a free download in the iTunes app store. An iPhone version will follow; an Android version will follow eventually. Update your desktop version of Lightroom (Mac or Windows) for compatibility.
Here are some helpful Lighroom Mobile tutorials from Adobe's Digital Imaging Evangelist,  Julieanne Kost, to help you get started:
.
Thomas Hawk and I had a great time this past Wednesday with panelists Chris Chabot, Jan Kabili, Joe Azure, Karen Hutton, Keith Barrett, and our special guest Tom Hogarty, Adobe Lightroom Product Manager.
We discussed news stories, including 20 Pro Tips for Photographers on Google+ (http://goo.gl/2tLsx), the new Android Powered Nikon, and hidden view counts for your photos on Google+ (hint: you have to go to Picasa).
Tom gave us some cool demos in LR4 and answered questions for us about everyone's favorite photo editing program. If you're not using Lighroom 4, well, you should be.
After you watch the show, enter our contest to win one of two copies of Lightroom 4 from Adobe (each will come with a free copy of Trey Ratcliff's new and amazing LR4 Presets!). To enter all you need to do is make a post on Google+ and tell us either: your favorite feature we discussed on the show, make a feature request, or talk about how you will use LR4 if you win it. You must include the hashtag #LightroomPlus  in your post. You have until next Wednesday when we'll pick the two best and announce those winners on our show that day at 8PM Pacific.
Congratulations to Billy Wilson, who won a copy of LR4 and Trey's presets live on the show, courtesy of SmugMug (who also threw in a free year of their Pro Service) because they are one of our fantastic sponsors, who are also well integrated with Lightroom. We love them!
Big thanks to our other amazing sponsors, Adorama / http://adorama.com, Drobo / http://drobo.com, and Blurb Books / http://blurb.com
Subscribe to YouTube here: http://goo.gl/JTyHn
Subscribe to our Podcast on iTunes: http://goo.gl/RBd0g
Follow us at Photo Talk Plus for more!
All Site Content: Copyright © Lotus Carroll // Theme: Copyright © Dandelion by Pexeto