Today, Saturday, marks the one week point.  It's been one week since the bleeding of miscarriage began.  One week since I sat on the toilet, with Braden happily splashing in the tub to my left, looking down at the blood in disbelief.  Just one week since I began crying hysterically as more blood came.  One week since I fumbled the phone, almost dropping it into the toilet, to give my husband the worst news I have ever delivered to anyone.
One week since I laid my face on the floor next to the bathtub crying, begging out loud that this not be what I thought it was.  One week since I sobbed uncontrollably there, and Braden giggled in response because he thought I was laughing.
Last Friday night, I took this photo.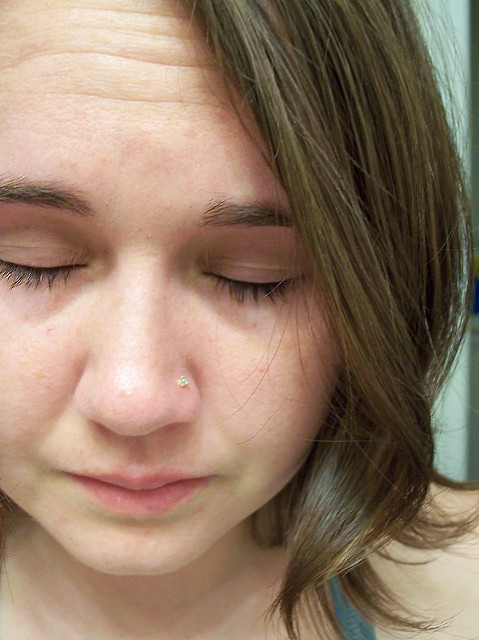 I was tired and emotional after watching a movie and thinking of an old hurt.
I attributed much of my emotional response then to pregnancy hormones.  You know how they are.
Almost exactly 24 hours after I took this photo, I started bleeding; miscarrying.
Twenty-four hours after that, I was waiting with high anxiety and nervous trepidation to visit my doctor the next morning for blood tests.
Twenty-four hours later yet, I was standing in my kitchen, having not received the test results yet, speaking to my (empty) uterus with fractured, clinging hope.
"Are you still in there?  Is it possible?  I love you.  Please fight; please hold on, little baby."
That night, I fell asleep while I repeated the same thing over and over again in my head.
"God, please let my baby live.  God, please let my baby live.  God, please…."
The photo is sad irony.
It is a perfect portrait of how I feel right now.
All I can hope for is for each new 24 hour passage to take me closer to whole again.
I'm scared.
All Site Content: Copyright © Lotus Carroll // Theme: Copyright © Dandelion by Pexeto