I do a little thing around here where I post about ways that John and I try to become more environmentally friendly (and I invite people to link in with any of their recent "green posts"). I call it Project Support Beauty in Nature (PSBN) and I kind of declared that I would do that every month, on the second Monday of the month.
But I didn't take into account the fact that:
a) At some point, the second Monday of the month would be when The Blood Curtain Dropped,
b) That when The Blood Curtain Drops, I can't think of anything but yelling at my Uterus, angrily,
and
c) I'm a lazy douche, so obviously, at some point, I won't remember to post the PSBN piece on the right day.
All this is to say that yesterday I was supposed to publish a PSBN post, but instead, I got all wrapped up in my menstruational emotions and berated my uterus for all to see, instead.
Somehow, I don't think that's going to save the earth.
For now, I'll mention that we've started using a different shower soap around here that's "earth kind." It's called Dr. Bronner's Magic Soap/18-in-1 Hemp Pure-Castille Liquid Soap.
From the website: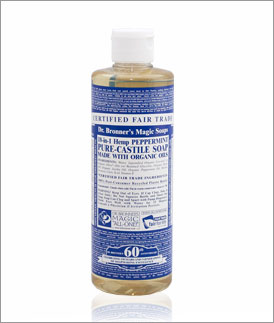 Completely Biodegradable and Vegetable-Based
Made with Certified Fair Trade and Organic Oils
Multi-Purpose: 18-in-1 Uses
No Synthetic Foaming Agents, Thickeners or Preservatives
100% Post-Consumer Recycled (PCR) Cylinder Bottles and Paper Labels
Simple, Ecological Formulations Based on Old-World Quality and Expertise
#1-Selling Natural Brand of Soaps in North America
You can see the different fragrances here.
We've used 2 scents. The Lavender… um, it smells… interesting. But not in a bad way. It's just that, well, it doesn't particularly smell like lavender to me. ???
The peppermint one will kind of make your believe you're a candy-cane. Compared to how I smell between my monthly showers, that's not at all unpleasant, though.
You can use this stuff not only for body cleaning but also as shampoo – it's an amazing all-in-one. If you have long hair, you'll want to buy their conditioning product, b/c the soap will leave your hair a bit tangly. Other than that, it's amazing. Cleans well, and leaves you feeling really fresh.
But I can't talk about this stuff without mentioning the INSANE LABELS on the bottles.
Talk about some nutball-type mind control propaganda. Whew! They sure as hell want to make sure that when you buy their product you also buy into their entire philosophy on… well… everything batshit crazy under the sun, man.
(They probably have Internet Spies and will now send operatives to kill me, making the whole thing look like an accident. I am telling you all now, if I am found with a bottle of Pure Castille Soap crammed up my butt, it was NOT an accident, I did NOT fall on it! Lies! Lies!)
But on the serious, reading the labels of these soaps started making me feel that at any moment, I could be insanely driven to join a cult living in some remote place, perhaps the jungles of South America?
Random sampling of weirdness from the bottle:
"7th – Each swallow works hard to be perfect pilot – provider – builder – trainer – teacher – lover – mate, no half-true hate! So, each day like a bird, perfect thyself first! Have courage and smile my friend. Think and act 10 years ahead! And the man without fault? He's dead! Do one thing at a time, work hard! Get done! Then teach friends & enemy the Moral ABC that unites all mankind free! Uniting One! All-One! Face the world with a smile, life is always worthwhile! To the fearless are given crowns, keep out the past, disappointments won't last! Help unite mankind, or we're wandering clowns! Diligent preparation, precede… spectacular restoration! So, help teach the whole human race, the Moral ABC's All-One-God-Faith, lightning-like, for we're All-One or None! All-One!!"
Uhhhhh, okay?
The whole bottle is covered with stuff like that, top to bottom, in tiny print.
Whenever I look at it for too long, I start wanting grape koolaid, for some reason.
Gotta go wash my hair and body with Pure Castille Soap now. If I start referring to my home as "The Compound" sometime soon, send help, okay?
All Site Content: Copyright © Lotus Carroll // Theme: Copyright © Dandelion by Pexeto