Wee for me now means five minus three.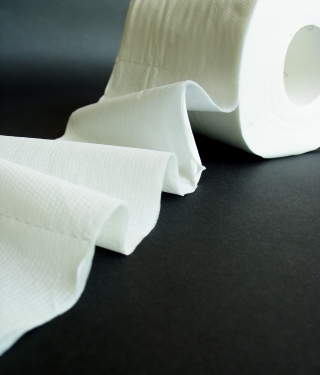 When I posted my Project Support Beauty in Nature piece for June, I outlined a Toilet Paper Challenge that John and I were going to take in our household. In short, we counted our TP Consumption for one month. The next month we made a conscious effort to reduce the amount we used to wipe with and see what kind of a difference we could make.
The first month was an eye-opener. I coudn't believe how much TP I was grabbing. Just for pee, I was grabbing 5 Squares. And for The Dook? It was 5… several times, and then a wet wipe for final touch-ups.
WAS I ON CRACK OR WHAT!?
Oh, wait, yes. I was on crack. My buttcrack though, not the good kind.
Long story short, we used 10 rolls of toilet paper the first month, during "observation phase."
When the second month started, we started reducing our TP Consumption. I started at bare minimum: 1 Square.
Let me be the first to say, "HELL NO."
One square was not enough. So I quickly moved to 2 squares. And this I could handle. That's right. I went from 5 to 2. And that's for pee. For The Dook? Are you ready?
One wet wipe (used several times, via folding). One TP Square (for drying, b/c I can't do the 'walk away wet' thing, sorry.)
For the first week, even though "The Job" was being done, it was a little weird. But over time, the "new way" became habit.
Now, this was not scientific, because many other variables affected how much TP was being used (number of times going potty, anyone?), and in fact, I drastically upped my water consumption during the second month as part of my dieting and such. Waaaay more peeing.
And yet…
We only used 5 rolls of TP the second month.
We reduced our TP Consumption by HALF. People, this is a big deal to me! Half as much money spent, half as much waste.
I swear, there are trees out there masturbating to my picture right now. (Yes, I totally went there.)
Remember, even small changes can have big outcomes. What will you do to make a difference today?
Did you take the TP Challenge? Do you have other green tips?

Link any green posts from the past month (or the next few days) right below on Mr. Linky. Direct links to relevant posts only, please.

If you don't have a post, but you have a green tip, thought, or suggestion, please leave it in comments! That's what these monthly posts are for.

Thanks!
All Site Content: Copyright © Lotus Carroll // Theme: Copyright © Dandelion by Pexeto