Weekly Winners, August 1-7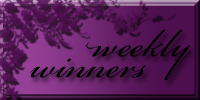 August 1st – 7th
Some of these shots taken with my: Canon Powershot G9
Others taken with a Canon EOS Digital Rebel XT (on loan from a friend)


I'm not posting any of my photos from Blogher 10 on this post… you'll see them in other posts later this week. Sorry this is so late, but Duuuuuuuuude. I was in NYC!

~~~
Happy Face Parts

Three O' Me

Wonderful things come in a package like this.

When relaxation no longer eludes.

It's out to wet you.

Successful child launch!

To view all my photos, visit my Flickr Photostream
Wanna Know More?
All Site Content: Copyright © Lotus Carroll // Theme: Copyright © Dandelion by Pexeto